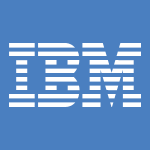 IBM
About
Profile
IBMers believe in progress — that the application of intelligence, reason and science can improve business, society and the human condition
---
Headquarters
Armonk, New York, United States
---
Recent Earnings
IBM GAAP EPS of $1.36 beats by $0.69, revenue of $14.3B misses by $30M
The tech stock rose more than 1% in premarket trading after the company reported an earnings beat. IBM posted adjusted earnings of $1.36 per share, compared to $1.26 per share as expected by analysts. However, its revenue came in below expectations as parts of the company's infrastructure business showed a slowdown.
Available for logged in users only.


The multiple price alert feature will smartly add or remove $1 if your alert was hit.
It's only available if you are logged in, a V.I.P. member or if you are using the AI chrome extension.

Contact us via Twitter if you are interested in trying it out.
Moderna, IBM to use quantum computing, AI for mRNA research
IBM stock stumbles as Wall Street weighs in on results, outlook
5 stocks to watch on Thursday: Tesla, IBM, AT&T and more
IBM stock climbs 3% despite mixed first-quarter report
IBM GAAP EPS of $1.36 beats by $0.69, revenue of $14.3B misses by $30M
ASML sinks after Q1 results as chips slip ahead of earnings season
GlobalFoundries sues IBM for 'unlawfully' sharing intellectual property, trade secrets
IBM Q1 Earnings Preview: Clouds of caution loom ahead of results
Google's Sundar Pichai weighs in on AI as shares pressured by Search report
ETFs to Watch: Earnings from BAC, LMT, IBM, PG and more can impact many ETFs
Catalyst Watch: Earnings season picks up steam, housing data due
IBM exploring sale of its weather business - report
Microsoft cloud momentum 'better than feared,' Wedbush says
IBM partner Rapidus said to be getting additional subsidies for Japanese chip plant
The Masters tees off today - watch these stocks
Why does Warren Buffett love Apple and hardware tech? One analyst may have the answer
U.S. proposes rules to block China, Russia-linked companies from CHIPS funding
AI to be in spotlight as Nvidia kickstarts its GTC event
Oracle shares go south as revenue results fall short of forecasts
Defiance ETFs: Soft landing possible, with AI a likely winner
Recent Earnings
IBM GAAP EPS of $1.36 beats by $0.69, revenue of $14.3B misses by $30M
Earnings History
Date
EPS / Forecast
Revenue / Forecast
January 24, 2022

3.35

/ 3.3

16.7B

/ 16.09B
Beat!

October 20, 2021

2.41

/ 2.41

17.62B

/ 17.79B
July 19, 2021

2.33

/ 2.31

18.75B

/ 18.29B
Beat!

April 19, 2021

1.77

/ 1.69

17.73B

/ 17.32B
Beat!

January 21, 2021

2.07

/ 1.81

20.37B

/ 20.68B
October 19, 2020

2.58

/ 2.58

17.56B

/ 17.54B
Beat!

July 20, 2020

2.18

/ 2.09

18.12B

/ 17.73B
Beat!

April 20, 2020

1.84

/ 1.81

17.57B

/ 17.59B
January 21, 2020

4.71

/ 4.69

21.78B

/ 21.64B
Beat!

October 16, 2019

2.68

/ 2.66

18.03B

/ 18.23B
July 17, 2019

3.17

/ 3.08

19.16B

/ 19.17B
April 16, 2019

2.25

/ 2.22

18.18B

/ 18.47B
January 22, 2019

4.87

/ 4.82

21.76B

/ 21.73B
Beat!

October 16, 2018

3.42

/ 3.4

18.76B

/ 19.1B
July 18, 2018

3.08

/ 3.04

20B

/ 19.85B
Beat!

April 17, 2018

2.45

/ 2.42

19.07B

/ 18.83B
Beat!

January 18, 2018

5.18

/ 5.17

22.54B

/ 22,061M
Beat!

October 17, 2017

3.3

/ 3.28

19.15B

/ 18,597M
Beat!

July 18, 2017

2.79

/ 2.74

19.29B

/ 19,458M
Date
Price
Open
High
Low
Vol
Change
ER
May 31
128.59
128.51

129.44

127.46

11.1M

-0.69%

May 30
129.48
129.56

130.07

128.26

3.7M

0.46%

May 26
128.89
127.06

129.66

126.81

5.6M

1.68%

May 25
126.76
125.61

127.23

125.01

4.1M

0.86%

May 24
125.68
127.82

127.9

125.47

3.9M

-1.95%

May 23
128.18
127.24

129.09

127.13

4.6M

0.53%

May 22
127.5
127.5

128.19

127.15

2.8M

0.19%

May 19
127.26
126.79

128.29

126.55

4.3M

0.88%

May 18
126.15
125.3

126.51

125.19

3.8M

0.35%

May 17
125.71
123.94

125.85

123.47

4.5M

1.82%

May 16
123.46
123.35

123.86

122.45

2.7M

0.08%

May 15
123.36
123

123.69

122.34

2.9M

0.42%

May 12
122.84
121.41

122.86

121.11

4.6M

1.60%

May 11
120.9
122.02

122.24

120.55

3.4M

-0.92%

May 10
122.02
121.99

122.49

121.1

4.2M

0.70%

May 9
121.17
121.9

121.97

120.66

4.5M

-1.81%

May 8
123.4
123.76

123.92

122.55

3.7M

-0.2%

May 5
123.65
123.11

124.1

122.81

5.0M

0.88%

May 4
122.57
123.03

123.52

121.76

4.5M

-0.71%

May 3
123.45
125.46

125.57

123.26

4.6M

-1.37%

May 2
125.16
126.3

126.45

123.27

4.4M

-0.74%

May 1
126.09
126.35

126.75

126.06

2.7M

-0.25%

Apr 28
126.41
126.58

127.25

125.64

5.1M

-0.44%

Apr 27
126.97
126.37

127.02

125.46

3.2M

0.89%

Apr 26
125.85
125.81

126.54

125.12

4.1M

-0.03%

Apr 25
125.89
124.9

126.19

124.76

4.3M

0.39%

Apr 24
125.4
125.55

126.05

124.56

4.0M

-0.26%

Apr 21
125.73
126

126.7

125.27

6.7M

-0.5%

Apr 20
126.36
130.15

130.98

125.84

9.7M

0.03%

Apr 19
126.32
126.5

126.98

125.3

7.0M

-1.14%

Apr 18
127.78
128.14

128.68

127.35

3.2M

-0.03%

Apr 17
127.82
128.3

128.72

126.8

3.7M

-0.25%

Apr 14
128.14
128.46

129.84

127.31

4.2M

0.19%

Apr 13
127.9
128.01

128.39

126

5.6M

-0.5%

Apr 12
128.54
130.4

130.89

128.17

4.0M

-1.44%

Apr 11
130.42
130.58

131.1

130.18

3.1M

-0.47%

Apr 10
131.03
129.83

131.08

129.24

2.6M

0.41%

Apr 6
130.5
132.16

132.6

130.32

3.1M

-1.24%

Apr 5
132.14
131.37

132.61

131.37

2.9M

0.41%

Apr 4
131.6
131.99

132.15

130.89

3.4M

-0.35%

Apr 3
132.06
130.97

132.61

130.77

3.8M

0.74%

Mar 31
131.09
129.47

131.23

129.42

4.5M

1.45%

Mar 30
129.22
130.16

131.48

129.1

3.6M

-0.38%

Mar 29
129.71
130.12

130.35

129.18

3.3M

0.29%

Mar 28
129.34
129.18

129.66

128.8

2.9M

0.02%

Mar 27
129.31
126.47

130.26

126.47

6.5M

3.21%

Mar 24
125.29
123.36

125.4

122.88

3.8M

1.56%

Mar 23
123.37
123.81

124.93

122.6

4.7M

-0.55%

Mar 22
124.05
127

127.21

124.01

3.5M

-1.99%

Mar 21
126.57
126.9

127.15

125.66

3.9M

0.50%

Mar 20
125.94
124.31

126.16

124.19

4.6M

1.82%

Mar 17
123.69
124.08

124.52

122.93

37.4M

-0.81%

Mar 16
124.7
122.96

124.82

121.92

6.4M

1.15%

Mar 15
123.28
122.99

123.35

121.71

6.0M

-1.1%

Mar 14
124.65
126.49

126.64

123.2

8.1M

-0.74%

Mar 13
125.58
125.15

128.19

124.85

8.2M

0.10%

Mar 10
125.45
126.12

127.29

125.13

6.0M

-0.56%

Mar 9
126.16
128.3

128.53

125.98

5.5M

-1.48%

Mar 8
128.05
128.48

128.74

127.54

2.8M

-0.16%

Mar 7
128.25
130.28

130.42

128.19

3.5M

0%