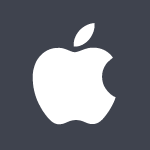 Apple
About
Profile
We bring amazing people together to make amazing things happen. We're a diverse collective of thinkers and doers, continuously reimagining our products and practices to help people do what they love in new ways.
---
Headquarters
Cupertino, California, United States
---
The tech giant added nearly 2% after an earnings beat. The company reported earnings of $1.52 per share on revenue of $94.84 billion for the second fiscal quarter. Analysts forecasted earnings of $1.43 per share on revenue of $92.96 billion.
Available for logged in users only.


The multiple price alert feature will smartly add or remove $1 if your alert was hit.
It's only available if you are logged in, a V.I.P. member or if you are using the AI chrome extension.

Contact us via Twitter if you are interested in trying it out.
Broadcom rises as Wall Street believes infrastructure results will be 'resilient'
Netflix's 'Diplomat' stays on top, and originals get a new-episode lift
Analog Devices leads chip stocks lower as sector awaits Nvidia's results
Broadcom slips even as BofA says Apple deal removes 'key' overhang for stock
Broadcom rises on multibillion-dollar Apple component deal
Can India become a new China for Apple? - Bernstein
Hot Stocks: DKNG rises on upgrade; PDCE rises on buyout offer; AAPL, FL fall
Apple cut to hold at Loop Capital on revenue downside risk for June quarter
Will ChatGPT prevent a recession or is AI a baby bubble?
Netflix's 'Diplomat' keeps up string of No. 1 original shows
Tech has had a strong start to 2023. That bodes well for the rest of the year.
YouTube pushing price competition with Amazon on channels business
Apple said to restrict use of ChatGPT, other AI tools for employees
Samsung reportedly suspends review to replace Google search in smartphones
Apple headset said to be hampered by Cook's 'distant' approach, exec skepticism
Montana to become the first U.S. state to ban TikTok
Nearly two-thirds of Americans think AI poses a risk for humanity: poll
Apple says App Store prevented more than $2B in unauthorized transactions last year
Warren Buffett's Berkshire takes new stakes in COF, Diageo, exits RH
Chase Coleman's Tiger Global adds stakes in AAPL, TSM, exits RBLX, PDD
Earnings History
Date
EPS / Forecast
Revenue / Forecast
January 27, 2022

2.1

/ 1.89

123.95B

/ 118.68B
Beat!

October 28, 2021

1.24

/ 1.24

83.36B

/ 85.05B
July 27, 2021

1.3

/ 1.01

81.43B

/ 73.33B
Beat!

April 28, 2021

1.46

/ 0.99

89.58B

/ 77,278M
Beat!

January 27, 2021

1.68

/ 1.42

111.44B

/ 103.27B
Beat!

October 29, 2020

0.73

/ 0.7099

64.7B

/ 63.8B
Beat!

July 30, 2020

0.645

/ 0.51

59.69B

/ 52.29B
Beat!

April 30, 2020

0.6375

/ 2.25

58.31B

/ 54.9B
Beat!

January 28, 2020

1.25

/ 4.54

91.82B

/ 88.51B
Beat!

October 30, 2019

3.03

/ 2.83

64.04B

/ 63.01B
Beat!

July 30, 2019

2.18

/ 2.09

53.81B

/ 53.32B
Beat!

April 30, 2019

2.46

/ 2.36

58.02B

/ 57.51B
Beat!

January 29, 2019

4.18

/ 4.17

84.31B

/ 83.97B
Beat!

November 1, 2018

2.91

/ 2.78

62.9B

/ 61.46B
Beat!

July 31, 2018

2.34

/ 2.16

53.27B

/ 52.3B
Beat!

May 1, 2018

2.73

/ 2.69

61.14B

/ 61.15B
February 1, 2018

3.89

/ 3.21

88.29B

/ 77,250M
Beat!

November 2, 2017

2.07

/ 1.87

45.41B

/ 50,699M
August 1, 2017

1.67

/ 1.57

52.90B

/ 44,886M
Beat!

May 2, 2017

2.1

/ 2.02

52.9B

/ 53,016M
Date
Price
Open
High
Low
Vol
Change
ER
May 26
175.43
173.32

175.77

173.11

54.7M

1.41%

May 25
172.99
172.41

173.9

171.69

55.9M

0.67%

May 24
171.84
171.09

172.42

170.52

43.5M

0.16%

May 23
171.56
173.13

173.38

171.27

49.2M

-1.52%

May 22
174.2
173.98

174.71

173.45

43.3M

-0.55%

May 19
175.16
176.39

176.39

174.94

52.7M

0.06%

May 18
175.05
173

175.24

172.58

65.1M

1.37%

May 17
172.69
171.71

172.93

170.42

58.0M

0.36%

May 16
172.07
171.99

173.14

171.8

42.1M

0%

May 15
172.07
173.16

173.21

171.47

37.2M

-0.29%

May 12
172.57
173.62

174.06

171

45.5M

-0.68%

May 11
173.75
173.85

174.59

172.17

49.5M

0.12%

May 10
173.55
173.02

174.03

171.9

53.7M

1.04%

May 9
171.77
173.05

173.54

171.6

45.3M

-1%

May 8
173.5
172.48

173.85

172.11

56.0M

-0.04%

May 5
173.57
170.98

174.3

170.76

113M

4.69%

May 4
165.79
164.89

167.04

164.31

70.4M

-0.99%

May 3
167.45
169.5

170.92

167.16

59.4M

-0.65%

May 2
168.54
170.09

170.35

167.54

48.4M

-0.62%

May 1
169.59
169.28

170.45

168.64

49.4M

-0.05%

Apr 28
169.68
168.49

169.85

167.88

55.3M

0.75%

Apr 27
168.41
165.19

168.56

165.19

64.2M

2.84%

Apr 26
163.76
163.05

165.28

162.8

44.1M

-0.01%

Apr 25
163.77
165.19

166.3

163.73

48.2M

-0.94%

Apr 24
165.33
165

165.6

163.89

39.0M

0.19%

Apr 21
165.02
165.05

166.45

164.49

58.3M

-0.98%

Apr 20
166.65
166.09

167.87

165.56

52.5M

-0.58%

Apr 19
167.63
165.8

168.16

165.54

47.2M

0.70%

Apr 18
166.47
166.1

167.41

165.65

48.4M

0.75%

Apr 17
165.23
165.09

165.39

164.03

41.5M

0.01%

Apr 14
165.21
164.59

166.32

163.82

49.4M

-0.21%

Apr 13
165.56
161.63

165.8

161.42

67.2M

3.41%

Apr 12
160.1
161.22

162.06

159.78

49.4M

-0.44%

Apr 11
160.8
162.35

162.36

160.51

46.3M

-0.76%

Apr 10
162.03
161.42

162.03

160.08

47.0M

-1.6%

Apr 6
164.66
162.43

164.96

162

45.4M

0.55%

Apr 5
163.76
164.74

165.05

161.8

51.3M

-1.13%

Apr 4
165.63
166.6

166.84

165.11

44.4M

-0.32%

Apr 3
166.17
164.27

166.29

164.22

55.0M

0.77%

Mar 31
164.9
162.44

165

161.91

68.7M

1.56%

Mar 30
162.36
161.53

162.47

161.27

46.8M

0.99%

Mar 29
160.77
159.37

161.05

159.35

51.3M

1.98%

Mar 28
157.65
157.97

158.49

155.98

45.6M

-0.4%

Mar 27
158.28
159.94

160.77

157.87

50.4M

-1.23%

Mar 24
160.25
158.86

160.34

157.85

59.3M

0.83%

Mar 23
158.93
158.83

161.55

157.68

67.2M

0.70%

Mar 22
157.83
159.3

162.14

157.81

69.2M

-0.91%

Mar 21
159.28
157.32

159.4

156.54

73.8M

1.19%

Mar 20
157.4
155.07

157.82

154.15

73.5M

1.55%

Mar 17
155
156.08

156.74

154.28

98.9M

-0.55%

Mar 16
155.85
152.16

156.46

151.64

76.0M

1.87%

Mar 15
152.99
151.19

153.24

149.92

76.0M

0.26%

Mar 14
152.59
151.28

153.4

150.1

73.4M

1.41%

Mar 13
150.47
147.8

153.14

147.7

84.5M

1.33%

Mar 10
148.5
150.21

150.94

147.61

68.6M

-1.39%

Mar 9
150.59
153.56

154.54

150.23

53.5M

-1.49%

Mar 8
152.87
152.81

153.47

151.83

47.2M

0.84%

Mar 7
151.6
153.7

154.03

151.13

56.2M

-1.45%

Mar 6
153.83
153.79

156.3

153.46

87.6M

1.85%

Mar 3
151.03
148.04

151.11

147.33

70.5M

0%