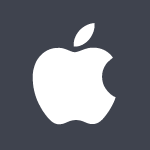 Apple
About
Profile
We bring amazing people together to make amazing things happen. We're a diverse collective of thinkers and doers, continuously reimagining our products and practices to help people do what they love in new ways.
---
Headquarters
Cupertino, California, United States
---
The consumer tech stock tumbled 4% in extended trading after the company reported weaker-than-expected results for its fiscal first quarter. The company reported $1.88 in earnings per share on $117.15 billion of revenue. Analysts were expecting $1.94 in earnings per share and $121.10 billion of revenue. Sales were down 5% year over year.
Available for logged in users only.


The multiple price alert feature will smartly add or remove $1 if your alert was hit.
It's only available if you are logged in, a V.I.P. member or if you are using the AI chrome extension.

Contact us via Twitter if you are interested in trying it out.
Tim Cook lauds Apple's 'symbiotic' relationship with China
Global continuous glucose monitoring market to hit $32B by 2031 – report
Why does Warren Buffett love Apple and hardware tech? One analyst may have the answer
Apple CEO seen visiting Chinese retail store, may attend state sponsored summit
AI technology has created 'new table stakes' for Big Tech - Hummer Winblad's Ann Winblad
Apple manufacturing partner said to discuss building second Indian factory
Power Integrations stock rises as analyst calls it 'main winner' of iPhone change
SoftBank's Arm said to raise chip price designs for revenue boost ahead of IPO
Apple looking to spend $1B a year to release movies in theaters
Apple said to consider bidding on English Premier League games
AllianceBernstein launches 3 actively managed ETFs with heavy weightings in names like MSFT, AAPL
Apple makes 'Friday Night Baseball' subscription-only, expands to 60 countries
Neuberger's Daniel Flax sees growth potential in Google, Amazon, Meta and Apple
J.P. Morgan Asset Management plans to launch an actively managed tech ETF
Potential Microsoft app store would be 'immaterial risk' to Apple: Morgan Stanley
Big-name tech stocks are 'safety blanket' amid banking industry woes
Apple stock slips even as KeyBanc notes February spending was above average
Intel, Qualcomm, Skyworks stocks rise as Susquehanna upgrades trio
Apple likely to be the safest tech stock over the next 6 months - Gene Munster
Apple slips as Foxconn expects smart electronics demand to decline 'slightly'
Earnings History
Date
EPS / Forecast
Revenue / Forecast
January 27, 2022

2.1

/ 1.89

123.95B

/ 118.68B
Beat!

October 28, 2021

1.24

/ 1.24

83.36B

/ 85.05B
July 27, 2021

1.3

/ 1.01

81.43B

/ 73.33B
Beat!

April 28, 2021

1.46

/ 0.99

89.58B

/ 77,278M
Beat!

January 27, 2021

1.68

/ 1.42

111.44B

/ 103.27B
Beat!

October 29, 2020

0.73

/ 0.7099

64.7B

/ 63.8B
Beat!

July 30, 2020

0.645

/ 0.51

59.69B

/ 52.29B
Beat!

April 30, 2020

0.6375

/ 2.25

58.31B

/ 54.9B
Beat!

January 28, 2020

1.25

/ 4.54

91.82B

/ 88.51B
Beat!

October 30, 2019

3.03

/ 2.83

64.04B

/ 63.01B
Beat!

July 30, 2019

2.18

/ 2.09

53.81B

/ 53.32B
Beat!

April 30, 2019

2.46

/ 2.36

58.02B

/ 57.51B
Beat!

January 29, 2019

4.18

/ 4.17

84.31B

/ 83.97B
Beat!

November 1, 2018

2.91

/ 2.78

62.9B

/ 61.46B
Beat!

July 31, 2018

2.34

/ 2.16

53.27B

/ 52.3B
Beat!

May 1, 2018

2.73

/ 2.69

61.14B

/ 61.15B
February 1, 2018

3.89

/ 3.21

88.29B

/ 77,250M
Beat!

November 2, 2017

2.07

/ 1.87

45.41B

/ 50,699M
August 1, 2017

1.67

/ 1.57

52.90B

/ 44,886M
Beat!

May 2, 2017

2.1

/ 2.02

52.9B

/ 53,016M
Date
Price
Open
High
Low
Vol
ER
Nov 21
148.01
150.16

150.37

147.715

58.7M
Nov 22
150.18
148.13

150.42

146.925

51.8M
Nov 23
151.07
149.45

151.83

149.34

58.3M
Nov 25
148.11
148.305

148.88

147.12

35.2M
Nov 28
144.22
145.14

146.64

143.38

69.3M
Nov 29
141.17
144.29

144.81

140.355

83.8M
Nov 30
148.03
141.395

148.72

140.55

111M
Dec 01
148.31
148.21

149.13

146.61

71.3M
Dec 02
147.81
145.96

148

145.65

65.4M