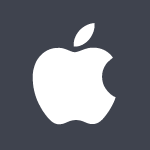 Apple
About
Profile
We bring amazing people together to make amazing things happen. We're a diverse collective of thinkers and doers, continuously reimagining our products and practices to help people do what they love in new ways.
---
Headquarters
Cupertino, California, United States
---
Recent Earnings
Apple GAAP EPS of $2.10 beats by $0.21, revenue of $123.94B beats by $5.41B
Available for logged in users only.


The multiple price alert feature will smartly add or remove $1 if your alert was hit.
It's only available if you are logged in, a V.I.P. member or if you are using the AI chrome extension.

Contact us via Twitter if you are interested in trying it out.
With gaming mergers advancing, analysts weigh best Electronic Arts matchups
All 7 megacap tech names are down at least 20% YTD and these ETNs have suffered
Apple rises as UBS sees highest iPhone purchase intent in six years on back of survey
Streaming tags new record high in Nielsen TV share measure
Comcast's Roberts floated spinning NBCU into merger with Electronic Arts - report
Perhaps the energy sector was the real "pandemic winner"
Apple, Intel among tech leaders caught in S&P 500 swoon
Apple to unveil new version of HomePod in short order: analyst
Apple iPhone supply chain 'surprisingly resilient' despite China's COVID issues, Ives says
Apple nabs 51% of North American smartphone market in Q1, aided by iPhone 13
Taiwan Semi downplays report of Singapore plant, adds possibility not ruled out
Outsized losses of the S&P 500 are limited to the Big Tech club
Apple has dropped 20% since March to reach 10-month low. Is it time to buy?
Apple has shown its mixed reality headset to its board of directors: report
Apple falls even as BofA boosts iPhone estimates
Apple accused of union-busting for second time: report
Taiwan Semiconductor looking to Singapore to build chip factory: report
Could quants chase energy stocks higher? BlackRock's $10b quant rebalance might
Apple, Microsoft lead big tech losses as inflation fears rise
Apple postpones plan to have employees return to office three times a week: report
Recent Earnings
Apple GAAP EPS of $2.10 beats by $0.21, revenue of $123.94B beats by $5.41B
Earnings History
Date
EPS / Forecast
Revenue / Forecast
January 27, 2022

2.1

/ 1.89

123.95B

/ 118.68B
Beat!

October 28, 2021

1.24

/ 1.24

83.36B

/ 85.05B
July 27, 2021

1.3

/ 1.01

81.43B

/ 73.33B
Beat!

April 28, 2021

1.46

/ 0.99

89.58B

/ 77,278M
Beat!

January 27, 2021

1.68

/ 1.42

111.44B

/ 103.27B
Beat!

October 29, 2020

0.73

/ 0.7099

64.7B

/ 63.8B
Beat!

July 30, 2020

0.645

/ 0.51

59.69B

/ 52.29B
Beat!

April 30, 2020

0.6375

/ 2.25

58.31B

/ 54.9B
Beat!

January 28, 2020

1.25

/ 4.54

91.82B

/ 88.51B
Beat!

October 30, 2019

3.03

/ 2.83

64.04B

/ 63.01B
Beat!

July 30, 2019

2.18

/ 2.09

53.81B

/ 53.32B
Beat!

April 30, 2019

2.46

/ 2.36

58.02B

/ 57.51B
Beat!

January 29, 2019

4.18

/ 4.17

84.31B

/ 83.97B
Beat!

November 1, 2018

2.91

/ 2.78

62.9B

/ 61.46B
Beat!

July 31, 2018

2.34

/ 2.16

53.27B

/ 52.3B
Beat!

May 1, 2018

2.73

/ 2.69

61.14B

/ 61.15B
February 1, 2018

3.89

/ 3.21

88.29B

/ 77,250M
Beat!

November 2, 2017

2.07

/ 1.87

45.41B

/ 50,699M
August 1, 2017

1.67

/ 1.57

52.90B

/ 44,886M
Beat!

May 2, 2017

2.1

/ 2.02

52.9B

/ 53,016M
Date
Price
Open
High
Low
Vol
Change
ER
May 27
149.64
145.46

149.64

145.32

90.30M

4.08%

May 26
143.78
137.39

144.34

137.14

90.35M

2.32%

May 25
140.52
138.43

141.79

138.34

91.84M

0.11%

May 24
140.36
140.80

141.97

137.33

103.55M

-1.92%

May 23
143.11
137.79

143.26

137.65

116.07M

4.01%

May 20
137.59
139.09

140.70

132.61

137.43M

0.17%

May 19
137.35
139.88

141.66

136.60

136.10M

-2.46%

May 18
140.82
146.85

147.36

139.90

108.93M

-5.64%

May 17
149.24
148.86

149.77

146.68

76.17M

2.54%

May 16
145.54
145.55

147.52

144.18

85.57M

-1.07%

May 13
147.11
144.59

148.10

143.11

113.99M

3.19%

May 12
142.56
142.77

146.20

138.80

182.60M

-2.69%

May 11
146.50
153.50

155.45

145.81

142.69M

-5.18%

May 10
154.51
155.52

156.74

152.93

115.37M

1.61%

May 9
152.06
154.93

155.83

151.49

131.58M

-3.32%

May 6
157.28
156.01

159.44

154.18

116.12M

0.33%

May 5
156.77
163.85

164.08

154.95

130.53M

-5.57%

May 4
166.02
159.67

166.48

159.26

108.26M

4.10%

May 3
159.48
158.15

160.71

156.32

88.97M

0.96%

May 2
157.96
156.71

158.23

153.27

123.06M

0.20%

Apr 29
157.65
161.84

166.20

157.25

131.75M

-3.66%

Apr 28
163.64
159.25

164.51

158.93

130.22M

4.52%

Apr 27
156.57
155.91

159.79

155.38

88.06M

-0.15%