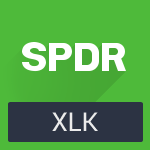 Technology Select Sector SPDR
etfs
About
Profile
The technology sector is the category of stocks relating to the research, development, or distribution of technologically based goods and services. This sector contains businesses revolving around the manufacturing of electronics, creation of software, computers, or products and services relating to information technology.
---
Headquarters
United States
---
Available for logged in users only.


The multiple price alert feature will smartly add or remove $1 if your alert was hit.
It's only available if you are logged in, a V.I.P. member or if you are using the AI chrome extension.

Contact us via Twitter if you are interested in trying it out.
There is no reason why investors should be pessimistic about equities
Fund managers haven't liked bonds this much since the Financial Crisis - BofA
BofA clients inject $3B into single stocks and ETFs
Oppenheimer favors tech amid upbeat prediction for S&P 500
Financials and Energy should see gains in 2024, despite risks – Here is why
Bespoke Investment: Sector divergence among 2023's 'major plot points,' as tech soars and utilities slide
Year-end rally would favor cyclicals – Ned Davis Research
Markets are starting to punish zombie companies - SocGen's Edwards
S&P 500 follows up best week of 2023 with a +1% advance this week
There could be a positive shift in the equity momentum
Info Tech upgraded to overweight by Truist, Energy and Industrials downgraded
BofA clients pumped $2.7B into U.S. equities as the S&P 500 rallied last week
Wells Fargo sees little guidance follow-through from Q3 results
Top 7 tech stocks with even more growth opportunity
S&P 500 posts best week of 2023, caps stunning reversal from correction territory
In a down month, Utilities represented the standout S&P sector in October
S&P 500 notches three-month losing streak for first time since Q1 2020
Bulls vs. Bears: Apple readies itself for a big earnings report
S&P 500 slips ~2.5% for the week, slides into correction territory; eyes on Fed meet
This is how the S&P 500 has performed so far, according to current earnings reports
Date
Price
Open
High
Low
Vol
Change
Dec 4
183.32
183.73

183.73

181.32

9.1M

-1.22%

Dec 1
185.58
184.68

185.91

183.79

7.0M

0.23%

Nov 30
185.16
185.66

185.91

183.61

6.9M

0.15%

Nov 29
184.89
186.1

186.9

184.77

5.4M

0.08%

Nov 28
184.75
183.78

185.24

183.78

5.4M

0.19%

Nov 27
184.4
184.15

185.46

183.82

4.2M

-0.01%

Nov 24
184.41
184.46

184.62

183.71

2.1M

-0.19%

Nov 22
184.77
185.11

186.35

184.27

5.6M

0.45%

Nov 21
183.95
184.61

184.9

183.27

6.7M

-0.81%

Nov 20
185.45
183.03

185.93

183.01

5.6M

1.45%

Nov 17
182.8
182.77

183.5

182.01

6.6M

-0.21%

Nov 16
183.18
181.91

183.38

181.58

5.8M

0.50%

Nov 15
182.27
182.85

183.13

181.57

6.6M

0.13%

Nov 14
182.04
181.2

182.49

180.64

8.3M

2%

Nov 13
178.47
178.77

178.92

177.72

5.9M

-0.58%

Nov 10
179.52
176.01

179.63

175.81

6.7M

2.61%

Nov 9
174.95
176.03

177.32

174.72

7.2M

-0.47%

Nov 8
175.77
175.38

176.06

174.58

5.4M

0.57%

Nov 7
174.78
173.35

175.29

173.09

6.5M

1.09%

Nov 6
172.89
171.99

172.95

171.45

5.5M

0.66%

Nov 3
171.76
169.84

172.45

169.47

7.8M

1.03%

Nov 2
170.01
168.69

170.16

168.46

8.1M

1.69%

Nov 1
167.18
164.3

167.4

164.3

10.5M

1.93%

Oct 31
164.01
162.93

164.15

161.66

5.4M

0.71%

Oct 30
162.85
161.97

163.43

161.48

7.1M

1.07%

Oct 27
161.12
161.17

162.75

160.41

8.1M

0.58%

Oct 26
160.19
163.6

164.32

159.5

10.3M

-1.91%

Oct 25
163.31
166.05

166.25

162.82

7.8M

-1.18%

Oct 24
165.26
164.78

165.51

163.48

5.6M

0.69%

Oct 23
164.13
162.92

165.8

162.01

7.6M

0.12%

Oct 20
163.94
166.68

166.8

163.77

7.7M

-1.69%

Oct 19
166.76
168.39

169.52

166.47

10.0M

-0.57%

Oct 18
167.72
168.27

169.64

167.03

6.4M

-1.03%

Oct 17
169.46
168.11

170.34

166.9

7.7M

-0.46%

Oct 16
170.25
168.91

171.02

168.88

7.3M

0.96%

Oct 13
168.63
171.42

171.71

168.04

7.6M

-1.43%

Oct 12
171.08
171.07

172.83

169.78

7.7M

0.09%

Oct 11
170.92
169.87

171

169.33

5.2M

0.93%

Oct 10
169.35
169.21

170.71

168.74

10.2M

0.15%

Oct 9
169.09
167.19

169.35

166.42

6.6M

0.52%

Oct 6
168.22
164

168.94

163.52

8.3M

1.87%

Oct 5
165.13
164.9

165.4

163.15

6.0M

0.13%

Oct 4
164.91
163.01

165.35

163.01

7.6M

1.25%

Oct 3
162.88
164.75

165.88

162.04

7.4M

-1.7%

Oct 2
165.69
164.01

166.17

163.76

6.8M

1.07%

Sep 29
163.93
164.98

166.51

163.37

7.9M

0.34%

Sep 28
163.37
161.45

164.41

160.69

6.4M

0.71%

Sep 27
162.22
162.75

163.07

160.61

5.8M

0.15%

Sep 26
161.97
163.86

163.95

161.41

7.5M

-1.8%

Sep 25
164.94
163.99

165.19

163.57

5.3M

0.32%

Sep 22
164.41
164.78

165.92

164.04

6.3M

0.21%

Sep 21
164.06
164.85

166.02

163.98

7.4M

-1.52%

Sep 20
166.6
169.72

169.94

166.53

5.4M

-1.57%

Sep 19
169.26
168.63

169.69

167.71

4.1M

-0.05%

Sep 18
169.35
168.05

169.91

168

5.0M

0.27%

Sep 15
168.9
171.59

171.64

168.45

6.6M

-1.92%

Sep 14
172.21
172.02

172.63

170.94

4.7M

0.73%

Sep 13
170.97
170.47

171.88

169.99

5.0M

0.25%

Sep 12
170.54
172.24

172.85

170.23

6.1M

-1.81%

Sep 11
173.69
174.31

174.47

172.17

4.1M

0%