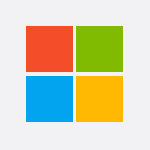 Microsoft
About
Profile
Microsoft enables digital transformation for the era of an intelligent cloud and an intelligent edge. Its mission is to empower every person and every organization on the planet to achieve more.
---
Headquarters
Redmond, Washington, United States
---
The European Union on Monday approved Microsoft's proposed plan to buy gaming company Activision Blizzard for $69 billion. Activision shares added 1%, while Microsoft was little changed.
Available for logged in users only.


The multiple price alert feature will smartly add or remove $1 if your alert was hit.
It's only available if you are logged in, a V.I.P. member or if you are using the AI chrome extension.

Contact us via Twitter if you are interested in trying it out.
Druckenmiller's Duquesne adds Microsoft, IQVIA, exits Cenovus Energy, Lennar
Chase Coleman's Tiger Global adds stakes in AAPL, TSM, exits RBLX, PDD
Laffont's Coatue Management adds stakes in TSM, UNH and exits AVGO, BNTX
Microsoft Azure said to be targeted by EU antitrust enforcers
Microsoft's $69B purchase of Activision gets European Union approval
Alphabet downgraded by Loop Capital on 'structural uncertainties' surrounding AI
AMD's opportunity in AI may be much bigger than first believed: Morgan Stanley
Microsoft set to defend Activision deal in US court amid competition worries
Dividend Roundup: Exxon Mobil, Microsoft, Walgreens, Raytheon and more
Microsoft barred by UK regulator from increasing Activision stake
Goldman Sachs downgrades Twilio, other software names on 'limited catalyst' path
Microsoft slips even as Wedbush says ChatGPT adds 'another growth leg'
Google puts AI reinvention at center of I/O developer conference; shares rise (updated)
Microsoft reportedly skipping raises for full-time employees, cutting bonuses
Microsoft signs deal with nuclear fusion company to provide electricity
EU set to approve Microsoft purchase of Activision as soon as Monday - report
Microsoft said to be keen on getting Firefox search deal as Google contract expires
Famed investor Stan Druckenmiller sees hard landing coming (update)
LinkedIn to lay off 700 employees, shut down China-focused app
AMD shares climb 5% as Wall Street debates chipmaker's direction
Earnings History
Date
EPS / Forecast
Revenue / Forecast
January 25, 2022

2.48

/ 2.31

51.73B

/ 50.65B
Beat!

October 26, 2021

2.27

/ 2.08

45.32B

/ 44B
Beat!

July 27, 2021

2.17

/ 1.92

46.15B

/ 44.22B
Beat!

April 27, 2021

1.95

/ 1.78

41.71B

/ 41.04B
Beat!

January 26, 2021

2.03

/ 1.64

43.08B

/ 40.22B
Beat!

October 27, 2020

1.82

/ 1.54

37.15B

/ 35.76B
Beat!

July 22, 2020

1.46

/ 1.34

38.03B

/ 36.55B
Beat!

April 29, 2020

1.4

/ 1.27

35.02B

/ 33.66B
Beat!

January 29, 2020

1.51

/ 1.05

36.91B

/ 32,512M
Beat!

October 23, 2019

1.38

/ 1.25

33.06B

/ 32.15B
Beat!

July 18, 2019

1.37

/ 1.21

33.72B

/ 32.77B
Beat!

April 24, 2019

1.14

/ 1

30.57B

/ 29.88B
Beat!

January 30, 2019

1.1

/ 1.09

32.47B

/ 32.47B
October 24, 2018

1.14

/ 0.96

29.08B

/ 27.88B
Beat!

July 19, 2018

1.13

/ 1.08

30.09B

/ 29.2B
Beat!

April 26, 2018

0.95

/ 0.85

26.82B

/ 25.77B
Beat!

January 31, 2018

0.96

/ 0.79

28.92B

/ 25,282M
Beat!

October 26, 2017

0.84

/ 0.68

24.54B

/ 21,713M
Beat!

July 20, 2017

0.98

/ 0.71

23.32B

/ 24,274M
April 27, 2017

0.73

/ 0.70

23.21B

/ 23,621M
Date
Price
Open
High
Low
Vol
Change
ER
May 26
332.89
324.02

333.4

323.88

35.7M

2.14%

May 25
325.92
323.24

326.9

320

41.9M

3.85%

May 24
313.85
314.73

316.5

312.61

22.0M

-0.45%

May 23
315.26
320.03

322.72

315.25

29.9M

-1.84%

May 22
321.18
318.6

322.59

318.01

23.1M

0.89%

May 19
318.34
316.74

318.75

316.37

25.7M

-0.06%

May 18
318.52
314.53

319.04

313.72

26.4M

1.44%

May 17
314
312.29

314.43

310.74

24.3M

0.72%

May 16
311.74
309.83

313.71

309.83

26.7M

0.74%

May 15
309.46
309.1

309.9

307.59

16.3M

0.16%

May 12
308.97
310.55

310.65

306.6

19.8M

-0.37%

May 11
310.11
310.1

311.12

306.26

31.7M

-0.7%

May 10
312.31
308.62

313

307.67

30.1M

1.73%

May 9
307
308

310.04

306.31

21.3M

-0.53%

May 8
308.65
310.13

310.2

306.09

21.3M

-0.64%

May 5
310.65
305.72

311.97

304.27

28.2M

1.72%

May 4
305.41
306.24

307.76

303.4

22.2M

0.33%

May 3
304.4
306.62

308.61

304.09

22.2M

-0.33%

May 2
305.41
307.76

309.18

303.91

26.4M

-0.05%

May 1
305.56
306.97

308.6

305.15

21.3M

-0.55%

Apr 28
307.26
304.01

308.93

303.31

36.5M

0.80%

Apr 27
304.83
295.97

305.2

295.25

46.2M

3.20%

Apr 26
295.37
296.7

299.57

292.73

64.5M

7.24%

Apr 25
275.42
279.51

281.6

275.37

40.2M

-2.25%

Apr 24
281.77
282.09

284.95

278.72

26.5M

-1.4%

Apr 21
285.76
285.01

286.27

283.06

21.7M

-0.12%

Apr 20
286.11
285.25

289.03

285.08

23.2M

-0.81%

Apr 19
288.45
285.99

289.05

284.54

17.1M

0.03%

Apr 18
288.37
291.57

291.76

287.01

20.1M

-0.15%

Apr 17
288.8
289.93

291.6

286.16

23.8M

0.93%

Apr 14
286.14
287

288.48

283.69

21.0M

-1.28%

Apr 13
289.84
283.59

289.9

283.17

24.1M

2.24%

Apr 12
283.49
284.79

287.01

281.96

27.4M

0.23%

Apr 11
282.83
285.75

285.98

281.64

27.2M

-2.27%

Apr 10
289.39
289.21

289.6

284.71

23.0M

-0.76%

Apr 6
291.6
283.21

292.08

282.03

29.8M

2.55%

Apr 5
284.34
285.85

287.15

282.92

22.0M

-0.99%

Apr 4
287.18
287.23

290.45

285.67

25.8M

-0.02%

Apr 3
287.23
286.52

288.27

283.95

24.8M

-0.37%

Mar 31
288.3
283.73

289.27

283

32.7M

1.50%

Mar 30
284.05
284.23

284.46

281.48

25.0M

1.26%

Mar 29
280.51
278.96

281.14

278.41

25.1M

1.92%

Mar 28
275.23
275.79

276.14

272.05

21.8M

-0.42%

Mar 27
276.38
280.5

281.46

275.52

26.8M

-1.49%

Mar 24
280.57
277.24

280.63

275.28

28.2M

1.05%

Mar 23
277.66
277.94

281.06

275.2

36.4M

1.97%

Mar 22
272.29
273.4

281.04

272.18

34.7M

-0.54%

Mar 21
273.78
274.88

275

269.52

34.0M

0.57%

Mar 20
272.23
276.98

277.48

269.85

42.8M

-2.58%

Mar 17
279.43
278.26

283.33

276.32

69.5M

1.17%

Mar 16
276.2
265.2

276.56

263.28

53.6M

4.05%

Mar 15
265.44
259.98

266.48

259.21

45.8M

1.78%

Mar 14
260.79
256.75

261.07

255.86

33.3M

2.71%

Mar 13
253.92
247.4

257.91

245.73

33.3M

2.14%

Mar 10
248.59
251.08

252.79

247.6

28.3M

-1.48%

Mar 9
252.32
255.82

259.56

251.58

26.5M

-0.54%

Mar 8
253.7
254.04

254.54

250.81

17.3M

-0.18%

Mar 7
254.15
256.3

257.69

253.39

21.5M

-1.06%

Mar 6
256.87
256.42

260.12

255.98

24.1M

0.62%

Mar 3
255.29
252.19

255.62

251.39

29.3M

0%