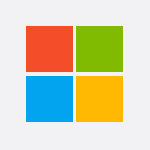 Microsoft
About
Profile
Microsoft enables digital transformation for the era of an intelligent cloud and an intelligent edge. Its mission is to empower every person and every organization on the planet to achieve more.
---
Headquarters
Redmond, Washington, United States
---
Shares jumped more than 3% after the maker of Windows software and Xbox video games reported fiscal first-quarter results that topped analysts estimates. Microsoft posted earnings per share of $2.99 on $56.52 billion in revenue. Meanwhile, analysts had forecast EPS of $2.65 on $54.50 billion in revenue, according to LSEG, formerly known as Refinitiv. Microsofts profit jumped due to slower operating expense growth, as well as better-than-expected revenue from its Azure cloud segment.
Available for logged in users only.


The multiple price alert feature will smartly add or remove $1 if your alert was hit.
It's only available if you are logged in, a V.I.P. member or if you are using the AI chrome extension.

Contact us via Twitter if you are interested in trying it out.
Netflix said to tweak Microsoft deal, lower ad prices to boost growth
Microsoft faces anticompetitive probe linked to Teams in EU
Inside Alphabet: Cloud keeps flexing growth as Search plows away
Microsoft, Google among companies to create AI-focused Frontier Model Forum
More PayPal payment options added to Microsoft Store
Samsung unveils 5th gen Galaxy Z foldables, Watch6 with fall detection and Tab S9
6 stocks to watch on Wednesday: Microsoft, Boeing, AT&T, Visa and more
Amazon could face FTC lawsuit looking to break up the e-commerce giant
Microsoft sinks on 'investment surge' worries, Wall Street impressed by momentum
Inside Microsoft: Cloud continues to be a stalwart for the tech giant
Alibaba's cloud unit clients to get access to Meta's AI model Llama - report
Microsoft slips even as Q4 results surpass estimates
Microsoft GAAP EPS of $2.69 beats by $0.14, revenue of $56.2B beats by $710M
Meta ticks higher after New Street Research upgrades on AI efforts
Adding Activision 'rounds out' Microsoft's gaming strategy: Evercore
Fortinet likely to post 'solid' Q2, highlight new uses amid competition: Baird
Microsoft to get 'golden 1-2 punch' from cloud, AI, Wedbush says
Microsoft's generative AI push could cause a revenue 'tidal wave' for the tech giant
Earnings week ahead: Microsoft, Google, Meta, Boeing, Coca-Cola and more
Catalyst Watch: Earnings blitz, central bank meetings, UPS strike jitters and Barbenheimer
Earnings History
Date
EPS / Forecast
Revenue / Forecast
January 25, 2022

2.48

/ 2.31

51.73B

/ 50.65B
Beat!

October 26, 2021

2.27

/ 2.08

45.32B

/ 44B
Beat!

July 27, 2021

2.17

/ 1.92

46.15B

/ 44.22B
Beat!

April 27, 2021

1.95

/ 1.78

41.71B

/ 41.04B
Beat!

January 26, 2021

2.03

/ 1.64

43.08B

/ 40.22B
Beat!

October 27, 2020

1.82

/ 1.54

37.15B

/ 35.76B
Beat!

July 22, 2020

1.46

/ 1.34

38.03B

/ 36.55B
Beat!

April 29, 2020

1.4

/ 1.27

35.02B

/ 33.66B
Beat!

January 29, 2020

1.51

/ 1.05

36.91B

/ 32,512M
Beat!

October 23, 2019

1.38

/ 1.25

33.06B

/ 32.15B
Beat!

July 18, 2019

1.37

/ 1.21

33.72B

/ 32.77B
Beat!

April 24, 2019

1.14

/ 1

30.57B

/ 29.88B
Beat!

January 30, 2019

1.1

/ 1.09

32.47B

/ 32.47B
October 24, 2018

1.14

/ 0.96

29.08B

/ 27.88B
Beat!

July 19, 2018

1.13

/ 1.08

30.09B

/ 29.2B
Beat!

April 26, 2018

0.95

/ 0.85

26.82B

/ 25.77B
Beat!

January 31, 2018

0.96

/ 0.79

28.92B

/ 25,282M
Beat!

October 26, 2017

0.84

/ 0.68

24.54B

/ 21,713M
Beat!

July 20, 2017

0.98

/ 0.71

23.32B

/ 24,274M
April 27, 2017

0.73

/ 0.70

23.21B

/ 23,621M
Date
Price
Open
High
Low
Vol
Change
Nov 27
378.61
376.78

380.64

376.2

22.1M

0.31%

Nov 24
377.43
377.33

377.97

375.14

9.4M

-0.11%

Nov 22
377.85
378

379.79

374.96

23.4M

1.28%

Nov 21
373.07
375.67

376.22

371.12

28.4M

-1.16%

Nov 20
377.44
371.22

378.87

371

52.5M

2.05%

Nov 17
369.85
373.61

374.37

367

40.3M

-1.68%

Nov 16
376.17
370.96

376.35

370.18

26.4M

1.76%

Nov 15
369.67
371.28

373.13

367.11

26.1M

-0.16%

Nov 14
370.27
371.01

371.95

367.35

26.8M

0.98%

Nov 13
366.68
368.22

368.47

365.9

19.9M

-0.81%

Nov 10
369.67
361.49

370.1

361.07

28.1M

2.49%

Nov 9
360.69
362.3

364.79

360.36

23.8M

-0.69%

Nov 8
363.2
361.68

363.87

360.55

25.7M

0.74%

Nov 7
360.53
359.4

362.46

357.63

25.7M

1.12%

Nov 6
356.53
353.45

357.54

353.35

23.3M

1.06%

Nov 3
352.8
349.63

354.39

347.33

23.6M

1.29%

Nov 2
348.32
347.24

348.83

344.77

24.1M

0.65%

Nov 1
346.07
339.79

347.42

339.65

28.2M

2.35%

Oct 31
338.11
338.85

339

334.69

19.8M

0.24%

Oct 30
337.31
333.41

339.45

331.83

22.8M

2.27%

Oct 27
329.81
330.42

336.72

328.4

29.9M

0.59%

Oct 26
327.89
340.54

341.63

326.94

37.2M

-3.75%

Oct 25
340.67
345.02

346.2

337.62

54.5M

3.07%

Oct 24
330.53
331.3

331.84

327.6

27.5M

0.37%

Oct 23
329.32
325.47

332.73

324.39

24.3M

0.81%

Oct 20
326.67
331.72

331.92

325.45

25.0M

-1.4%

Oct 19
331.32
332.15

336.88

330.91

24.9M

0.37%

Oct 18
330.11
332.49

335.59

328.3

23.0M

-0.59%

Oct 17
332.06
329.59

333.46

327.41

18.0M

-0.17%

Oct 16
332.64
331.05

336.14

330.6

22.1M

1.50%

Oct 13
327.73
332.38

333.83

326.36

21.1M

-1.04%

Oct 12
331.16
330.57

333.63

328.72

19.3M

-0.38%

Oct 11
332.42
331.21

332.82

329.14

19.8M

1.23%

Oct 10
328.39
330.96

331.1

327.67

20.5M

-0.43%

Oct 9
329.82
324.75

330.3

323.18

19.9M

0.78%

Oct 6
327.26
316.55

329.19

316.3

25.7M

2.47%

Oct 5
319.36
319.09

319.98

314.9

16.9M

0.13%

Oct 4
318.95
314.03

320.04

314

20.2M

1.77%

Oct 3
313.39
320.83

321.39

311.21

20.6M

-2.61%

Oct 2
321.8
316.28

321.89

315.18

20.6M

1.92%

Sep 29
315.75
317.75

319.47

314.98

24.1M

0.67%

Sep 28
313.64
310.99

315.48

309.45

19.3M

0.27%

Sep 27
312.79
312.3

314.3

309.69

19.3M

0.21%

Sep 26
312.14
315.13

315.88

310.02

26.1M

-1.7%

Sep 25
317.54
316.59

317.67

315

16.5M

0.17%

Sep 22
317.01
321.32

321.45

316.15

21.4M

-0.79%

Sep 21
319.53
319.26

325.35

315

34.5M

-0.39%

Sep 20
320.77
329.51

329.59

320.51

20.2M

-2.4%

Sep 19
328.65
326.17

329.39

324.51

16.5M

-0.12%

Sep 18
329.06
327.8

330.4

326.36

16.6M

-0.35%

Sep 15
330.22
336.92

337.4

329.65

37.7M

-2.5%

Sep 14
338.7
339.15

340.86

336.57

20.2M

0.79%

Sep 13
336.06
331.31

336.85

331.17

16.5M

1.29%

Sep 12
331.77
335.82

336.79

331.48

17.2M

-1.83%

Sep 11
337.94
337.24

338.42

335.43

15.9M

1.10%

Sep 8
334.27
330.09

336.16

329.46

19.5M

1.32%

Sep 7
329.91
331.29

333.08

329.03

17.8M

-0.89%

Sep 6
332.88
333.38

334.46

330.18

17.3M

-0.2%

Sep 5
333.55
329

334.85

328.66

18.1M

1.49%

Sep 1
328.66
331.31

331.99

326.78

14.9M

0%