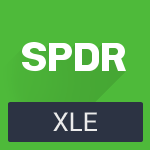 Energy Select Sector SPDR
etfs
About
Profile
The energy sector is a large and all-encompassing term that describes a complex and inter-related network of companies, directly and indirectly, involved in the production and distribution of energy needed to power the economy and facilitate the means of production and transportation.
---
Headquarters
United States of America
---
Available for logged in users only.


The multiple price alert feature will smartly add or remove $1 if your alert was hit.
It's only available if you are logged in, a V.I.P. member or if you are using the AI chrome extension.

Contact us via Twitter if you are interested in trying it out.
BofA clients inject $3B into single stocks and ETFs
Financials and Energy should see gains in 2024, despite risks – Here is why
$90 per barrel oil prices are very possible - TD Securities
Bespoke Investment: Sector divergence among 2023's 'major plot points,' as tech soars and utilities slide
Weak demand, or too much supply - which is driving the drop in oil prices?
S&P 500 follows up best week of 2023 with a +1% advance this week
Oil prices hit by demand concerns after reported huge rise in U.S. crude stocks
Info Tech upgraded to overweight by Truist, Energy and Industrials downgraded
Oil prices slide to lowest since August as China data sparks demand concerns
Twenty cheap long stock alternatives after the biggest rally in a decade
BofA clients pumped $2.7B into U.S. equities as the S&P 500 rallied last week
Wells Fargo sees little guidance follow-through from Q3 results
Top 7 tech stocks with even more growth opportunity
S&P 500 posts best week of 2023, caps stunning reversal from correction territory
Oil falls for second straight week as war premium evaporates
Crude oil climbs after Fed, Bank of England keep rates unchanged
In a down month, Utilities represented the standout S&P sector in October
S&P 500 notches three-month losing streak for first time since Q1 2020
U.S. crude oil dips to three-week low as Israel moves into Gaza at measured pace
S&P 500 slips ~2.5% for the week, slides into correction territory; eyes on Fed meet
Date
Price
Open
High
Low
Vol
Change
Dec 4
84.63
84.4

85.16

84.01

18.5M

-0.46%

Dec 1
85.02
84.48

86.03

84.1

21.5M

0.52%

Nov 30
84.58
84.74

85.79

83.57

29.0M

0.67%

Nov 29
84.02
85.18

85.29

83.75

22.6M

-0.74%

Nov 28
84.65
84.8

85.43

84.49

14.3M

0.02%

Nov 27
84.63
84.49

84.78

83.84

12.2M

-0.35%

Nov 24
84.93
84.55

85.56

84.5

9.6M

0.41%

Nov 22
84.58
82.93

84.65

82.46

18.3M

-0.05%

Nov 21
84.62
84.41

84.77

83.81

13.5M

-0.22%

Nov 20
84.81
85.04

85.54

84.79

14.5M

0.14%

Nov 17
84.69
83.66

85.25

83.46

24.4M

2.10%

Nov 16
82.95
83.8

84.12

82.11

26.6M

-1.95%

Nov 15
84.6
84.63

85.67

84.48

16.5M

-0.19%

Nov 14
84.76
84.33

85

84.19

17.3M

0.89%

Nov 13
84.01
83.54

84.18

83.28

14.2M

0.72%

Nov 10
83.41
83.43

83.61

82.62

17.3M

1.10%

Nov 9
82.5
83.36

83.55

82.45

19.0M

-0.3%

Nov 8
82.75
83.48

84.03

82.72

25.4M

-1.25%

Nov 7
83.8
84.58

84.73

83.43

23.7M

-2.22%

Nov 6
85.7
87.37

87.37

85.45

20.4M

-1.13%

Nov 3
86.68
87.4

87.68

86.15

23.6M

-1.01%

Nov 2
87.56
85.2

87.64

84.71

22.6M

3.02%

Nov 1
84.99
85.73

86.19

84.87

23.0M

-0.23%

Oct 31
85.19
85.01

85.37

84.16

18.6M

0.33%

Oct 30
84.91
84.93

85.54

84.09

22.7M

0.33%

Oct 27
84.63
86.62

86.94

84.34

26.9M

-2.4%

Oct 26
86.71
86.59

87.11

85.85

22.3M

-0.78%

Oct 25
87.39
87.61

88.06

86.95

20.7M

-0.18%

Oct 24
87.55
89.02

89.09

87.52

22.1M

-1.41%

Oct 23
88.8
89.74

89.75

88.39

25.9M

-1.62%

Oct 20
90.26
91.64

91.98

89.94

23.3M

-1.68%

Oct 19
91.8
91.64

92.56

90.77

31.6M

-0.17%

Oct 18
91.96
91.5

92.34

91.29

23.8M

0.91%

Oct 17
91.13
89.99

91.41

89.86

20.2M

1.04%

Oct 16
90.19
90.17

90.46

89.33

19.2M

0.67%

Oct 13
89.59
89.09

90.02

88.71

24.3M

2.20%

Oct 12
87.66
88.49

88.57

87.25

20.0M

0.11%

Oct 11
87.56
87.79

87.88

86.55

23.5M

-1.29%

Oct 10
88.7
88.67

89.29

88.17

20.8M

0.12%

Oct 9
88.59
88.03

88.96

87.4

30.7M

3.34%

Oct 6
85.73
85.22

86.51

84.26

25.7M

0.60%

Oct 5
85.22
84.52

85.97

84.52

23.5M

-0.62%

Oct 4
85.75
87.21

87.36

84.91

29.7M

-3.14%

Oct 3
88.53
88.38

88.7

87.66

20.7M

-0.07%

Oct 2
88.59
90.27

90.51

87.98

25.3M

-1.99%

Sep 29
90.39
92.11

92.47

90.04

24.2M

-2.02%

Sep 28
92.25
91.75

92.79

91.54

24.2M

0.11%

Sep 27
92.15
91.03

92.41

90.63

23.1M

2.49%

Sep 26
89.91
89.65

90.45

89.51

16.7M

-0.58%

Sep 25
90.43
89.07

90.57

89.07

17.5M

1.25%

Sep 22
89.31
89.83

90.43

89.22

21.0M

0.17%

Sep 21
89.16
91.02

91.23

89.01

21.7M

-1.37%

Sep 20
90.4
90.8

91.83

90.34

18.0M

-0.93%

Sep 19
91.25
92.8

92.93

90.71

18.1M

-0.93%

Sep 18
92.11
92.28

92.55

91.43

16.8M

0.11%

Sep 15
92.01
92.5

93.41

92.01

24.8M

-1.45%

Sep 14
93.36
93.24

93.68

92.96

18.5M

1.17%

Sep 13
92.28
93.07

93.26

91.8

18.1M

-0.75%

Sep 12
92.98
91.82

93.08

91.65

26.3M

2.36%

Sep 11
90.84
92.72

93

90.47

22.0M

0%