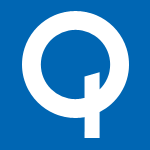 Qualcomm Inc
About
Profile
Qualcomm Incorporated is an American multinational semiconductor and telecommunications equipment company that designs and markets wireless telecommunications products and services
---
Headquarters
San Diego, California, United States
---
Shares of the chipmaker dipped 1.5% in extended trading after Qualcomm reported $2.37 in adjusted earnings per share for its fiscal first quarter. That was three cents better than estimates. However, Qualcomm's adjusted revenue came in at $9.46 billion, below the expected $9.60 billion.
Available for logged in users only.


The multiple price alert feature will smartly add or remove $1 if your alert was hit.
It's only available if you are logged in, a V.I.P. member or if you are using the AI chrome extension.

Contact us via Twitter if you are interested in trying it out.
Nvidia, AMD stocks lead semiconductors higher as sector sinks after Fed decision
Hot Stocks: PATH, SIG, PD rises on earnings; INTC, QCOM, SWKS upgraded at Susquehanna, FRC, HALO ESPR slide
Intel, Qualcomm, Skyworks stocks rise as Susquehanna upgrades trio
Applied Materials lead chips higher as sector reacts to bank backstops
Qualcomm goes back to Europe as it seeks to overturn $258M antitrust fine
Semiconductor sales dip 18.5% Y/Y in January
Nvidia, Qualcomm leads chips lower as sector sees increased political attention
AMD leads chip stocks as sector firms up after Powell testimony
Qualcomm raises dividend by 7% to $0.80
AMD bucks trend as chips slump after Powell testimony
Nvidia holds steady on report that Huawei sales may be at risk
Micron, Wolfspeed, ON lead chips lower as sector awaits Broadcom results
Qualcomm CEO: 'no plans' to provide Apple with modem chips in 2024
Biden Administration may revoke Huawei export licenses
Chips edge higher as Nvidia's strong Q4, guidance buoys sentiment
Adobe signs deal with Qualcomm for cloud marketing software
Samsung unveils smartphone satellite communication tech as it competes with Apple
Top dividend stocks picked using a UBS machine-learning model
Intel dips on dividend cut as chip sector awaits Nvidia earnings
Intel leads chips lower as Morgan Stanley cuts PC estimates again
Earnings History
Date
EPS / Forecast
Revenue / Forecast
February 2, 2022

3.23

/ 3

10.7B

/ 10.44B
Beat!

November 3, 2021

2.55

/ 2.26

9.32B

/ 8.84B
Beat!

July 28, 2021

1.92

/ 1.68

8B

/ 7.53B
Beat!

April 28, 2021

1.9

/ 1.69

7.93B

/ 7.62B
Beat!

February 3, 2021

2.17

/ 2.1

8.23B

/ 8.26B
November 4, 2020

1.45

/ 1.17

6.5B

/ 5.9B
Beat!

July 29, 2020

0.86

/ 0.71

4.89B

/ 4.81B
Beat!

April 29, 2020

0.88

/ 0.79

5.21B

/ 5.03B
Beat!

February 5, 2020

0.99

/ 0.85

5.06B

/ 4.84B
Beat!

November 6, 2019

0.78

/ 0.71

4.8B

/ 4.71B
Beat!

July 31, 2019

0.8

/ 0.76

4.89B

/ 5.09B
May 1, 2019

0.77

/ 0.71

4.88B

/ 4.8B
Beat!

January 30, 2019

1.2

/ 1.09

4.82B

/ 4.9B
November 7, 2018

0.9

/ 0.83

5.83B

/ 5.53B
Beat!

July 25, 2018

1.01

/ 0.71

5.63B

/ 5.19B
Beat!

April 25, 2018

0.8

/ 0.7

5.23B

/ 5.19B
Beat!

January 31, 2018

0.98

/ 1.18

6.07B

/ 6,112M
November 1, 2017

0.92

/ 0.81

5.90B

/ 5,802M
Beat!

July 19, 2017

0.83

/ 0.81

5.37B

/ 5,264M
Beat!

April 19, 2017

1.34

/ 1.19

5.02B

/ 5,890M
Date
Price
Open
High
Low
Vol
ER
Nov 21
120.2
121.09

122.5

120.1

8.2M
Nov 22
123.65
120.84

123.79

120.03

7.0M
Nov 23
125.15
123.54

127.035

123.29

5.5M
Nov 25
123.45
124.86

125.36

123.4

3.2M
Nov 28
119.54
122.16

123.45

118.845

7.1M
Nov 29
118.38
120.14

121.37

118.32

6.3M
Nov 30
126.49
118.75

126.6

118.07

12.8M
Dec 01
126.81
126.72

128.2

125.68

7.9M
Dec 02
125.66
123.71

125.82

123.1205

6.1M