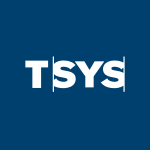 Total System Services, Inc.
About
Profile
When you make an investment in TSYS®, you make an investment in what matters to us — growth, integrity and excellence.
---
Headquarters
Columbus, Georgia, United States
---
Available for logged in users only.


The multiple price alert feature will smartly add or remove $1 if your alert was hit.
It's only available if you are logged in, a V.I.P. member or if you are using the AI chrome extension.

Contact us via Twitter if you are interested in trying it out.