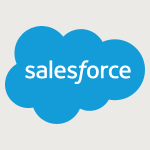 Salesforce
About
Profile
Salesforce.com, Inc. (usually abbreviated as SF or SFDC) is an American cloud-based software company headquartered in San Francisco, California. Though the bulk of its revenue comes from its customer-relationship management (CRM) service, Salesforce train
---
Headquarters
San Francisco, California, United States
---
Recent Earnings
Salesforce.com Non-GAAP EPS of $1.69 beats by $0.08, revenue of $8.25B beats by $80M
The software giant's shares fell 6% after the company reported higher-than-expected capital costs and lower demand for consulting deals in its fiscal first quarter.
Available for logged in users only.


The multiple price alert feature will smartly add or remove $1 if your alert was hit.
It's only available if you are logged in, a V.I.P. member or if you are using the AI chrome extension.

Contact us via Twitter if you are interested in trying it out.
Inside Salesforce: Amid AI push, Sales and Service remain bread and butter
Salesforce stock still flagging as analysts debate sales outlooks from earnings
Salesforce execs highlight strong demand for generative AI products
Salesforce dips as company beats in Q1, but plays safe with outlook
Salesforce.com Non-GAAP EPS of $1.69 beats by $0.08, revenue of $8.25B beats by $80M
Salesforce.com Q1 Earnings Preview: Another beat on the cards, AI in focus
Microsoft rises as Wedbush says AI is taking hold, ChatGPT 'changes the game'
Salesforce likely to show 'increased deal stability' in Q1, Wedbush says
Catalyst watch: C3.ai and Salesforce earnings, Knife River debut, Kenvue ratings & Faraday Future event
Earnings Week Ahead: Salesforce, Broadcom, Dollar General and more
With the Nasdaq +20% this year, these are the top 10 tech stocks according to Seeking Alpha's Quant Ratings
Nutanix, Splunk lead cloud stocks higher on strong results, guidance
Tech has had a strong start to 2023. That bodes well for the rest of the year.
ValueAct confirms new Spotify stake, exits LKQ Corp.
Daniel Loeb's Third Point amasses new stakes in Alphabet, Micron, AMD, Alibaba
Tepper's Appaloosa adds stakes in Fedex, Tesla; boosts Uber, Amazon holdings
Monday.com surges 11% after strong Q1, leads enterprise software stocks
Soros Fund Management exits Tesla, slashes Rivian stake, adds Netflix
Microsoft slips even as Wedbush says ChatGPT adds 'another growth leg'
Hot Stocks: WMG, PRAA drop on earnings news; NVAX surges; CRM sets 52-week high
Recent Earnings
Salesforce.com Non-GAAP EPS of $1.69 beats by $0.08, revenue of $8.25B beats by $80M
Earnings History
Date
EPS / Forecast
Revenue / Forecast
November 30, 2021

1.27

/ 0.9219

6.86B

/ 6.8B
Beat!

August 25, 2021

1.48

/ 0.9246

6.34B

/ 6.24B
Beat!

May 27, 2021

1.21

/ 0.8922

5.96B

/ 5.89B
Beat!

February 25, 2021

1.04

/ 0.7532

5.82B

/ 5.68B
Beat!

December 1, 2020

1.74

/ 0.7488

5.42B

/ 5.25B
Beat!

August 25, 2020

1.44

/ 0.67

5.15B

/ 4.9B
Beat!

May 28, 2020

0.7

/ 0.69

4.87B

/ 4.85B
Beat!

February 25, 2020

0.66

/ 0.56

4.85B

/ 4.76B
Beat!

December 3, 2019

0.75

/ 0.67

4.51B

/ 4.45B
Beat!

November 20, 2019

-

/ 0.65

-

/ 4.45B
August 27, 2019

-

/ 0.64

-

/ 3.94B
June 4, 2019

0.93

/ 0.61

3.74B

/ 3.69B
Beat!

March 4, 2019

0.7

/ 0.55

3.6B

/ 3.56B
Beat!

November 27, 2018

0.61

/ 0.5

3.39B

/ 3.37B
Beat!

August 29, 2018

0.71

/ 0.47

3.28B

/ 3.23B
Beat!

May 29, 2018

0.74

/ 0.46

3.01B

/ 2.94B
Beat!

February 28, 2018

0.35

/ 0.34

2.85B

/ 2.81B
Beat!

November 21, 2017

0.39

/ 0.21

2.68B

/ 2,117M
August 22, 2017

0.33

/ 0.22

2.56B

/ 2,019M
Date
Price
Open
High
Low
Vol
Change
ER
May 26
215.44
212.8

216.15

212.55

6.8M

2.63%

May 25
209.91
212.02

212.33

208.44

5.9M

0.41%

May 24
209.06
206.04

210.21

205.42

4.8M

1.17%

May 23
206.64
207.74

209.64

206.47

4.2M

-1.72%

May 22
210.26
209.17

212.82

209.04

3.9M

-0.05%

May 19
210.36
212.96

213.24

209.93

6.1M

-1.39%

May 18
213.32
209.5

213.88

209.33

5.1M

1.88%

May 17
209.38
206.49

209.49

204.8

5.8M

2.36%

May 16
204.56
201.93

205.67

201.75

4.4M

0.60%

May 15
203.33
203.75

205.4

202.48

4.5M

0.75%

May 12
201.81
203.43

203.96

200.13

4.7M

-0.82%

May 11
203.47
202.91

203.8

198.55

5.4M

-0.67%

May 10
204.85
204.94

206.28

203.04

6.5M

1.82%

May 9
201.18
196.78

203.8

196.78

7.0M

1.66%

May 8
197.9
198.72

200.5

196.08

4.2M

0.16%

May 5
197.59
193.95

198.11

193.25

4.3M

2.71%

May 4
192.38
191.9

194.56

190.76

4.4M

-0.12%

May 3
192.61
194.21

195.79

192.56

3.8M

-0.63%

May 2
193.84
198.02

198.41

192.93

6.1M

-2%

May 1
197.79
197.76

199.05

197.12

2.9M

-0.29%

Apr 28
198.37
196.15

198.65

195.27

4.1M

1.24%

Apr 27
195.94
194.17

197.51

193.27

4.8M

2.31%

Apr 26
191.52
192.62

194.37

190.57

4.0M

0.45%

Apr 25
190.67
193.97

194.12

190.63

5.0M

-2.18%

Apr 24
194.92
198.45

198.77

194.06

4.4M

-2.07%

Apr 21
199.03
197.03

199.12

196.46

4.9M

0.77%

Apr 20
197.51
197.18

200.08

196.82

3.6M

-0.71%

Apr 19
198.92
196.3

199.07

195.73

3.7M

0.21%

Apr 18
198.5
199.08

200.12

197.06

4.7M

0.72%

Apr 17
197.08
195.16

197.52

195.03

5.4M

1.25%

Apr 14
194.65
191.85

195.17

191.19

5.1M

0.32%

Apr 13
194.02
190.45

194.38

190.45

4.7M

1.94%

Apr 12
190.32
190.3

191.88

189.53

5.0M

0.76%

Apr 11
188.89
189.06

190.46

187.31

4.9M

-1.36%

Apr 10
191.49
190.59

192.55

189.28

5.3M

-0.55%

Apr 6
192.55
194

194.07

189.6

6.3M

-1.41%

Apr 5
195.31
198

198.29

193.73

4.0M

-0.96%

Apr 4
197.2
198.15

198.7

196.62

4.7M

0.36%

Apr 3
196.49
198.22

198.93

195.53

5.3M

-1.65%

Mar 31
199.78
197.49

200

196.99

6.6M

1.62%

Mar 30
196.6
197.77

198.17

195.49

6.9M

-0.02%

Mar 29
196.64
193.14

197.43

192.88

8.1M

2.26%

Mar 28
192.3
191.18

192.83

191.18

4.9M

0.54%

Mar 27
191.26
188.92

192.11

188.9

7.8M

0.63%

Mar 24
190.06
186.5

190.32

186.09

6.1M

1.40%

Mar 23
187.44
187.4

190.56

185.58

8.7M

0.50%

Mar 22
186.51
190

191.44

186.41

6.6M

-1.15%

Mar 21
188.68
185.87

189.28

184.89

7.0M

1.85%

Mar 20
185.25
184.21

185.52

182.65

5.5M

0.22%

Mar 17
184.85
186.04

187.66

184.18

10.5M

-1.31%

Mar 16
187.3
183.3

187.65

182.98

8.4M

2.40%

Mar 15
182.91
179.16

183.86

178.21

7.7M

0.01%

Mar 14
182.89
180

185.31

179.11

10.1M

4.20%

Mar 13
175.51
171

177.1

170

9.2M

1.35%

Mar 10
173.18
178.5

179.36

171.71

14.1M

-3.1%

Mar 9
178.72
183.1

183.84

178.54

7.1M

-2.31%

Mar 8
182.95
183.3

184.9

181.8

6.7M

-0.2%

Mar 7
183.32
184.46

186.16

183.03

9.0M

-0.26%

Mar 6
183.8
185.07

189

183.63

10.8M

-1.41%

Mar 3
186.43
188.07

189.77

184.29

12.1M

0%