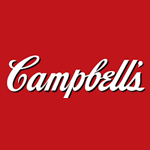 Campbell
About
Profile
Campbell (NYSE:CPB) is driven and inspired by our Purpose, "Real food that matters for life's moments." For generations, people have trusted Campbell to provide authentic, flavorful and affordable snacks, soups and simple meals, and beverages. Founded in
---
Headquarters
Camden, New Jersey, United States
---
Shares added about 1% after the company reported revenue of $2.07 billion, beating the $2.06 billion expected from analysts poll. Earnings were in line with expectations.
Available for logged in users only.


The multiple price alert feature will smartly add or remove $1 if your alert was hit.
It's only available if you are logged in, a V.I.P. member or if you are using the AI chrome extension.

Contact us via Twitter if you are interested in trying it out.
4 stocks to watch on Wednesday: United Natural Foods, Couchbase and more
Campbell Soup dips after profit guidance falls slightly short of expectations
Campbell Soup Non-GAAP EPS of $0.68 beats by $0.03, revenue of $2.23B in-line
Campbell Soup Q3 2023 Earnings Preview
Earnings Week Ahead: NIO, DocusSgn, GameStop, FuelCell and more
Catalyst Watch: Apple's WWDC event, OPEC fallout and REITs on display
Campbell Soup unloads Emerald nuts business as part of strategy to narrow focus
Campbell Soup declares $0.37 dividend
Morgan Stanley touts Mondelez, BellRing Brands as top packaged food picks
Food prices are still high - will these stocks benefit?
Time to pick up cooking? Food at home prices fall for first time since 2020
Consumer staples stocks rise as investors seek safety
Campbell Soup stock gains on earnings beat, raised sales guide
Campbell Soup beats Q4 top and bottom line estimates; raises FY23 outlook
Campbell Soup Q2 2023 Earnings Preview
Earnings week ahead: Docusign, CrowdStrike, Campbell Soup and more
Campbell Soup declares $0.37 dividend
Food inflation is still running in the double digits - watch these stocks for pricing power
Campbell appoints Integra LifeSciences CFO Carrie Anderson as its finance chief
Campbell to fuel $50M in Camden headquarters and consolidate its Snacks offices
Earnings History
Date
EPS / Forecast
Revenue / Forecast
December 8, 2021

0.89

/ 0.8113

2.24B

/ 2.27B
November 23, 2021

-

/ 0.8815

-

/ 2.25B
September 1, 2021

0.55

/ 0.4713

1.87B

/ 1.81B
Beat!

June 9, 2021

0.57

/ 0.6573

1.98B

/ 2B
May 14, 2021

-

/ 0.6778

-

/ 2.01B
March 10, 2021

0.84

/ 0.8363

2.28B

/ 2.3B
December 9, 2020

1.02

/ 0.9103

2.34B

/ 2.32B
Beat!

September 3, 2020

0.63

/ 0.6

2.11B

/ 2.07B
Beat!

June 3, 2020

0.83

/ 0.75

2.24B

/ 2.21B
Beat!

March 4, 2020

0.72

/ 0.67

2.16B

/ 2.15B
Beat!

December 4, 2019

0.78

/ 0.71

2.18B

/ 2.19B
November 19, 2019

-

/ 0.73

-

/ 2.25B
August 30, 2019

0.49

/ 0.41

1.78B

/ 1.98B
June 5, 2019

0.56

/ 0.47

2.18B

/ 2.37B
February 27, 2019

0.77

/ 0.7

2.71B

/ 2.68B
Beat!

February 15, 2019

-

/ 0.72

-

/ 2.67B
November 20, 2018

0.79

/ 0.7

2.69B

/ 2.66B
Beat!

August 30, 2018

0.25

/ 0.24

2.22B

/ 2.24B
May 18, 2018

0.7

/ 0.6

2.13B

/ 2.13B
February 16, 2018

1

/ 0.82

2.18B

/ 2.16B
Beat!

November 21, 2017

0.92

/ 0.95

2.16B

/ 2,197M
Date
Price
Open
High
Low
Vol
Change
ER
Sep 27
41.46
41.81

41.83

41.18

4.5M

-0.72%

Sep 26
41.76
41.95

42.09

41.71

2.4M

-0.52%

Sep 25
41.98
42.25

42.39

41.88

2.1M

-1.48%

Sep 22
42.61
42.92

43.2

42.61

2.4M

-0.68%

Sep 21
42.9
42.73

43.49

42.6

3.4M

0.52%

Sep 20
42.68
42.51

42.79

42.09

2.1M

0.85%

Sep 19
42.32
42.77

42.89

42.26

2.1M

-0.94%

Sep 18
42.72
42.98

43.12

42.51

2.7M

-0.74%

Sep 15
43.04
43.53

43.75

43

8.6M

-1.03%

Sep 14
43.49
42.67

43.62

42.66

3.9M

1.80%

Sep 13
42.72
42.77

42.96

42.51

3.1M

0.33%

Sep 12
42.58
42.94

43.08

42.43

4.4M

-0.33%

Sep 11
42.72
42.18

42.85

42.12

3.8M

1.28%

Sep 8
42.18
41.87

42.2

41.66

3.4M

0.86%

Sep 7
41.82
41.3

41.99

41.17

3.9M

1.75%

Sep 6
41.1
41.25

41.4

40.85

2.6M

-0.29%

Sep 5
41.22
40.79

41.84

40.77

4.3M

0.81%

Sep 1
40.89
41.82

42.43

40.76

4.1M

-1.94%

Aug 31
41.7
44.01

44.01

41.69

5.5M

-0.62%

Aug 30
41.96
42.39

42.54

41.88

3.1M

-0.76%

Aug 29
42.28
42.52

42.57

41.96

2.5M

0.12%

Aug 28
42.23
42.13

42.48

42.07

2.0M

0.36%

Aug 25
42.08
42

42.38

41.81

2.1M

0.74%

Aug 24
41.77
41.8

42.23

41.67

2.3M

-0.05%

Aug 23
41.79
41.88

42.19

41.56

2.1M

-0.24%

Aug 22
41.89
42

42.3

41.65

2.3M

-0.4%

Aug 21
42.06
42.51

42.51

41.79

2.5M

-1.8%

Aug 18
42.83
42.38

43.06

42.18

3.1M

1.09%

Aug 17
42.37
42.88

43

42.35

2.0M

-1.28%

Aug 16
42.92
43.1

43.28

42.85

1.9M

-0.16%

Aug 15
42.99
43.42

43.47

42.94

1.9M

-1.58%

Aug 14
43.68
44.21

44.29

43.59

1.9M

-0.84%

Aug 11
44.05
44.22

44.25

43.91

1.5M

0.09%

Aug 10
44.01
43.99

44.37

43.94

2.3M

0.09%

Aug 9
43.97
43.35

44.21

43.24

2.3M

1.52%

Aug 8
43.31
44.45

44.52

43.28

3.2M

-2.32%

Aug 7
44.34
44.66

45.24

44.2

5.4M

-1.79%

Aug 4
45.15
45.65

45.91

45.1

2.3M

-1.05%

Aug 3
45.63
46.12

46.26

45.56

1.8M

-1.26%

Aug 2
46.21
45.54

46.65

45.53

2.1M

1.56%

Aug 1
45.5
45.97

46.11

45.33

1.8M

-0.7%

Jul 31
45.82
46.23

46.4

45.57

2.2M

-0.93%

Jul 28
46.25
46.5

46.5

46.07

1.7M

0.46%

Jul 27
46.04
46.19

46.52

45.81

2.1M

-0.32%

Jul 26
46.19
46.17

46.56

46.07

1.9M

-0.17%

Jul 25
46.27
46.43

46.5

46.01

1.6M

-0.3%

Jul 24
46.41
46.49

46.63

46.3

1.5M

0.17%

Jul 21
46.33
46.49

46.52

46.06

2.3M

-0.47%

Jul 20
46.55
45.89

46.56

45.64

3.6M

1.44%

Jul 19
45.89
45.12

45.92

45.02

2.6M

2.30%

Jul 18
44.86
44.99

45.44

44.78

1.8M

-0.18%

Jul 17
44.94
45.2

45.26

44.9

2.0M

-0.99%

Jul 14
45.39
45.65

45.65

45.01

1.8M

-0.31%

Jul 13
45.53
45.9

46.1

45.4

2.2M

-0.85%

Jul 12
45.92
46.34

46.36

45.62

2.6M

-0.61%

Jul 11
46.2
46.17

46.38

45.85

2.3M

0.46%

Jul 10
45.99
45.79

46.2

45.68

2.5M

0.99%

Jul 7
45.54
45.91

45.99

45.5

2.1M

-1.04%

Jul 6
46.02
45.88

46.35

45.63

2.3M

0.09%

Jul 5
45.98
45.96

46.17

45.5

2.3M

0%