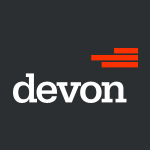 Devon Energy Corp
About
Profile
Devon Energy Corporation is a leading independent oil and natural gas exploration and production company. Devon's operations are focused onshore in the United States.
---
Headquarters
Oklahoma City, Oklahoma, United States
---
Available for logged in users only.


The multiple price alert feature will smartly add or remove $1 if your alert was hit.
It's only available if you are logged in, a V.I.P. member or if you are using the AI chrome extension.

Contact us via Twitter if you are interested in trying it out.
Devon Energy turns lower after Q3 earnings topper but reduced dividend
Devon Energy reduces quarterly dividend by 12.9%
Devon Energy Non-GAAP EPS of $2.18 beats by $0.05, revenue of $5.43B beats by $640M
Devon Energy Q3 preview: Another earnings beat expected
Permian Basin oil production set to hit all-time high in November, EIA says
Strong dollar will be the new earnings excuse; these stocks look insulated
Use short-term rallies to boost high-momentum stock exposure, Wells Fargo says
Oil stocks surge as OPEC weighs major production cut
U.S. crude oil reclaims $80 after stockpile data, Gulf of Mexico outages
Crude oil sinks deeper into eight-month lows as dollar extends surge
Energy stocks dominate losers list as WTI drops below $80
Do declining oil prices create a buying opportunity for Chevron?
Devon Energy enters into LNG export partnership with Delfin Midstream
Energy stocks plunge to worst from first as crude oil falls more than 5%
Energy stocks dominate top S&P gainers as crude prices ramp up
Energy stocks ride oil prices higher on potential OPEC production cut
Viper Energy rallies amid investor tout
Crude oil posts back-to-back gains as strong U.S. demand eases slowdown fears
Oil and gas equities dominate S&P's top losers as crude prices slide
Energy stocks rally as crude oil climbs; IEA, OPEC issue divergent outlooks
Date
Price
Open
High
Low
Vol
Change
ER
May 26
48.07
48.45

48.49

47.58

6.4M

0.42%

May 25
47.87
48.68

48.92

47.67

11.2M

-3.62%

May 24
49.67
49.27

50.05

48.68

6.8M

1.14%

May 23
49.11
49.75

50.17

49.06

7.4M

-0.43%

May 22
49.32
49.19

49.98

48.9

5.5M

0.24%

May 19
49.2
49.03

49.59

48.82

8.3M

1.91%

May 18
48.28
47.37

48.37

47.06

6.1M

1.19%

May 17
47.71
46.59

48.28

46.45

7.9M

3.43%

May 16
46.13
47.36

47.66

46.05

8.0M

-3.31%

May 15
47.71
47.93

48.19

47.43

7.2M

0.40%

May 12
47.52
47.64

47.79

46.84

6.0M

0.55%

May 11
47.26
47.33

47.85

46.89

7.9M

-1.77%

May 10
48.11
49.17

49.21

47.2

12.0M

-2.16%

May 9
49.17
50.23

51.24

48.8

13.8M

-3.59%

May 8
51
51.76

52.03

50.95

8.8M

1.27%

May 5
50.36
49.9

50.86

49.7

8.3M

4.39%

May 4
48.24
49.13

49.75

48.04

7.2M

-1.57%

May 3
49.01
49.5

50.15

48.87

9.5M

-3.35%

May 2
50.71
52.14

52.39

49.96

9.6M

-4.75%

May 1
53.24
52.69

53.74

52.53

5.9M

-0.36%

Apr 28
53.43
52.12

54.03

51.94

7.7M

2.26%

Apr 27
52.25
52.51

52.68

51.4

6.4M

0.10%

Apr 26
52.2
52.72

53.33

51.53

7.0M

-1.9%

Apr 25
53.21
53.6

53.76

52.65

6.2M

-2.31%

Apr 24
54.47
53.53

54.84

53.39

5.5M

1.57%

Apr 21
53.63
54.17

54.17

53.24

5.5M

-0.72%

Apr 20
54.02
53.79

54.15

53.47

6.7M

-1.51%

Apr 19
54.85
54.18

54.96

53.95

5.1M

-0.67%

Apr 18
55.22
54.9

55.46

54.49

5.3M

-0.14%

Apr 17
55.3
55.59

56.19

55.08

6.1M

-0.72%

Apr 14
55.7
55.26

56.06

55.1

6.0M

0.87%

Apr 13
55.22
54.4

55.49

54.39

6.6M

1.25%

Apr 12
54.54
54.53

55.25

54.26

7.3M

0.44%

Apr 11
54.3
53.76

54.81

53.48

6.4M

1.70%

Apr 10
53.39
53.1

54.53

53.1

7.0M

0.91%

Apr 6
52.91
53.23

53.53

52.72

6.2M

-1.16%

Apr 5
53.53
52.8

53.59

52.1

8.3M

1.50%

Apr 4
52.74
53.3

53.52

51.5

10.3M

-1.07%

Apr 3
53.31
53.41

54.66

52.9

18.9M

5.33%

Mar 31
50.61
50.33

50.85

50.12

7.7M

1.52%

Mar 30
49.85
50.55

50.66

49.63

6.6M

0.12%

Mar 29
49.79
49.47

49.92

49.25

8.2M

2.51%

Mar 28
48.57
47.72

49.22

47.68

7.7M

1.02%

Mar 27
48.08
47.4

48.4

46.58

7.8M

3.24%

Mar 24
46.57
45.45

46.99

45.44

8.7M

-0.32%

Mar 23
46.72
48.13

48.6

46.23

8.9M

-2.18%

Mar 22
47.76
49.19

49.54

47.69

8.6M

-2.65%

Mar 21
49.06
48.04

49.51

47.88

11.2M

4.38%

Mar 20
47
46

47.31

45.98

8.9M

1.84%

Mar 17
46.15
46.31

46.45

45.04

28.3M

-0.26%

Mar 16
46.27
44.41

46.35

44.03

14.3M

2.55%

Mar 15
45.12
47.09

47.27

44.37

23.3M

-8.33%

Mar 14
49.22
49.01

50.84

48.31

12.4M

-1.52%

Mar 13
49.98
50

51.07

49.02

15.4M

-3.44%

Mar 10
51.76
52.85

53.67

51.33

12.4M

-2.3%

Mar 9
52.98
54.82

55.37

52.85

9.3M

-2.79%

Mar 8
54.5
54.69

55.58

54.01

8.4M

-0.96%

Mar 7
55.03
56.11

56.34

54.76

9.5M

-2.58%

Mar 6
56.49
56.16

56.8

55.87

8.9M

-0.32%

Mar 3
56.67
54.91

57.13

54.78

11.0M

0%