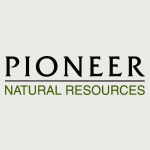 Pioneer Natural Resources Company
About
Profile
---
Headquarters
Irving, Texas, United States
---
The oil and gas company fell 2.2% after first-quarter earnings topped estimates while revenue missed. Pioneer posted per share earnings of $5.21 versus analysts' $4.86 estimate, while revenue of $4.54 billion compared with an estimate of $4.89 billion, according to FactSet data. Total cash flow and cash flow per share was a little light of estimates. Pioneer also announced plans for a new CEO to lead the company by the end of 2023.
Available for logged in users only.


The multiple price alert feature will smartly add or remove $1 if your alert was hit.
It's only available if you are logged in, a V.I.P. member or if you are using the AI chrome extension.

Contact us via Twitter if you are interested in trying it out.
Pioneer Natural plunges as CEO change dims optimism for potential takeout
Pioneer Natural Resources declares $3.34 dividend
Pioneer Natural CEO Sheffield to retire at year-end, succeeded by Dealy
Pioneer Natural Resources Non-GAAP EPS of $5.21 beats by $0.25, revenue of $4.54B misses by $440M
Pioneer Natural Resources Q1 Earnings Preview
Permian Basin has not hit peak oil production, Occidental CEO says
Oil and gas leads S&P sectors, with shale producers rising on takeover talk
Hot Stocks: PXD and ARVL rises on M&A news; Tupperware drops on delisting fears; AAPL, BIDU falls; SMG gains
Pioneer Natural pops 8% after WSJ reports Exxon has talked about takeover
Exxon Mobil studies potential mega-deal with Pioneer Natural Resources - WSJ
Crude oil, energy stocks sizzle but not all analysts see $100 oil imminent
Energy stocks skyrocket with crude oil on OPEC+ production cut
Meta, Kroger, Centene, L3Harris make Bernstein's top 12 stock picks list
Pioneer Natural Resources prices $1.1B in senior notes offering
Marathon Oil, Pioneer Natural raised to Buy at Citi as capital efficiency improves
Energy leads sector standings as crude oil closes higher in late surge
Range Resources takeover speculation may be renewed with CEO stepping down
Pioneer Natural upgraded, Chesapeake Energy downgraded at Wells Fargo
Pioneer Natural rebounds after denying Range deal, Tudor Pickering upgrade
Pioneer Natural Resources weighing deal for Range Resources - Bloomberg (update)
Earnings History
Date
EPS / Forecast
Revenue / Forecast
February 16, 2022

4.58

/ 4.05

4.32B

/ 5.18B
November 3, 2021

4.13

/ 3.86

4.46B

/ 4.55B
August 2, 2021

2.55

/ 2.55

3.42B

/ 3.62B
May 4, 2021

1.89

/ 1.42

2.44B

/ 2.72B
February 23, 2021

1.07

/ 0.6915

1.86B

/ 1.86B
November 4, 2020

0.17

/ 0.1959

1.82B

/ 1.54B
Beat!

August 4, 2020

-0.32

/ -0.32

859M

/ 1.39B
Beat!

May 6, 2020

1.15

/ 1.01

1.1B

/ 1.79B
Beat!

February 19, 2020

2.36

/ 2.09

2.64B

/ 2.47B
Beat!

November 4, 2019

1.99

/ 1.97

2.33B

/ 2.39B
August 6, 2019

2.01

/ 1.89

1.92B

/ 2.38B
May 6, 2019

1.83

/ 1.64

2.41B

/ 1.75B
Beat!

February 13, 2019

1.18

/ 1.41

2.68B

/ 2.31B
Beat!

November 6, 2018

2.07

/ 1.68

2.48B

/ 1.35B
Beat!

August 7, 2018

1.41

/ 1.48

2.11B

/ 1.25B
Beat!

May 2, 2018

1.66

/ 1.48

2.15B

/ 1.13B
Beat!

February 6, 2018

1.22

/ 0.80

1.14B

/ 1,222M
November 1, 2017

1.22

/ 0.3

1.58B

/ 1.04B
Beat!

August 1, 2017

0.48

/ 0.3

1.29B

/ 1.03B
Beat!

May 3, 2017

0.25

/ 0.32

1.29B

/ -
Beat!

February 7, 2017

0.49

/ 0.13

782.0M

/ 1.08B
Date
Price
Open
High
Low
Vol
Change
ER
May 2
209.51
215

215

205.85

3.1M

-3.45%

May 1
216.99
215.5

219.56

215.37

1.7M

-0.26%

Apr 28
217.55
214

220.27

213.26

2.6M

2.23%

Apr 27
212.81
218.01

219.31

210.65

5.5M

-4.35%

Apr 26
222.48
221.73

223.68

220.29

1.8M

0.02%

Apr 25
222.44
224.98

225.59

221.46

1.4M

-2.11%

Apr 24
227.24
224.59

228.47

223.69

1.3M

1.09%

Apr 21
224.78
225.6

225.78

222.42

1.5M

-0.23%

Apr 20
225.3
223.57

225.45

222.8

1.8M

-0.88%

Apr 19
227.31
226.5

227.57

223.85

1.6M

-0.51%

Apr 18
228.48
227.63

228.79

225.87

1.6M

0.11%

Apr 17
228.22
230.4

232.12

227.76

1.8M

-0.77%

Apr 14
230
229.94

231.82

228.8

1.8M

0.91%

Apr 13
227.92
225.01

229.9

224.78

2.5M

1.25%

Apr 12
225.1
221.66

227.16

221.5

3.1M

2.14%

Apr 11
220.39
220.69

221.56

217.8

3.3M

0.08%

Apr 10
220.22
224.03

225.76

218.56

7.3M

5.79%

Apr 6
208.16
209.33

209.9

207.67

1.7M

-1.06%

Apr 5
210.4
211.5

212.43

207.72

2.2M

-0.17%

Apr 4
210.76
214.42

214.73

209.36

2.2M

-1.22%

Apr 3
213.37
213.38

217.09

211.19

3.8M

4.47%

Mar 31
204.24
202.89

204.72

202.14

1.9M

1.08%

Mar 30
202.06
204

204.24

200.54

2.0M

-0.11%

Mar 29
202.28
200

202.54

198.15

2.4M

2.28%

Mar 28
197.77
193.4

197.97

193.4

1.6M

1.72%

Mar 27
194.42
193.06

196.03

190.56

2.0M

1.14%

Mar 24
192.22
187

193.11

186.01

2.2M

1.61%

Mar 23
189.18
192.5

194.13

187.01

2.0M

-0.33%

Mar 22
189.81
195.5

196.46

189.7

1.5M

-2.83%

Mar 21
195.34
191

195.71

190.51

3.1M

4.52%

Mar 20
186.89
182.15

187.99

181.51

2.9M

2.66%

Mar 17
182.05
186.49

188.11

181.01

5.5M

-2.38%

Mar 16
186.49
178.26

186.95

177.26

3.8M

2.55%

Mar 15
181.85
189.92

191.3

180.38

5.2M

-6.86%

Mar 14
195.24
196

199.58

191.83

3.2M

-0.06%

Mar 13
195.36
194.37

199.12

190.27

5.5M

-1.72%

Mar 10
198.78
201.5

204.19

198.22

2.5M

-1.6%

Mar 9
202.02
205.31

207.3

201.56

2.9M

-1.13%

Mar 8
204.32
205.13

209

202.41

2.6M

-0.97%

Mar 7
206.33
208

208.74

205.45

1.9M

-1.56%

Mar 6
209.59
208

210

206.58

2.2M

-0.11%

Mar 3
209.83
201.27

210.76

200.77

3.2M

0.01%

Mar 2
209.8
205.16

210.68

205

3.4M

2.13%

Mar 1
205.43
201.01

205.69

200.41

3.5M

2.50%

Feb 28
200.41
203.42

204

200.17

3.5M

-0.77%

Feb 27
201.97
203

203.59

198.74

5.1M

2.75%

Feb 24
196.57
202.47

203.61

190.99

7.9M

-4.14%

Feb 23
205.06
210

211.25

201.31

4.7M

-0.1%

Feb 22
205.27
206

207.41

202.85

2.5M

-0.33%

Feb 21
205.94
208.97

209.25

204.73

2.9M

-1.45%

Feb 17
208.96
214.01

214.88

206.45

5.6M

-3.42%

Feb 16
216.37
220.11

222.09

216.22

3.1M

-2.05%

Feb 15
220.9
231.74

232

220.58

4.0M

-5.49%

Feb 14
233.72
229.87

234.5

229.19

1.3M

0.55%

Feb 13
232.45
230.24

233.58

228.61

1.3M

0.46%

Feb 10
231.39
225.06

231.88

224.5

2.5M

4.55%

Feb 9
221.32
225.05

225.37

220.8

1.6M

-1.14%

Feb 8
223.88
226.58

229.55

223.43

2.0M

-0.97%

Feb 7
226.07
220.01

226.2

217.4

2.1M

3.51%

Feb 6
218.4
220.5

221.7

216.59

2.3M

-0.73%

Feb 3
220
220

224.53

219.83

2.5M

0%

Feb 2
220
222.82

224.7

218.25

2.9M

-1.77%

Feb 1
223.96
228.35

229.68

220.68

2.3M

-2.77%

Jan 31
230.35
229.74

232.07

228.26

1.4M

0.23%

Jan 30
229.83
231.15

232.71

229.12

1.8M

-1.95%

Jan 27
234.39
237.36

239.22

233.95

1.8M

-1.1%

Jan 26
237
239.46

239.8

232.85

2.2M

0.33%

Jan 25
236.22
235.53

236.34

228.41

1.8M

-0.64%

Jan 24
237.74
240.51

242.85

236.66

1.2M

-1.54%

Jan 23
241.45
241.89

243.36

240.25

1.2M

0.86%

Jan 20
239.4
239.42

239.92

236.15

1.6M

0.43%

Jan 19
238.38
232

239.18

229.71

1.6M

1.88%

Jan 18
233.97
242.03

243.11

233.65

1.6M

-1.65%

Jan 17
237.9
240

243.73

237.53

1.4M

-0.46%

Jan 13
238.99
239.28

240

234.95

1.1M

-0.08%

Jan 12
239.18
233.04

240.26

233.04

1.6M

3.27%

Jan 11
231.6
234.58

234.59

228.4

1.2M

0.19%

Jan 10
231.16
231.96

232.45

228.61

1.3M

0.43%

Jan 9
230.16
236.5

237.15

228.41

1.8M

-1.41%

Jan 6
233.46
231

235.33

230.47

1.8M

2.79%

Jan 5
227.13
222.68

228.21

222.4

1.2M

1.83%

Jan 4
223.05
216.88

225.14

216.53

1.8M

1.27%

Jan 3
220.25
225.37

228.87

217.25

2.8M

-3.56%

Dec 30
228.39
226.44

228.81

225.52

949K

0.75%

Dec 29
226.68
222.5

228.42

222.25

1.2M

1.02%

Dec 28
224.39
230.73

231.79

223.85

1.3M

-3.08%

Dec 27
231.53
230.78

233.19

229.48

1.5M

1.06%

Dec 23
229.11
222.93

229.19

222

1.6M

4.07%

Dec 22
220.15
226

226.4

216.37

2.1M

-2.4%

Dec 21
225.56
225

226.39

221.4

1.6M

2.69%

Dec 20
219.65
218

221.6

217.27

1.7M

0.72%

Dec 19
218.07
219.81

222.47

216.91

2.0M

-0.39%

Dec 16
218.92
218.92

220.99

215.08

3.7M

-2.53%

Dec 15
224.61
222.88

225

218.78

2.2M

-0.23%

Dec 14
225.12
227.1

228.84

222.46

1.9M

0.13%

Dec 13
224.82
224.23

227

223.09

2.5M

2.68%

Dec 12
218.96
214.89

219.38

213.54

2.8M

2.32%

Dec 9
214
220.04

222.68

213.9

2.7M

-3.29%

Dec 8
221.28
233.23

234.07

220.37

2.5M

-3.53%

Dec 7
229.38
227

229.67

224.88

2.4M

1.43%

Dec 6
226.14
228

232.02

223.41

2.5M

-1.84%

Dec 5
230.37
243.98

245.02

228.4

2.0M

-3.78%

Dec 2
239.41
238.35

242.68

238.35

1.7M

0.14%

Dec 1
239.07
238.91

242.85

236.89

2.1M

1.31%

Nov 30
235.99
242.95

244.06

233.21

5.3M

-1.99%

Nov 29
240.78
242.5

243.83

239.7

1.8M

-1.81%

Nov 28
245.21
248.63

249.69

244.61

3.2M

-3.51%

Nov 25
254.14
255.4

258.06

253.28

1.1M

-0.09%

Nov 23
254.37
247.02

254.48

246.19

1.9M

1.31%

Nov 22
251.08
247.53

251.95

245.45

2.3M

2.69%

Nov 21
244.51
244

246.21

235.12

2.8M

-2.17%

Nov 18
249.94
250.45

251.12

246.14

2.4M

-2.58%

Nov 17
256.56
250.82

256.92

247.86

1.6M

0.96%

Nov 16
254.11
259.82

261.84

253.96

2.2M

-3.16%

Nov 15
262.39
257.99

262.42

255.44

2.0M

2.72%

Nov 14
255.44
254.68

261.2

254.31

1.7M

-0.07%

Nov 11
255.63
252.01

255.93

248.02

2.2M

4.15%

Nov 10
245.45
248

248.38

243

2.1M

1.53%

Nov 9
241.74
254.61

255.67

241.61

2.8M

-6.75%

Nov 8
259.25
256.99

260.12

254.6

1.5M

0.52%

Nov 7
257.91
257.07

258.21

254.5

1.8M

1.12%

Nov 4
255.06
260.99

264.5

253.82

2.2M

-0.23%

Nov 3
255.64
250.82

257.73

249.55

2.8M

1.08%

Nov 2
252.92
252.52

260.08

249.05

2.2M

0%

Nov 1
252.93
261

261.68

252.46

2.5M

-1.36%

Oct 31
256.41
255

261.71

254

2.4M

-0.35%

Oct 28
257.31
271

274.7

256.73

3.5M

-3.21%

Oct 27
265.84
269.81

273.14

265.04

2.3M

0.13%

Oct 26
265.49
266.28

270.4

264.05

2.5M

0.25%

Oct 25
264.83
267.36

268.34

262.6

2.1M

-1.41%

Oct 24
268.62
265.35

270.68

264.71

2.3M

1.62%

Oct 21
264.35
256.24

264.75

255.03

2.5M

4.07%

Oct 20
254.02
251.41

257.12

250.04

2.1M

1.38%

Oct 19
250.55
242.93

250.75

242.84

1.6M

2.46%

Oct 18
244.54
247.39

248.29

241.28

1.4M

0.20%

Oct 17
244.05
243.26

246.74

242.2

1.5M

1.73%

Oct 14
239.89
251.35

253.52

238.7

2.7M

-5.35%

Oct 13
253.45
243.4

254.87

243.02

1.7M

2.66%

Oct 12
246.89
242.5

249.81

240.74

2.0M

0.31%

Oct 11
246.13
244.07

248.35

240.72

2.1M

-1.39%

Oct 10
249.6
256

260.05

247.11

2.1M

-2.83%

Oct 7
256.88
257.72

261.88

255.4

3.0M

0.07%

Oct 6
256.7
249

257.25

248.5

2.8M

2.20%

Oct 5
251.18
244.84

253.56

240.38

3.0M

3.19%

Oct 4
243.41
235.33

243.56

233.69

2.8M

5.17%

Oct 3
231.44
226.42

232.55

225.91

2.9M

6.89%

Sep 30
216.53
214.04

219.77

211.87

2.6M

0.01%

Sep 29
216.5
212.5

216.72

207.51

2.4M

0.63%

Sep 28
215.14
208.6

215.67

207.26

2.8M

4.04%

Sep 27
206.78
209.68

211.96

205.72

2.4M

0.67%

Sep 26
205.41
207.55

210.45

205.01

3.6M

-1.71%

Sep 23
208.99
217.1

217.74

207.57

3.5M

-7.79%

Sep 22
226.65
232.39

233.25

226.52

1.7M

-0.59%

Sep 21
228
235.32

236.93

227.99

1.7M

-1.61%

Sep 20
231.74
234.46

235.06

228.35

1.9M

-1.32%

Sep 19
234.85
231.63

237.93

231.49

2.1M

-1.94%

Sep 16
239.5
244.04

244.04

234.47

7.5M

-1.96%

Sep 15
244.28
246.04

248.03

243.1

2.1M

-2.95%

Sep 14
251.7
244.38

255.43

244.38

2.6M

4.01%

Sep 13
242
246.19

251.6

240.76

2.3M

-2.69%

Sep 12
248.68
243

249.1

242.14

2.5M

3.78%

Sep 9
239.62
238.27

241.11

236.93

1.7M

2.39%

Sep 8
234.02
235.71

236.96

232.53

1.7M

-0.22%

Sep 7
234.54
232.83

237.14

231

2.3M

-1.86%

Sep 6
238.99
242.2

243.87

236.4

2.3M

-1.15%

Sep 2
241.76
245.29

246.71

240.32

2.3M

-2.44%

Sep 1
247.8
248.75

249.86

244.38

3.4M

-2.14%

Aug 31
253.22
249.29

256.96

247.6

2.3M

-0.58%

Aug 30
254.71
257.96

258.94

251.16

2.5M

-2.97%

Aug 29
262.5
256.3

265.87

255.09

2.2M

1.99%

Aug 26
257.38
260

263.09

255.64

2.3M

-0.97%

Aug 25
259.89
259

261.6

256.38

1.8M

1.20%

Aug 24
256.82
252.86

257.67

250.2

2.5M

2.01%

Aug 23
251.77
247.83

254.28

245.91

2.4M

3.42%

Aug 22
243.45
240

244.29

235.36

2.1M

0.60%

Aug 19
242
241

244.99

240.25

2.2M

0.08%

Aug 18
241.81
236.2

242.21

236.05

2.3M

4%

Aug 17
232.5
228.63

235.88

228.26

1.6M

1.48%

Aug 16
229.12
231.2

233.48

224.93

1.7M

-0.36%

Aug 15
229.94
225.65

230.57

222.32

2.0M

-1.29%

Aug 12
232.95
227.38

233

226.22

1.7M

1.96%

Aug 11
228.48
223.14

231.03

223.01

2.4M

4.90%

Aug 10
217.8
217.8

220.25

213.66

2.2M

-0.18%

Aug 9
218.19
221.68

224.14

217.37

2.1M

0.48%

Aug 8
217.14
216.77

220.5

215.89

2.2M

0%

Aug 5
217.15
210.14

220.66

209.5

3.4M

2.02%

Aug 4
212.86
219.88

221.03

212.57

3.8M

-3.54%

Aug 3
220.68
227.96

232.21

219.47

3.5M

-3.17%

Aug 2
227.91
228.47

231

226.28

1.5M

-0.08%

Aug 1
228.1
233.49

233.64

225.82

2.4M

-3.73%

Jul 29
236.95
232.6

237.56

230.55

2.0M

3.62%

Jul 28
228.67
228.82

230.91

223.38

1.5M

0.94%

Jul 27
226.54
220.83

227.25

218.6

2.0M

3.64%

Jul 26
218.58
225.02

226.7

216.65

2.3M

-1.35%

Jul 25
221.57
213.9

222.21

211.25

2.1M

5.61%

Jul 22
209.8
212.31

215.49

208.65

2.0M

-1.63%

Jul 21
213.28
210.59

213.45

206.77

1.6M

-1.63%

Jul 20
216.81
211.72

217.78

210.34

1.7M

1.09%

Jul 19
214.47
208.57

215

208.12

2.6M

1.64%

Jul 18
211
214.02

216

209.77

2.1M

1.22%

Jul 15
208.45
210.68

211.15

205.92

1.8M

1.47%

Jul 14
205.44
204

207.43

200.09

2.4M

-2.56%

Jul 13
210.83
209.24

216.86

209.01

1.6M

0.23%

Jul 12
210.34
207.9

211.58

205.13

1.8M

-1.53%

Jul 11
213.61
213.92

217.49

211

1.6M

-1.79%

Jul 8
217.5
219.08

220.49

212.73

1.8M

0.38%

Jul 7
216.67
218.53

222.57

216.27

2.4M

2.72%

Jul 6
210.93
211.5

215.51

203.83

4.1M

-1.96%

Jul 5
215.14
219.7

220.55

210.91

3.6M

-3.93%

Jul 1
223.94
225.01

226.51

217.06

2.5M

0.39%

Jun 30
223.08
222

227.46

219.39

2.2M

-1.37%

Jun 29
226.18
239

240.82

225.62

1.9M

-3.89%

Jun 28
235.33
236.75

238.54

231.18

2.8M

2.24%

Jun 27
230.17
227.71

232.78

226.19

2.3M

2.99%

Jun 24
223.48
227.51

228.36

222.64

7.1M

-0.08%

Jun 23
223.67
231.75

232.5

221.17

4.2M

-2.25%

Jun 22
228.81
222.7

233.26

222.6

4.7M

-3.68%

Jun 21
237.55
232.65

238

229.72

4.0M

7.12%

Jun 17
221.77
239.62

240.68

220.24

9.5M

-8.17%

Jun 16
241.5
252.1

253.99

237.97

5.4M

-6.47%

Jun 15
258.21
263.22

264.22

253.25

3.5M

-2.4%

Jun 14
264.55
266.54

272.9

260.44

3.0M

1.22%

Jun 13
261.37
263

266.92

253.3

3.5M

-3.51%

Jun 10
270.87
274.86

278.4

266.8

2.9M

-2.14%

Jun 9
276.78
281.74

283

276.65

1.8M

-2.5%

Jun 8
283.89
286.49

287.56

282.31

1.8M

-0.49%

Jun 7
285.28
277.5

285.38

277.33

2.5M

2.35%

Jun 6
278.74
283.16

283.18

277.95

2.1M

-0.26%

Jun 3
279.47
275.3

280.38

274.19

2.1M

1.52%

Jun 2
275.29
273.62

278.81

271.77

2.2M

-0.91%

Jun 1
277.82
281

283.68

274.55

2.4M

-0.04%

May 31
277.94
284.5

288.46

276.86

4.3M

-0.74%

May 27
280
271.28

280.4

269.47

2.5M

0%

May 26
279.99
278.68

282.1

276.23

2.7M

0.77%

May 25
277.86
274.42

278.72

272.1

1.8M

2.44%

May 24
271.25
269.36

273.35

264.18

1.8M

-0.28%

May 23
272
270

273.64

266.03

1.8M

2.07%

May 20
266.48
267.77

271.5

261.64

1.7M

0.40%

May 19
265.42
263.7

270.2

256.9

3.2M

-2.09%

May 18
271.08
279

279.98

266.33

2.5M

-1.97%

May 17
276.53
273.25

278.59

271.5

2.1M

2.88%

May 16
268.78
264.23

271.01

264.22

1.9M

2.63%

May 13
261.89
256.77

263.18

256.77

2.4M

3.92%

May 12
252
248.49

252.34

241.95

2.2M

0.91%

May 11
249.73
253.75

261.37

249.24

2.3M

-0.32%

May 10
250.54
248.83

257.9

244.77

2.9M

2.52%

May 9
244.39
264.16

265.81

243.64

3.6M

-9.55%

May 6
270.18
264.37

272.47

259.92

4.3M

5.34%

May 5
256.48
256.94

259.86

249.73

3.2M

1.46%

May 4
252.78
249.27

253.56

242.74

2.3M

3.73%

May 3
243.7
236.62

244.01

235.65

2.0M

3.33%

May 2
235.84
228.99

236

228.04

2.2M

1.45%

Apr 29
232.47
234.99

238.54

229.51

2.2M

-1.07%

Apr 28
234.98
233.09

237.5

226.37

2.0M

1.45%

Apr 27
231.63
230.38

233.75

223.45

1.7M

1.29%

Apr 26
228.69
232

235.54

228.49

1.7M

-1.06%

Apr 25
231.14
228.38

231.58

219.7

3.4M

-2.16%

Apr 22
236.24
242

245.86

235.98

1.7M

-2.78%

Apr 21
243
254.99

255.35

242.58

1.7M

-4.08%

Apr 20
253.34
252.51

254.03

248.92

2.0M

1%

Apr 19
250.82
256.39

256.39

248.67

1.6M

-2.28%

Apr 18
256.67
256.13

258.8

252.61

1.5M

0.75%

Apr 14
254.75
255.05

257.07

254.18

1.6M

-0.26%

Apr 13
255.42
256.83

257.49

252.22

2.1M

1.14%

Apr 12
252.53
252.57

257.65

251.96

1.7M

2.45%

Apr 11
246.49
252.66

252.66

245.1

1.5M

-3%

Apr 8
254.11
245.63

254.96

245.63

2.1M

3.98%

Apr 7
244.39
243.36

244.83

237.37

1.9M

1%

Apr 6
241.98
247.87

249.5

240.06

1.9M

-1.02%

Apr 5
244.48
252.79

255.78

244.23

1.2M

-3.27%

Apr 4
252.75
253.15

255.03

250.02

1.2M

-0.16%

Apr 1
253.15
250

254.6

249.84

1.3M

1.25%

Mar 31
250.03
254.81

259.5

249.86

2.0M

-3.06%

Mar 30
257.93
256.88

260

254.64

1.9M

1.78%

Mar 29
253.41
246.49

253.63

244.64

1.8M

0.16%

Mar 28
253
251.45

253.13

249.27

2.0M

-1.45%

Mar 25
256.71
250.26

257.3

250.17

2.0M

2.17%

Mar 24
251.26
255.3

255.87

249.82

2.9M

-1.4%

Mar 23
254.82
255

257.25

254.11

2.5M

1.39%

Mar 22
251.32
251.26

252.47

246.75

2.7M

0.06%

Mar 21
251.18
244.5

251.41

244.04

3.1M

4.72%

Mar 18
239.86
242.06

244.36

239.3

4.8M

-0.63%

Mar 17
241.39
233

242.27

233

2.6M

4.81%

Mar 16
230.31
227.56

231.53

226.53

2.8M

1.11%

Mar 15
227.79
220.01

229.25

218.6

3.0M

-0.68%

Mar 14
229.34
231.33

233.06

221.7

2.7M

-1.35%

Mar 11
232.49
234.56

238.16

232.06

2.3M

-2.21%

Mar 10
237.75
234.29

238.58

229.97

3.1M

3.19%

Mar 9
230.4
233.82

233.97

223.75

4.3M

-2.94%

Mar 8
237.37
241.06

243.48

223.29

5.0M

0.31%

Mar 7
236.63
242.44

246.49

233.86

3.9M

-1.88%

Mar 4
241.16
238.71

241.71

235.82

3.5M

1.29%

Mar 3
238.08
239.96

243.23

236.13

2.7M

-1.72%

Mar 2
242.25
243.5

245.71

240.65

3.0M

0.74%

Mar 1
240.47
238.22

242.19

237.04

3.8M

0.36%

Feb 28
239.6
229.83

240.03

228.2

4.1M

4.50%

Feb 25
229.28
222.81

231.73

222

2.6M

1.50%

Feb 24
225.9
230.9

231.99

218.24

3.6M

0.28%

Feb 23
225.27
225.37

229.99

224.09

2.3M

0.93%

Feb 22
223.2
239.69

240.97

218.65

3.5M

-4.36%

Feb 18
233.38
226.78

237.56

226.6

3.6M

1.41%

Feb 17
230.13
224.35

230.69

220.74

4.1M

3.44%

Feb 16
222.48
221

226.1

220.53

2.3M

1.51%

Feb 15
219.18
217.12

219.86

211.62

3.0M

-2.17%

Feb 14
224.05
230.14

230.15

220.43

2.8M

-2.96%

Feb 11
230.88
224.14

231.28

222.7

3.0M

3.94%

Feb 10
222.12
220

227.86

220

1.8M

0.14%

Feb 9
221.82
222

224.29

220.15

1.4M

0.45%

Feb 8
220.83
225.13

226

218.07

1.9M

-2.49%

Feb 7
226.48
227.5

228.31

223.57

2.1M

-0.6%

Feb 4
227.85
225.95

232.84

225.62

2.6M

2.28%

Feb 3
222.76
222.4

224.68

220.28

1.3M

-0.32%

Feb 2
223.48
223.11

224

218.02

1.7M

-0.33%

Feb 1
224.22
215.19

224.68

214.88

2.6M

2.44%

Jan 31
218.89
214.62

219.68

209.98

2.3M

1.63%

Jan 28
215.37
213.71

215.85

210.92

2.0M

0.71%

Jan 27
213.85
217.4

218.52

209.93

2.5M

0.66%

Jan 26
212.45
216.01

218.9

211.25

2.9M

-0.32%

Jan 25
213.14
206.14

213.72

199.72

2.7M

3.47%

Jan 24
206
200.7

206.96

194.54

3.2M

-0.44%

Jan 21
206.91
213.75

213.75

204.92

2.9M

-3.76%

Jan 20
215
216.27

222.04

214.09

2.9M

-1.85%

Jan 19
219.06
218.05

219.57

215.02

3.1M

1.37%

Jan 18
216.09
217.75

218.11

212.04

2.8M

0.18%

Jan 14
215.7
207.96

216.04

207.96

2.8M

4.05%

Jan 13
207.3
205.13

208.08

203.5

2.5M

1.17%

Jan 12
204.91
204.51

205.66

202.23

2.3M

0.45%

Jan 11
204
201

204.62

197.15

2.2M

2.45%

Jan 10
199.12
197.6

199.69

194.78

3.7M

0.03%

Jan 7
199.07
199.36

200

196.95

3.2M

0.37%

Jan 6
198.33
198.66

200.61

196.39

3.3M

2.80%

Jan 5
192.92
193.33

196.5

192.04

3.0M

0.86%

Jan 4
191.28
189.5

193.12

187.53

3.0M

2.35%

Jan 3
186.89
180.69

187.29

179.8

1.5M

2.75%

Dec 31
181.88
180.42

183.1

180.42

729K

0.33%

Dec 30
181.28
183.7

184.86

181.22

724K

-1.24%

Dec 29
183.56
183.24

185.77

182.19

790K

-0.14%

Dec 28
183.81
186.93

187.68

182.4

878K

-1.06%

Dec 27
185.77
179.65

186.05

177.12

1.1M

3.19%

Dec 23
180.03
182.04

183.95

180.01

914K

-0.54%

Dec 22
181
177.3

182.12

175.8

1.4M

1.73%

Dec 21
177.93
175.69

179.16

174.44

1.6M

3.06%

Dec 20
172.65
169.37

172.86

166.97

1.9M

-0.6%

Dec 17
173.69
176.54

176.54

171.29

3.2M

-2.05%

Dec 16
177.32
176.52

180.65

175.9

2.2M

1.81%

Dec 15
174.16
177.09

178.47

171.19

2.6M

-1.89%

Dec 14
177.52
177.5

180.01

176.51

2.4M

-0.76%

Dec 13
178.88
182.09

182.71

176.79

1.7M

-2.91%

Dec 10
184.25
184.68

185

179.79

1.5M

0.63%

Dec 9
183.09
183.99

184.94

181.94

1.2M

-1.18%

Dec 8
185.28
186.27

187.38

184.13

1.4M

-0.25%

Dec 7
185.74
183.02

188.14

182.96

2.1M

3.46%

Dec 6
179.52
179.78

182.06

176.31

1.7M

1.49%

Dec 3
176.89
180.83

181.72

175.11

1.8M

-0.07%

Dec 2
177.01
173.4

178.28

170.87

2.1M

1.55%

Dec 1
174.3
182.63

183.43

174.25

2.3M

-2.25%

Nov 30
178.32
178.74

181.92

176.81

4.0M

-2.75%

Nov 29
183.36
183.87

186.99

182.15

2.2M

0.90%

Nov 26
181.73
183

183.2

177.44

2.4M

-4.48%

Nov 24
190.25
187.7

192.74

187.22

2.6M

1.16%

Nov 23
188.06
183.78

191.21

183.24

2.9M

4.20%

Nov 22
180.48
176.42

183.38

175.58

1.9M

2.28%

Nov 19
176.46
176.5

178.24

173.88

2.5M

-1.81%

Nov 18
179.71
180.44

182.41

178.33

1.9M

-0.3%

Nov 17
180.25
181.75

184.99

179.25

1.4M

-1.54%

Nov 16
183.07
183.28

185.02

180.24

1.6M

0.22%

Nov 15
182.66
182.09

184.27

179.5

1.9M

-0.32%

Nov 12
183.24
181.21

183.29

180.76

1.0M

0.13%

Nov 11
183
183.79

185.97

182.8

1.3M

0.39%

Nov 10
182.28
186.72

187.01

180.5

1.8M

-2.7%

Nov 9
187.34
185.72

187.98

182.05

2.0M

0.48%

Nov 8
186.45
188

189.67

185.79

1.9M

0.62%

Nov 5
185.3
188.74

189.03

184.35

2.6M

-0.28%

Nov 4
185.82
193

193.86

182.28

3.5M

-2.11%

Nov 3
189.83
187.1

192.91

184.75

2.8M

0.05%

Nov 2
189.74
188.85

191.25

188.16

1.5M

-0.08%

Nov 1
189.89
189.99

190.96

188.91

1.4M

1.56%

Oct 29
186.98
189.52

190.2

186.01

1.4M

-1.52%

Oct 28
189.87
188.17

189.97

187.4

992K

0.66%

Oct 27
188.63
189.17

193.41

188.27

1.6M

-1.71%

Oct 26
191.91
193

193.46

190.89

1.6M

-0.4%

Oct 25
192.69
195

195.69

191.48

2.1M

0.56%

Oct 22
191.62
190.25

191.93

187.01

1.7M

1.56%

Oct 21
188.68
190.79

191.6

185.88

1.5M

-1.75%

Oct 20
192.05
189

192.66

188.29

1.5M

0.61%

Oct 19
190.89
190.83

192.31

189.1

1.4M

0.51%

Oct 18
189.93
192.84

194.79

189.16

2.4M

-0.08%

Oct 15
190.09
194

194.31

190

1.9M

-0.61%

Oct 14
191.25
193.5

194.5

190.78

1.9M

0.26%

Oct 13
190.76
188.25

191.83

186.5

2.3M

-0.31%

Oct 12
191.36
192.57

194.41

189.85

1.8M

-0.88%

Oct 11
193.06
195.61

196.64

192.99

3.0M

-0.01%

Oct 8
193.08
186.52

194.08

186.52

3.8M

4.56%

Oct 7
184.66
180.96

184.87

180.1

2.5M

1.57%

Oct 6
181.8
178.5

183.2

176.92

2.4M

-0.09%

Oct 5
181.96
181.62

184.69

179.45

3.2M

1.67%

Oct 4
178.97
177.5

182.63

176.54

3.3M

2.46%

Oct 1
174.68
168.17

175.04

167.55

2.7M

4.91%

Sep 30
166.51
170

170.24

166.44

2.1M

-2.23%

Sep 29
170.3
168.62

171.48

165.92

1.8M

0.45%

Sep 28
169.54
170.14

171.19

167.56

3.3M

0.90%

Sep 27
168.02
166.14

168.85

164.33

2.3M

3.70%

Sep 24
162.03
157.01

163.55

157

2.3M

2.58%

Sep 23
157.96
150.8

158.6

150.39

2.0M

5.27%

Sep 22
150.05
150.89

152.34

149.34

2.7M

1.42%

Sep 21
147.95
150.52

152.27

146.91

1.4M

-0.94%

Sep 20
149.36
152.89

153.01

146.4

2.8M

-4.9%

Sep 17
157.05
157.62

158.32

155.71

3.8M

0.01%

Sep 16
157.03
158.95

158.95

156.09

1.3M

-1.03%

Sep 15
158.66
155.9

160.24

155.79

2.7M

3.73%

Sep 14
152.95
157.02

157.76

152.1

1.6M

-1.24%

Sep 13
154.87
153.21

157.95

153.21

3.0M

2.51%

Sep 10
151.08
152.74

153.23

150.28

1.5M

0.52%

Sep 9
150.3
144.49

151.1

143.63

2.1M

3.44%

Sep 8
145.3
148.88

149.85

145.19

1.3M

-1.52%

Sep 7
147.55
149.01

150.13

146.47

1.6M

-1.55%

Sep 3
149.88
149.11

150.74

148.08

1.0M

0.02%

Sep 2
149.85
147.98

151.52

147.98

1.4M

1.30%

Sep 1
147.92
149.81

151.37

146.94

1.6M

-1.17%

Aug 31
149.67
148.76

151.25

147.25

3.5M

-0.41%

Aug 30
150.28
152.01

153.13

150.22

1.2M

-0.92%

Aug 27
151.67
149.2

152.63

149.02

1.5M

3.25%

Aug 26
146.89
147.86

149.23

146.35

1.1M

-1.52%

Aug 25
149.15
148.42

150.43

147.02

1.2M

0.89%

Aug 24
147.84
147

148.29

145.77

1.6M

1.57%

Aug 23
145.55
145.34

146.88

144.66

1.8M

2.99%

Aug 20
141.32
139.29

142.79

138.57

1.8M

0.61%

Aug 19
140.47
140

142.13

137.54

2.3M

-1.31%

Aug 18
142.34
145.02

146.57

142.17

1.4M

-1.83%

Aug 17
145
145.67

147.63

143.11

1.7M

-1.75%

Aug 16
147.59
150

150

147.24

1.5M

-2.65%

Aug 13
151.6
154.6

154.87

151.48

1.2M

-1.99%

Aug 12
154.68
153.86

155.36

152.39

1.3M

0.44%

Aug 11
154
151.6

154.81

150.01

1.9M

1.66%

Aug 10
151.48
149.45

152.16

148.11

1.9M

2.30%

Aug 9
148.08
149.01

150.25

147.16

1.9M

-2.29%

Aug 6
151.55
153.65

154.49

151.46

1.4M

-0.16%

Aug 5
151.79
152.01

153.65

149.33

1.7M

1.19%

Aug 4
150
150.22

153.6

148.76

3.3M

-2.29%

Aug 3
153.51
140.8

154.9

140.2

4.2M

7.84%

Aug 2
142.35
145.92

148.42

141.41

2.0M

-2.08%

Jul 30
145.37
145.43

145.9

143.29

1.7M

-1.16%

Jul 29
147.07
147.23

148.42

145

1.6M

1.44%

Jul 28
144.98
143.56

146.09

141.43

1.4M

1.61%

Jul 27
142.68
143.19

143.81

141.03

1.3M

-1.37%

Jul 26
144.66
142.22

146.22

141.74

1.1M

1.91%

Jul 23
141.95
144.21

144.21

140.33

1.1M

-1.32%

Jul 22
143.85
145.04

145.25

141.9

1.5M

-0.85%

Jul 21
145.09
141.78

145.8

141

3.1M

4.42%

Jul 20
138.95
136.69

139.92

135

2.4M

1.68%

Jul 19
136.66
135.59

138.38

133.73

3.8M

-3.04%

Jul 16
140.94
148.68

149.5

140.44

3.2M

-4.31%

Jul 15
147.29
149.38

151.8

146.29

2.1M

-3.01%

Jul 14
151.86
158.32

159.73

151.56

1.9M

-3.39%

Jul 13
157.19
156.95

158.48

155.86

1.6M

0.08%

Jul 12
157.06
155.44

158.26

154.07

1.8M

-0.59%

Jul 9
158
159.67

159.67

157.45

1.9M

0.48%

Jul 8
157.24
154.63

159.54

154.63

2.0M

0.03%

Jul 7
157.19
161.37

162.52

156.47

1.7M

-2.34%

Jul 6
160.96
166.69

166.69

160.5

1.7M

-3.47%

Jul 2
166.74
166.35

167.54

164.49

1.3M

-0.39%

Jul 1
167.4
167.3

168.69

165.51

2.3M

3%

Jun 30
162.52
159.96

163.48

159.96

1.9M

2.43%

Jun 29
158.66
160.8

161.73

158.11

1.0M

-0.99%

Jun 28
160.24
164.11

164.11

159.1

2.4M

-2.98%

Jun 25
165.17
165.21

166.81

164.01

4.6M

0.65%

Jun 24
164.11
164.13

165.11

162.53

1.8M

-0.09%

Jun 23
164.25
163.5

167.98

163.3

2.3M

1.25%

Jun 22
162.22
161.22

163.18

159.31

2.3M

0.70%

Jun 21
161.09
157.53

162.01

157.17

4.0M

4.04%

Jun 18
154.84
155

157.06

153.42

9.6M

-1.69%

Jun 17
157.5
160.85

163.63

155.4

3.6M

-2.42%

Jun 16
161.41
162.64

163.23

160.07

2.9M

-0.42%

Jun 15
162.09
162.67

163.85

161.19

3.8M

-0.02%

Jun 14
162.13
165.06

165.58

161.85

2.8M

-0.47%

Jun 11
162.9
164.14

164.88

162.45

2.7M

-0.14%

Jun 10
163.13
167

167

161.91

5.4M

-2.75%

Jun 9
167.75
169.85

170.71

166.5

2.9M

-1%

Jun 8
169.44
169.72

171.65

167.04

2.0M

-0.74%

Jun 7
170.71
170.91

171.99

169.3

1.3M

0.24%

Jun 4
170.3
171.22

172.94

168.18

1.9M

0.12%

Jun 3
170.1
165.62

171.43

164.79

2.6M

2.11%

Jun 2
166.58
162.08

168.76

159.82

3.0M

3.18%

Jun 1
161.44
155

162.17

154.76

2.9M

6.08%

May 28
152.19
152.42

153.3

151.05

1.5M

0.16%

May 27
151.94
151.24

152.16

149.07

3.1M

1.10%

May 26
150.29
148.66

150.89

148

2.5M

1.33%

May 25
148.32
151.36

151.93

147.8

2.1M

-2.19%

May 24
151.64
152.08

152.63

150.14

2.2M

0.61%

May 21
150.72
153.01

156.21

150.69

2.4M

0.05%

May 20
150.65
152

152.44

148

4.6M

-1.59%

May 19
153.09
154.72

156.27

150.95

2.9M

-3.33%

May 18
158.37
161.63

162.11

157.41

2.2M

-1.65%

May 17
161.03
157

161.21

154.8

3.0M

2.53%

May 14
157.05
154.15

157.24

153.88

2.0M

3.41%

May 13
151.87
155.9

157.49

149.64

3.2M

-2.75%

May 12
156.17
159.29

160.53

155.06

3.2M

-0.97%

May 11
157.7
157.11

158.76

152.71

6.4M

-5.9%

May 10
167.58
170

175.37

167.45

2.5M

-0.15%

May 7
167.83
163.04

168.54

161.33

2.0M

1.75%

May 6
164.94
162.61

165.13

159.33

2.0M

0.37%

May 5
164.34
160.72

166.67

156.66

2.7M

3.72%

May 4
158.45
158.34

160.58

155.73

1.8M

-0.13%

May 3
158.66
155.96

159.33

155.54

1.2M

3.14%

Apr 30
153.83
158

159.27

153.53

1.6M

-3.6%

Apr 29
159.57
159.09

161.67

156.61

1.6M

1.49%

Apr 28
157.22
152.46

158.44

152.2

2.0M

4.07%

Apr 27
151.07
148.9

151.61

148.16

1.1M

1.40%

Apr 26
148.98
146.97

149.66

146.01

1.1M

1.73%

Apr 23
146.45
144.65

147.61

144.37

1.3M

0.12%

Apr 22
146.28
148.26

148.26

145.25

1.1M

-0.56%

Apr 21
147.1
142.79

147.67

141.35

1.5M

0.81%

Apr 20
145.92
147.53

147.65

143.37

2.1M

-1.79%

Apr 19
148.58
149.21

151.39

147.55

1.4M

0.11%

Apr 16
148.41
153

153

148.01

1.8M

-2.5%

Apr 15
152.22
151.2

153.16

150.22

2.3M

-0.57%

Apr 14
153.1
146.5

153.85

146.5

2.7M

5.09%

Apr 13
145.68
145.66

147.74

145.1

1.8M

0.46%

Apr 12
145.02
148.89

149

143.95

1.7M

-1.47%

Apr 9
147.19
149.56

150.61

145.52

1.9M

-1.54%

Apr 8
149.49
151.07

151.89

148.76

2.6M

-2.63%

Apr 7
153.53
152.26

154.85

151.28

1.9M

1.42%

Apr 6
151.38
152.99

156.54

150.58

3.4M

-0.53%

Apr 5
152.18
155.43

157.26

151.5

5.0M

-7.55%

Apr 1
164.6
159.68

164.78

158.5

2.2M

3.64%

Mar 31
158.82
159.89

160.52

157.82

2.0M

-1.12%

Mar 30
160.62
159.88

161.45

158.28

1.2M

-1.02%

Mar 29
162.28
163.83

163.99

158.91

1.3M

-1.54%

Mar 26
164.81
164.22

165.49

161.2

2.0M

2.17%

Mar 25
161.31
157.71

161.8

155.82

1.7M

0.01%

Mar 24
161.3
160.18

164.3

160.08

1.9M

2.52%

Mar 23
157.34
154.82

162.64

153.12

2.9M

-0.83%

Mar 22
158.66
162.66

162.95

158.18

1.9M

-2.95%

Mar 19
163.48
162.3

164.77

157.9

4.3M

0.99%

Mar 18
161.88
168.25

168.76

160.63

3.5M

-4.37%

Mar 17
169.27
163.35

169.49

162.4

3.1M

3.83%

Mar 16
163.03
163.97

165.45

161.66

2.5M

-1.65%

Mar 15
165.76
165.62

166.26

163.72

2.0M

0.08%

Mar 12
165.63
165.91

166.82

164

1.9M

0.64%

Mar 11
164.58
160.13

165.85

159.45

2.8M

3.84%

Mar 10
158.5
156.71

158.98

152.03

4.8M

1%

Mar 9
156.93
159.69

165.17

156.83

3.1M

-3.18%

Mar 8
162.09
165.16

165.57

160.51

2.7M

-0.92%

Mar 5
163.59
163

165.54

159.61

3.5M

3.17%

Mar 4
158.57
155.34

160

152.72

3.3M

2.86%

Mar 3
154.16
151.44

158.36

151.24

3.0M

2.94%

Mar 2
149.75
148.82

150.41

147.32

2.0M

0.86%

Mar 1
148.47
148.88

150.22

146.83

2.2M

-0.07%

Feb 26
148.57
147.67

150.26

141.28

3.1M

-0.32%

Feb 25
149.05
151.71

153.21

148.14

2.7M

-0.67%

Feb 24
150.06
143.98

151.06

142.63

3.2M

3.32%

Feb 23
145.24
142.01

145.56

133.4

4.1M

4.14%

Feb 22
139.47
135.1

144.23

134.64

3.7M

4.13%

Feb 19
133.94
133.81

134.72

131.81

2.3M

0.70%

Feb 18
133.01
135.76

136.49

131.76

2.6M

-2.34%

Feb 17
136.2
136.72

137.87

134.35

2.7M

0.03%

Feb 16
136.16
136.11

138.96

135.15

3.9M

2.93%

Feb 12
132.29
129

132.89

127.81

2.1M

1.86%

Feb 11
129.87
131.75

132.63

127.13

1.9M

-1.87%

Feb 10
132.35
129.51

134.33

129.28

2.7M

2.57%

Feb 9
129.04
132.29

132.8

128.6

2.9M

-3.01%

Feb 8
133.05
129

133.94

128.45

2.0M

3.75%

Feb 5
128.24
130.33

130.33

126.86

2.0M

1.30%

Feb 4
126.6
127.03

127.58

123.28

1.5M

-0.03%

Feb 3
126.64
119.53

127.34

119.25

2.1M

5.90%

Feb 2
119.58
124.34

124.67

119.39

2.1M

-0.57%

Feb 1
120.26
122.17

122.99

119.07

1.8M

-0.53%

Jan 29
120.9
121.35

124.29

119.84

2.7M

-1.39%

Jan 28
122.6
118.48

123.65

115.14

4.5M

4.23%

Jan 27
117.63
121.8

123.9

117.06

3.8M

-4.86%

Jan 26
123.64
130.71

132.39

123.57

2.1M

-4.4%

Jan 25
129.33
129.38

130.47

125.68

1.7M

-1.4%

Jan 22
131.16
126.94

131.74

125.76

2.5M

0.89%

Jan 21
130
131.68

132.18

126.93

3.6M

-1.61%

Jan 20
132.13
134.53

134.53

130.92

2.3M

0.07%

Jan 19
132.04
128.72

132.97

128.27

2.8M

3.66%

Jan 15
127.38
130.9

130.96

126.31

2.8M

-3.78%

Jan 14
132.38
130.99

134.09

129.89

3.1M

1.11%

Jan 13
130.93
133.68

134.51

129.51

3.4M

-3.1%

Jan 12
135.12
133.25

138.42

132.74

13.5M

2.82%

Jan 11
131.42
127.13

131.77

126.17

2.5M

0.14%

Jan 8
131.24
133.78

133.78

130.12

3.1M

-0.57%

Jan 7
131.99
128.38

133.41

127.28

2.9M

4.46%

Jan 6
126.36
122.39

128.46

121.3

3.4M

4.13%

Jan 5
121.35
115.17

124.5

114.98

3.0M

6.94%

Jan 4
113.48
115.02

116.37

111.82

1.6M

-0.36%

Dec 31
113.89
113.4

114.81

112.4

1.4M

-0.59%

Dec 30
114.57
110.36

114.92

109.89

1.3M

3.55%

Dec 29
110.64
111.01

112.09

109.11

1.3M

-0.01%

Dec 28
110.65
112.86

113.9

110.15

1.0M

-1.64%

Dec 24
112.49
112.86

112.86

110.76

488K

-0.56%

Dec 23
113.12
109.78

114.88

109.44

1.4M

4.32%

Dec 22
108.44
111.5

111.63

108.19

1.6M

-2.21%

Dec 21
110.89
108.95

113.64

107.96

1.7M

-3.03%

Dec 18
114.36
114.56

115.19

112.62

3.0M

-0.02%

Dec 17
114.38
117.58

117.77

113.54

2.0M

-2.15%

Dec 16
116.89
118

119.42

115.76

2.5M

-0.47%

Dec 15
117.44
114.5

117.77

112.47

1.9M

3.83%

Dec 14
113.11
118.04

118.21

111.91

2.0M

-2.13%

Dec 11
115.57
117.78

118.27

114.34

1.7M

-2.71%

Dec 10
118.79
113.72

119.52

113.72

2.0M

3.81%

Dec 9
114.43
115.64

116.23

112.25

2.0M

0.14%

Dec 8
114.27
109.79

115.1

108.73

2.0M

3.62%

Dec 7
110.28
112.72

112.72

109.65

2.1M

-3.31%

Dec 4
114.06
107.6

114.28

107.5

2.6M

8.27%

Dec 3
105.35
101.95

106.74

100.72

2.0M

3.76%

Dec 2
101.53
99.19

104.94

98.59

1.9M

1.73%

Dec 1
99.8
103.54

103.84

99.1

1.8M

-0.78%

Nov 30
100.58
108.59

108.69

100.27

3.5M

-8.62%

Nov 27
110.07
109.62

111.54

109.14

1.1M

0.10%

Nov 25
109.96
110

111.19

108.33

1.7M

-1.25%

Nov 24
111.35
108.31

111.43

107.65

3.0M

6.56%

Nov 23
104.5
97.5

104.53

97.3

2.2M

9.07%

Nov 20
95.81
96.24

97.25

94.87

1.9M

-0.85%

Nov 19
96.63
93.9

96.8

93

1.4M

2.14%

Nov 18
94.61
96.58

98.96

94.57

1.6M

-1.36%

Nov 17
95.91
93.07

96.09

92.03

1.2M

1.27%

Nov 16
94.71
94.5

95.15

92.43

1.9M

4.46%

Nov 13
90.67
87.24

91.16

87.24

1.4M

5.10%

Nov 12
86.27
89.27

91.03

85.68

1.9M

-4.82%

Nov 11
90.64
93.36

93.46

89.8

1.6M

-1.21%

Nov 10
91.75
90.24

92.19

86.98

2.4M

3.82%

Nov 9
88.37
86.19

90.58

84.22

4.5M

14.26%

Nov 6
77.34
79.93

81.37

77.1

2.2M

-2.81%

Nov 5
79.58
81.71

85

79.47

2.9M

-4.69%

Nov 4
83.5
82.73

85.93

80.12

2.0M

1.58%

Nov 3
82.2
84.49

84.86

81.25

1.8M

-0.72%

Nov 2
82.8
80.8

84.35

79.05

2.5M

4.07%

Oct 30
79.56
81.05

81.5

77.45

2.7M

-2.28%

Oct 29
81.42
79.06

81.66

76.99

2.3M

1.36%

Oct 28
80.33
81.17

83.57

80.26

3.9M

-4.12%

Oct 27
83.78
83.16

84.92

82.56

2.7M

1.18%

Oct 26
82.8
83.7

84.54

81.57

3.6M

-3.2%

Oct 23
85.54
83.8

86.27

83.18

2.9M

3.06%

Oct 22
83
78.47

83.5

76.58

5.7M

5.81%

Oct 21
78.44
82.5

83.4

78.12

4.6M

-6.09%

Oct 20
83.53
82.75

84.82

81.39

4.2M

-4.04%

Oct 19
87.05
90.76

91.14

86.98

2.0M

-3.56%

Oct 16
90.26
91.99

92.3

90.22

1.0M

-2.13%

Oct 15
92.22
88.26

92.37

87.32

855K

2.36%

Oct 14
90.09
88.66

92.63

88.66

1.6M

2.20%

Oct 13
88.15
88.44

90.59

87.71

772K

-0.6%

Oct 12
88.68
88.29

89.21

86.56

890K

0.69%

Oct 9
88.07
90.07

90.55

87.63

1.1M

-1.58%

Oct 8
89.48
89.71

90.17

88.32

1.2M

0.61%

Oct 7
88.94
88.01

89.68

87.22

1.1M

1.03%

Oct 6
88.03
90.98

92.25

87.75

1.4M

-1.44%

Oct 5
89.32
88

89.39

86.42

963K

3.21%

Oct 2
86.54
82.06

87.56

81.86

1.9M

2.33%

Oct 1
84.57
84.83

86.22

83.99

1.5M

-1.65%

Sep 30
85.99
87.09

87.45

85.43

1.7M

-0.47%

Sep 29
86.4
87.56

87.73

83.9

1.4M

-2.16%

Sep 28
88.31
88.05

89.2

86.73

1.7M

2.81%

Sep 25
85.9
85.57

86.5

84.54

1.2M

-0.76%

Sep 24
86.56
86.47

88.18

85.08

1.7M

-0.39%

Sep 23
86.9
92.25

92.96

86.82

1.4M

-6.07%

Sep 22
92.52
91.92

93.68

91.28

1.6M

0.65%

Sep 21
91.92
93.25

93.81

90.45

1.8M

-4.03%

Sep 18
95.78
96.3

97.7

94.83

2.4M

-1.34%

Sep 17
97.08
95.78

97.81

94.81

1.8M

-0.48%

Sep 16
97.55
95.35

99.32

95.08

2.1M

3.09%

Sep 15
94.63
93.87

95.7

93.54

1.3M

1.37%

Sep 14
93.35
92.54

94.66

91.25

1.7M

1.39%

Sep 11
92.07
92.23

92.94

91.2

1.8M

0.68%

Sep 10
91.45
96.57

96.57

91.06

1.6M

-5.33%

Sep 9
96.6
95.73

97.73

95.2

1.1M

2.37%

Sep 8
94.36
97.43

97.43

93.45

1.7M

-4.78%

Sep 4
99.1
99.36

100.65

97.46

917K

0.73%

Sep 3
98.38
100.31

101.58

97.87

1.5M

-2.52%

Sep 2
100.92
102.79

102.79

100.6

1.3M

-2%

Sep 1
102.98
103.42

103.87

102.09

1.3M

-0.91%

Aug 31
103.93
105.6

105.81

103.17

1.4M

-1.58%

Aug 28
105.6
106

106

103.96

792K

0.21%

Aug 27
105.38
105.01

105.84

104.1

811K

0.93%

Aug 26
104.41
106

106.9

104.29

1.0M

-2.35%

Aug 25
106.92
106.25

107.28

105.09

1.2M

2.07%

Aug 24
104.75
102.84

105.95

102.53

1.5M

2.59%

Aug 21
102.11
102.58

103.7

101.98

1.4M

-0.55%

Aug 20
102.67
103.13

104.67

102.62

1.1M

-2%

Aug 19
104.77
107.24

107.9

104.32

1.4M

-2.72%

Aug 18
107.7
108.26

109.22

107.14

1.3M

-0.84%

Aug 17
108.61
111

111.18

107.48

1.3M

-1.91%

Aug 14
110.73
108.95

110.9

108.61

1.0M

0.72%

Aug 13
109.94
109.77

111.71

109.51

1.7M

-0.51%

Aug 12
110.5
109.22

111.48

107.8

1.5M

3.70%

Aug 11
106.56
111.01

111.95

106.21

1.6M

-2.23%

Aug 10
108.99
104.93

109.44

104.54

1.9M

4.52%

Aug 7
104.28
101.25

104.62

99.31

1.6M

1.88%

Aug 6
102.36
101.89

103.87

101.68

1.3M

-0.28%

Aug 5
102.65
101.65

103.99

99.6

2.2M

3.15%

Aug 4
99.52
97.59

100.38

97.21

1.6M

1.72%

Aug 3
97.84
97.9

99.3

96.16

1.2M

0.95%

Jul 31
96.92
94.84

97.04

94.5

1.2M

1.12%

Jul 30
95.85
96.03

97.07

93.93

1.1M

-2.73%

Jul 29
98.54
96.79

98.55

96.08

1.1M

2.06%

Jul 28
96.55
97.63

98.68

96.19

847K

-2%

Jul 27
98.52
99.68

100.02

97.77

941K

-1.16%

Jul 24
99.68
101.11

102.42

99.11

856K

-0.97%

Jul 23
100.66
101.48

102.06

99.83

1.2M

-1.8%

Jul 22
102.51
100.92

103.02

99.24

1.6M

-0.2%

Jul 21
102.72
98.71

103.36

98.71

2.1M

6%

Jul 20
96.91
96.41

99.12

95.45

1.4M

0.40%

Jul 17
96.52
97.33

98.59

96.41

1.1M

-0.31%

Jul 16
96.82
96.15

98.12

94.76

969K

0.24%

Jul 15
96.59
96.95

98.21

95.63

1.8M

0.97%

Jul 14
95.66
90.27

95.98

90.02

1.8M

5.12%

Jul 13
91
93.34

93.54

90.2

1.5M

-1.56%

Jul 10
92.44
91.08

92.72

90.39

2.2M

1.05%

Jul 9
91.48
96.18

97.12

91.4

1.4M

-5.29%

Jul 8
96.59
96.65

97.82

95.07

1.7M

0.54%

Jul 7
96.07
97.4

98.64

95.91

1.4M

-2.68%

Jul 6
98.72
98.79

100.39

97.72

1.4M

1.98%

Jul 2
96.8
98

98.86

96.22

1.2M

1.36%

Jul 1
95.5
98

99.28

94.33

1.7M

-2.25%

Jun 30
97.7
93.32

98.13

93.27

1.7M

3.45%

Jun 29
94.44
94.21

95.32

93.39

1.4M

0.35%

Jun 26
94.11
96.54

97.17

93.54

3.1M

-3.67%

Jun 25
97.7
91.41

97.79

91.02

2.0M

6.01%

Jun 24
92.16
94.95

95.86

91.72

2.1M

-4.75%

Jun 23
96.76
96.4

98.95

95.26

2.5M

1.75%

Jun 22
95.1
92.81

96.07

92.08

2.2M

1.62%

Jun 19
93.58
96.78

97.35

92.92

3.5M

-1.02%

Jun 18
94.54
93.19

95

92.78

3.0M

0.32%

Jun 17
94.24
97

97.07

94

2.4M

-2.91%

Jun 16
97.06
100.52

100.58

95.66

4.5M

1.58%

Jun 15
95.55
93.86

96.76

91.38

4.2M

-2.73%

Jun 12
98.23
101.8

102.66

95.07

2.3M

1.65%

Jun 11
96.64
95

101.52

93.51

4.6M

-5.93%

Jun 10
102.73
106.51

106.8

102.72

4.1M

-5.34%

Jun 9
108.53
109.89

110.37

104.94

3.1M

-7.06%

Jun 8
116.78
116.22

116.81

111.27

3.2M

5.31%

Jun 5
110.89
109.92

111.47

106.8

3.1M

7.09%

Jun 4
103.55
99.95

104.08

98.29

3.1M

2.76%

Jun 3
100.77
98.89

100.97

96.61

2.5M

4.79%

Jun 2
96.16
94.6

96.35

93.36

2.2M

3.50%

Jun 1
92.91
91.6

93.67

90.5

2.2M

1.43%

May 29
91.6
91.64

92.47

89.84

1.9M

-1.02%

May 28
92.54
93.87

96.66

91.91

1.9M

-1.75%

May 27
94.19
95.43

95.65

91.25

2.2M

0.50%

May 26
93.72
96.73

96.73

93.35

1.9M

1.41%

May 22
92.42
91.85

92.97

91.08

1.9M

-0.55%

May 21
92.93
93

93.69

91.78

2.5M

0.54%

May 20
92.43
91.47

92.86

90.9

2.7M

3.10%

May 19
89.65
93.66

94.47

89.56

2.4M

-3.99%

May 18
93.38
88.16

94.23

87.52

4.0M

12.70%

May 15
82.86
81.58

85.16

81.58

1.9M

0.79%

May 14
82.21
77.57

84

76.48

2.7M

3.57%

May 13
79.38
83.91

84.44

78.47

3.5M

-5.53%

May 12
84.03
84.5

86.56

83.5

5.5M

-0.49%

May 11
84.44
88.22

88.75

84.44

3.8M

-6.17%

May 8
89.99
89.02

91.5

87.3

2.6M

3.41%

May 7
87.02
85.01

91.42

85.01

2.3M

6.34%

May 6
81.83
82.95

84.44

80.9

1.4M

-0.79%

May 5
82.48
88.04

89.3

82

2.0M

-0.7%

May 4
83.06
81.2

83.15

80.56

3.5M

0.17%

May 1
82.92
86.64

88.47

81.7

1.9M

-7.15%

Apr 30
89.31
91.22

91.43

85.96

2.6M

-0.55%

Apr 29
89.8
86.01

90.13

84.06

2.5M

8.51%

Apr 28
82.76
83.76

85.4

81.26

2.0M

1.10%

Apr 27
81.86
76.21

82.96

73.51

2.6M

5.69%

Apr 24
77.45
80.67

80.67

74.67

3.0M

-2.35%

Apr 23
79.31
83.33

84.8

78.64

3.1M

-1.67%

Apr 22
80.66
77.59

80.74

77.08

3.4M

9.79%

Apr 21
73.47
68.02

74.28

67

3.7M

3.07%

Apr 20
71.28
71.38

75.36

69.77

3.8M

-6.98%

Apr 17
76.63
72.75

77.32

72.08

2.8M

7.76%

Apr 16
71.11
73.88

73.94

69.99

3.1M

-5.09%

Apr 15
74.92
72.53

76.48

71.53

2.1M

-3.17%

Apr 14
77.37
77.05

80

76.49

2.2M

-1.5%

Apr 13
78.55
79.03

79.6

75.4

2.2M

4.07%

Apr 9
75.48
83

84.12

72.58

4.8M

-5.99%

Apr 8
80.29
77.48

81.61

74.84

3.3M

6.61%

Apr 7
75.31
81.29

84.26

74.79

3.0M

-1.22%

Apr 6
76.24
76.1

76.8

72.9

2.3M

2.09%

Apr 3
74.68
79

80

72.84

4.9M

-0.63%

Apr 2
75.15
71.19

81.48

70.41

4.9M

10.89%

Apr 1
67.77
66.9

68.97

62.54

2.6M

-3.39%

Mar 31
70.15
69.1

72.83

67.56

2.7M

5.50%

Mar 30
66.49
65.79

67.35

62.19

3.1M

-3.15%

Mar 27
68.65
70.53

72.93

67.76

2.9M

-7.65%

Mar 26
74.34
72.44

74.75

71.39

2.9M

2.81%

Mar 25
72.31
72.13

75.41

67.38

3.0M

-0.43%

Mar 24
72.62
66.79

73.58

63.29

3.9M

18.49%

Mar 23
61.29
61.69

62.97

57.2

3.1M

-0.76%

Mar 20
61.76
62.81

68.56

59.29

4.4M

2.30%

Mar 19
60.37
56.92

63.5

55.1

4.2M

6.34%

Mar 18
56.77
52.01

57.99

48.62

4.3M

-1.32%

Mar 17
57.53
59.82

61.96

54.5

4.2M

-3.67%

Mar 16
59.72
59.48

68.79

57.24

3.6M

-15.51%

Mar 13
70.68
66.2

70.71

60.92

4.5M

16.48%

Mar 12
60.68
63.92

66.46

58.81

4.7M

-13.61%

Mar 11
70.24
76.18

77.47

67.24

4.4M

-12.05%

Mar 10
79.86
70.76

80.19

67.59

6.7M

20.43%

Mar 9
66.31
72.86

74.96

64.53

7.7M

-36.92%

Mar 6
105.12
113.41

114.44

101.9

5.2M

-11.37%

Mar 5
118.61
119.02

122.26

116.87

1.9M

-3.96%

Mar 4
123.5
122.07

124.54

120.24

1.8M

2.89%

Mar 3
120.03
124.97

124.97

118.15

2.1M

-3.45%

Mar 2
124.32
124.46

125.13

119.27

3.4M

1.25%

Feb 28
122.78
117.7

122.89

117.65

3.5M

0.09%

Feb 27
122.67
120.73

127.57

117.3

2.7M

-2.25%

Feb 26
125.49
130.79

131.8

125.35

2.0M

-3.54%

Feb 25
130.09
136.78

137.19

129.15

1.8M

-4.32%

Feb 24
135.97
135.69

137.33

133.88

1.5M

-4.41%

Feb 21
142.25
141.09

142.89

139.49

1.4M

-0.2%

Feb 20
142.53
144

147.24

139.82

2.4M

0.96%

Feb 19
141.17
136.24

142

135.92

2.4M

4.14%

Feb 18
135.56
137

137.95

133.79

1.7M

-2.64%

Feb 14
139.23
140.6

141.01

137.57

937K

-0.58%

Feb 13
140.04
136.52

140.58

136.12

1.4M

1.77%

Feb 12
137.61
138.72

139.86

136.87

1.2M

1.09%

Feb 11
136.13
139.38

139.39

135.84

1.7M

-0.45%

Feb 10
136.75
136.76

137.19

135.48

1.2M

-0.78%

Feb 7
137.82
138.75

139.31

136.62

1.0M

-1.87%

Feb 6
140.44
142.82

142.82

139.94

918K

-1.23%

Feb 5
142.19
138.95

142.97

138.59

1.4M

4.63%

Feb 4
135.9
135.85

138.99

134.96

2.1M

2.51%

Feb 3
132.57
135.26

136.09

132.29

1.3M

-1.8%

Jan 31
135
135.03

135.84

133.5

1.6M

-1.84%

Jan 30
137.53
136.9

139.47

134.7

1.7M

-1%

Jan 29
138.92
141.78

142.6

138.84

1.1M

-1.45%

Jan 28
140.97
137.17

141.83

136.4

2.2M

4.12%

Jan 27
135.39
138.37

138.87

134.97

1.7M

-4.68%

Jan 24
142.03
140.1

142.25

139.11

1.3M

1.14%

Jan 23
140.43
143.09

143.3

140.08

2.0M

-2.9%

Jan 22
144.63
146.75

146.83

144.09

1.5M

-1.85%

Jan 21
147.35
147.91

149.54

146.64

1.3M

-0.97%

Jan 17
148.79
147.83

148.88

146.88

1.8M

1.22%

Jan 16
146.99
146.39

149.31

146.07

1.4M

1.09%

Jan 15
145.4
146.04

146.47

144.05

1.2M

-0.94%

Jan 14
146.78
146.69

148.11

145.07

1.6M

0%

Jan 13
146.78
149.29

149.55

146.47

2.1M

-1.75%

Jan 10
149.4
151.63

151.73

148.85

2.0M

-1.86%

Jan 9
152.23
152.09

152.85

149.55

1.5M

0.10%

Jan 8
152.08
157.96

158.89

150.7

2.1M

-3.1%

Jan 7
156.95
157.55

157.8

155.65

1.3M

-0.73%

Jan 6
158.11
154.91

159.01

153.02

2.1M

3.10%

Jan 3
153.35
155

156.42

152.88

1.8M

0.66%

Jan 2
152.34
152.02

153.15

151.17

980K

0.64%

Dec 31
151.37
150

151.57

149.16

982K

0.33%

Dec 30
150.87
150.9

152.2

150.25

1.2M

-0.6%

Dec 27
151.78
153.27

153.27

151.7

865K

-0.2%

Dec 26
152.08
152.58

153.4

151.76

927K

0.18%

Dec 24
151.8
151.4

152.06

151.05

400K

0.58%

Dec 23
150.93
147.76

151.29

147.3

1.5M

2.26%

Dec 20
147.6
148.83

148.83

146.29

2.6M

0.26%

Dec 19
147.21
145.5

147.5

144.86

1.5M

0.92%

Dec 18
145.87
143.78

147.01

143.71

1.8M

1.28%

Dec 17
144.03
143.36

145.17

142.85

1.4M

0.46%

Dec 16
143.37
141.17

144.38

140.54

1.9M

2.41%

Dec 13
139.99
140.88

141.66

138.53

1.7M

0.32%

Dec 12
139.55
136.35

140.2

136.01

1.4M

2.47%

Dec 11
136.19
134.49

136.63

133.89

1.2M

1.22%

Dec 10
134.55
133.26

134.99

132.04

1.5M

1.02%

Dec 9
133.19
132.14

134.17

131.23

1.5M

-0.53%

Dec 6
133.9
129.12

134.77

128.65

1.6M

4.36%

Dec 5
128.31
131.17

131.31

127.48

1.3M

-1.69%

Dec 4
130.51
125.15

131.17

125

1.8M

5.68%

Dec 3
123.49
125.2

125.28

122.64

1.9M

-2.6%

Dec 2
126.78
128.83

129

126.38

1.4M

-0.83%

Nov 29
127.84
128.27

129.43

127.67

784K

-1.8%

Nov 27
130.18
127.97

130.4

127.32

1.2M

1.96%

Nov 26
127.68
131.42

131.42

127.45

1.6M

-2.59%

Nov 25
131.08
129.43

131.1

128.28

2.0M

1.17%

Nov 22
129.56
131.29

131.9

129.39

1.3M

-0.9%

Nov 21
130.74
131.48

131.48

128.53

1.5M

0.21%

Nov 20
130.47
129.72

132.89

128.54

1.2M

0.66%

Nov 19
129.62
133.2

133.2

129.18

1.1M

-2.69%

Nov 18
133.2
133.01

133.36

131.6

906K

-0.8%

Nov 15
134.28
133.07

134.4

131.82

1.1M

1.44%

Nov 14
132.37
133.82

134.96

132.16

1.1M

-0.85%

Nov 13
133.5
135.22

135.7

132

1.0M

-1.93%

Nov 12
136.13
134.39

137.16

133.31

1.1M

1.86%

Nov 11
133.64
132.64

134.58

132

862K

-1%

Nov 8
134.99
135.78

135.99

133.26

1.1M

-1.16%

Nov 7
136.57
135.81

137.34

134.64

2.0M

2.25%

Nov 6
133.57
134.67

136.29

131.52

1.9M

-1.69%

Nov 5
135.86
139

142.94

134.83

2.9M

-0.15%

Nov 4
136.06
129.95

136.99

129.94

3.9M

6.66%

Nov 1
127.56
124.34

128.68

123.41

1.5M

3.69%

Oct 31
123.02
122.12

123.31

119

1.7M

0.38%

Oct 30
122.55
127.59

128.21

122.22

1.6M

-3.6%

Oct 29
127.12
124.53

128.31

124.04

1.5M

1.25%

Oct 28
125.55
130.74

131.81

125.16

1.7M

-3.3%

Oct 25
129.83
129.25

131.48

128.41

927K

0.43%

Oct 24
129.27
131

131.74

128.14

1.2M

-1.02%

Oct 23
130.6
129.81

131.76

128.51

1.4M

0.14%

Oct 22
130.42
126.14

132.27

125.79

1.7M

4.01%

Oct 21
125.39
123.4

126.32

123.07

1.8M

1.65%

Oct 18
123.36
128

128.24

123.15

1.7M

-3.4%

Oct 17
127.7
128.66

128.87

126.4

1.5M

-0.55%

Oct 16
128.41
130.04

131.4

128.34

914K

-1.53%

Oct 15
130.41
129.19

131.8

128.71

944K

0.40%

Oct 14
129.89
130.04

131.9

128.51

1.3M

-1.98%

Oct 11
132.51
131.4

133.89

129.78

1.5M

2.44%

Oct 10
129.35
128.09

131.06

127.56

2.0M

2.24%

Oct 9
126.51
125

127.25

124.96

1.7M

2.47%

Oct 8
123.46
123.02

125.67

122.5

1.6M

-0.87%

Oct 7
124.54
125.69

126.51

123.94

1.6M

-0.73%

Oct 4
125.45
124.57

126.5

123.94

1.8M

0.61%

Oct 3
124.69
119.86

125.13

119.5

1.9M

3.07%

Oct 2
120.98
121.64

123.75

119.02

1.8M

-0.62%

Oct 1
121.73
126.92

128.69

121.55

1.9M

-3.21%

Sep 30
125.77
125.79

127.55

125.11

1.6M

-0.44%

Sep 27
126.32
124.89

129.06

124.89

1.1M

-0.02%

Sep 26
126.35
126.25

127.1

124.78

1.3M

-1.41%

Sep 25
128.16
129.23

130.64

127.22

1.6M

-2.04%

Sep 24
130.83
133.73

133.73

130.57

1.7M

-2.18%

Sep 23
133.75
133.26

134.7

132.26

923K

-0.44%

Sep 20
134.34
136.34

136.48

132.6

2.6M

-1.17%

Sep 19
135.93
138.93

139.49

135.03

1.0M

-1.34%

Sep 18
137.77
137.15

139.97

136.5

1.6M

-0.89%

Sep 17
139.01
143.02

143.02

137.37

2.4M

-3.63%

Sep 16
144.24
141.66

145.67

138.7

5.4M

6.51%

Sep 13
135.43
132.31

135.97

131.35

2.0M

3.90%

Sep 12
130.35
130.25

132.37

129.35

1.7M

-2.29%

Sep 11
133.41
135.61

137.99

132.74

1.3M

-0.99%

Sep 10
134.75
132.79

136.54

132.69

1.7M

2.08%

Sep 9
132
130.57

132.88

130.17

1.8M

2.43%

Sep 6
128.87
126.98

129.03

125

1.2M

0.26%

Sep 5
128.54
125.31

129.91

125.31

1.6M

3.51%

Sep 4
124.18
124.4

124.78

123.31

1.5M

1.40%

Sep 3
122.46
120.45

122.68

119.57

1.1M

-0.78%

Aug 30
123.42
123.37

125.26

122.46

1.0M

0.05%

Aug 29
123.36
122.46

124.82

122.19

1.2M

2.13%

Aug 28
120.79
118.91

121.29

118.17

1.0M

2.35%

Aug 27
118.02
121.01

121.14

116.89

1.9M

-1.85%

Aug 26
120.25
122.45

122.84

119.6

1.1M

-0.33%

Aug 23
120.65
123.98

125

120.01

1.4M

-4.3%

Aug 22
126.07
127.53

127.75

125.72

822K

-0.69%

Aug 21
126.94
128

129.14

125.94

1.3M

0.27%

Aug 20
126.6
126.99

127.58

125.57

1.0M

-1.26%

Aug 19
128.22
126.87

128.6

126

1.2M

2.90%

Aug 16
124.61
123.51

125.06

122.38

1.2M

1.30%

Aug 15
123.01
122.56

123.65

120.93

1.2M

0.24%

Aug 14
122.72
125.34

126.37

122.5

1.9M

-4.39%

Aug 13
128.36
125.56

129.57

125.08

2.0M

1.27%

Aug 12
126.75
125.39

127.78

124.21

2.2M

0.46%

Aug 9
126.17
126

127.89

124.86

1.4M

-0.48%

Aug 8
126.78
122.5

126.85

120.64

2.5M

3.81%

Aug 7
122.13
114.79

124.75

114.79

4.0M

1.58%

Aug 6
120.23
122.51

123.48

118.62

2.4M

-1.32%

Aug 5
121.84
124.16

124.49

121.27

2.1M

-4.27%

Aug 2
127.27
128.44

130.71

124.46

2.2M

-0.23%

Aug 1
127.56
136

136

125.29

3.8M

-7.59%

Jul 31
138.04
137.68

139.4

136

1.6M

0.11%

Jul 30
137.89
133

138.35

132.8

1.4M

3.24%

Jul 29
133.56
135.39

135.44

131.91

1.4M

-1.56%

Jul 26
135.68
135.66

136.87

134.76

1.5M

-0.17%

Jul 25
135.91
137.87

139.72

135.5

1.5M

-2.67%

Jul 24
139.64
139.58

142.7

139.41

791K

-0.24%

Jul 23
139.97
138.17

140.3

137.03

1.0M

1.26%

Jul 22
138.23
138.13

139.66

136.85

1.4M

0.12%

Jul 19
138.07
136.37

138.23

135.5

1.1M

1.45%

Jul 18
136.1
135.84

136.8

134.83

1.6M

-0.18%

Jul 17
136.34
140.03

140.64

136.33

987K

-2.66%

Jul 16
140.06
141.38

142.12

139.2

1.3M

-0.45%

Jul 15
140.69
144.55

145.66

140.48

1.1M

-2.49%

Jul 12
144.29
144.63

145.66

143.26

1.0M

-0.39%

Jul 11
144.86
147.24

147.31

144.59

1.1M

-1.19%

Jul 10
146.6
144.32

147.4

144.32

1.2M

2.26%

Jul 9
143.36
145.08

145.28

142.17

1.7M

-1.67%

Jul 8
145.8
145

147.87

144.01

1.1M

-0.49%

Jul 5
146.52
145

146.54

144.33

1.2M

0.67%

Jul 3
145.55
145.79

146.12

144.5

1.0M

0.73%

Jul 2
144.5
150.5

150.51

143.5

2.1M

-4.48%

Jul 1
151.28
156.39

156.8

150.56

1.5M

-1.68%

Jun 28
153.86
151.09

154.29

150.48

3.0M

2.02%

Jun 27
150.81
151.73

152.59

150.5

985K

-0.28%

Jun 26
151.24
150.26

153.04

149.62

1.4M

2.06%

Jun 25
148.19
150.82

151.37

148.06

1.1M

-2.04%

Jun 24
151.28
155.35

156.04

150.74

1.2M

-2.53%

Jun 21
155.21
155

157.31

154.47

1.8M

0.56%

Jun 20
154.34
152.6

154.78

149.36

1.8M

3.97%

Jun 19
148.44
148.92

149.88

146.24

1.0M

-0.9%

Jun 18
149.79
145.45

150.05

145.45

1.3M

3.58%

Jun 17
144.61
140.83

144.99

140.05

1.4M

2.14%

Jun 14
141.58
143.26

143.75

140.58

1.5M

-1.17%

Jun 13
143.25
144.1

144.81

141.86

1.8M

1.37%

Jun 12
141.32
145.05

145.68

141.12

1.6M

-3.29%

Jun 11
146.13
146.3

147.22

143.91

1.2M

0.97%

Jun 10
144.73
145.24

147.38

144.41

824K

-0.17%

Jun 7
144.98
144.17

145.75

143

901K

0.68%

Jun 6
144
141.86

144.47

141.86

1.1M

1.77%

Jun 5
141.5
144.72

144.72

139.29

2.7M

-2.16%

Jun 4
144.62
143.79

145.94

141.96

2.5M

1.41%

Jun 3
142.61
142.42

143.34

140.95

1.8M

0.46%

May 31
141.96
142.28

144

141.1

2.0M

-1.71%

May 30
144.43
146.67

147.12

142.7

1.6M

-1.47%

May 29
146.59
145.64

146.9

143.39

2.1M

-0.89%

May 28
147.9
147.45

149.63

146.44

1.5M

0.61%

May 24
147
147.33

148.57

145.3

1.4M

0.98%

May 23
145.58
149.98

149.98

143.5

3.8M

-4.94%

May 22
153.15
156.57

157.26

153.15

1.5M

-3.01%

May 21
157.91
155.42

158.27

155.04

1.3M

2.40%

May 20
154.21
154.25

156.08

153.09

1.4M

-0.04%

May 17
154.27
153.87

155.55

152.83

1.3M

-0.53%

May 16
155.09
152.59

155.49

152.59

1.7M

2.38%

May 15
151.49
148.93

152.05

148.41

1.0M

0.76%

May 14
150.35
148.7

151.44

148.05

1.3M

2.13%

May 13
147.22
150.18

151.16

146.77

1.6M

-2.92%

May 10
151.65
153.38

153.4

148.42

1.7M

-1.14%

May 9
153.4
151.82

154.27

149.42

1.5M

-0.24%

May 8
153.77
147.9

154.02

147.89

3.0M

3.92%

May 7
147.97
153.47

156.14

143.04

5.6M

-5.32%

May 6
156.29
152.9

157.27

152

2.0M

0.13%

May 3
156.09
155

157.78

154.14

1.4M

1.71%

May 2
153.47
156.67

158.38

153.42

2.2M

-2.85%

May 1
157.98
166.62

167.6

157.93

2.6M

-5.09%

Apr 30
166.46
167.75

168.2

165.21

1.5M

0.43%

Apr 29
165.75
165.12

167.36

164.3

1.6M

0.49%

Apr 26
164.94
166.5

167.31

161.99

2.6M

-1.83%

Apr 25
168.01
172.37

173.12

167.69

2.7M

-2.53%

Apr 24
172.37
177.9

177.9

172.3

1.7M

-1.91%

Apr 23
175.72
175.89

177.96

173.15

1.5M

-0.1%

Apr 22
175.89
176.8

178.22

174.26

2.4M

0.47%

Apr 18
175.06
172.86

175.91

172.52

2.7M

1.19%

Apr 17
173
172.27

174.72

171.14

2.4M

1.03%

Apr 16
171.24
169.13

172.16

168.3

2.1M

2.09%

Apr 15
167.74
168.2

171.76

166.58

3.4M

-0.34%

Apr 12
168.32
164.43

168.5

162.18

5.9M

11.53%

Apr 11
150.92
149.95

151.44

148.53

1.2M

0.29%

Apr 10
150.49
149.45

151.11

149.44

1.2M

1.04%

Apr 9
148.94
150.74

151.21

148.57

1.6M

-1.84%

Apr 8
151.73
151.5

153.07

150.52

1.3M

0.70%

Apr 5
150.68
148.01

150.72

147.9

1.4M

2.14%

Apr 4
147.52
146.01

148.47

145.42

1.1M

1%

Apr 3
146.06
148.2

148.76

145.1

2.2M

-1.43%

Apr 2
148.18
151.39

152.02

148.05

1.6M

-1.86%

Apr 1
150.99
153.77

155.53

150.91

2.1M

-0.85%

Mar 29
152.28
155.28

155.9

152.09

2.9M

-0.41%

Mar 28
152.91
146.28

153.13

145.11

3.2M

3.91%

Mar 27
147.15
142.72

147.34

141.78

2.5M

2.85%

Mar 26
143.07
141.98

143.86

140.84

1.0M

0%