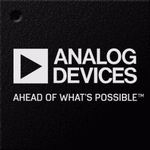 Analog Devices Inc.
About
Profile
Analog Devices, Inc. (ADI), also known simply as Analog, is an American multinational semiconductor company specializing in data conversion, signal processing and power management technology, headquartered in Norwood, Massachusetts.
---
Headquarters
Norwood, Massachusetts, United States
---
Available for logged in users only.


The multiple price alert feature will smartly add or remove $1 if your alert was hit.
It's only available if you are logged in, a V.I.P. member or if you are using the AI chrome extension.

Contact us via Twitter if you are interested in trying it out.
Analog Devices declares $0.86 dividend
Analog Devices Non-GAAP EPS of $2.01 misses by $0.01, revenue of $2.72B in-line
Analog Devices Q4 2023 Earnings Preview
Catalyst watch: Nvidia earnings, Broadcom-VMware drama, auto show buzz and holiday sales blitz
Analog Devices rises on Morgan Stanley upgrade, bottom is 'in sight'
AMD, Broadcom, Qualcomm among biggest chip gainers as sector ends week strong
Citi upgrades Microchip Technology to Buy, cuts NXP Semiconductors
NXP Semiconductors falls as Citi downgrades, expecting 'similar downturn to peers'
NXP Semi's Q3 results, guidance seen as 'decent' amid 'nervous environment'
Qualcomm leads chips higher as sector awaits earnings bonanza
Nvidia, Micron, Broadcom stay among UBS's top chip picks as September sales jump
AMD, Qualcomm, Synaptics have 'favorable' risk-reward into earnings: KeyBanc
Analog Devices, Infineon, Renesas preferred analog chip names: UBS
Analog Devices announces appointment of interim CFO
ON, Analog Devices lead chips higher as sector gets set for Q3 earnings
EU publishes vital tech list amid worries over wider state aid use
Nvidia, AMD, other semis in focus as KeyBanc checks indicate mixed picture
Semiconductors slip even as Wall Street debates Micron spending plans
China's trade council requests US to reconsider tech investment ban - report
AMD leads semiconductor gains as sector bucks Micron worries
Date
Price
Open
High
Low
Vol
Change
Nov 28
183.2
183.26

184.55

182.34

2.8M

-0.31%

Nov 27
183.77
182.66

184.38

181.43

3.4M

0.39%

Nov 24
183.05
182.8

183.39

182.21

1.1M

0.21%

Nov 22
182.67
182.16

184.21

181.44

2.9M

0.78%

Nov 21
181.25
183.06

184.53

179.44

5.0M

-1.4%

Nov 20
183.82
182.09

184.7

182.09

3.8M

0.42%

Nov 17
183.05
182.92

183.57

181.12

3.3M

1.78%

Nov 16
179.84
181.33

181.66

178.66

3.3M

-0.52%

Nov 15
180.78
179.02

182.81

179.02

3.3M

1.80%

Nov 14
177.58
175.2

178.3

175

3.4M

4.05%

Nov 13
170.66
170.75

171.62

170.1

3.2M

-0.96%

Nov 10
172.32
169.28

172.99

167.84

3.7M

3.11%

Nov 9
167.13
169.48

170.62

166.78

4.1M

-1.05%

Nov 8
168.91
168.5

170.5

167.5

3.4M

0.48%

Nov 7
168.11
167.57

169.12

166.94

2.5M

0.32%

Nov 6
167.57
167.44

168.92

165.59

2.1M

-0.21%

Nov 3
167.92
165.94

169.46

165.94

3.5M

2.18%

Nov 2
164.34
161.98

165.26

161.64

4.1M

3.20%

Nov 1
159.24
157.46

159.48

155.47

4.3M

1.21%

Oct 31
157.33
156.5

157.64

155.16

3.1M

0.93%

Oct 30
155.88
157.62

158.02

154.99

4.4M

-2.92%

Oct 27
160.57
161.48

162.49

159.8

2.2M

-0.18%

Oct 26
160.86
160.87

163.93

160.68

3.5M

0.67%

Oct 25
159.79
162.01

162.49

159

5.1M

-3.12%

Oct 24
164.93
164.62

165.32

162.85

3.1M

0.65%

Oct 23
163.87
165.55

167.31

163.65

2.7M

-1.59%

Oct 20
166.52
169.02

169.74

166.01

3.4M

-1.3%

Oct 19
168.72
172.93

173.03

168.23

3.7M

-1.49%

Oct 18
171.27
170.7

172.96

169.71

3.8M

-0.78%

Oct 17
172.61
169.49

174.07

168.73

2.3M

-0.08%

Oct 16
172.75
171.73

173.74

171.5

3.0M

0.98%

Oct 13
171.07
173.98

174.26

170.03

2.7M

-1.46%

Oct 12
173.6
175.89

176.18

172.22

3.6M

-0.75%

Oct 11
174.92
176.37

177.1

173.24

2.4M

-0.6%

Oct 10
175.97
173.65

177.57

173.47

2.8M

1.53%

Oct 9
173.32
172.85

173.9

171.43

2.6M

-0.37%

Oct 6
173.97
170.71

175.29

170.13

3.3M

1.09%

Oct 5
172.1
174.22

174.63

169.89

2.8M

-0.97%

Oct 4
173.79
172.59

174.33

171.72

3.5M

1.33%

Oct 3
171.51
173.78

176.4

170.49

3.2M

-2.23%

Oct 2
175.43
175

176.9

173.69

1.7M

0.19%

Sep 29
175.09
177.96

178.61

174.13

2.7M

-0.75%

Sep 28
176.41
172.81

177.62

172.26

2.8M

2.08%

Sep 27
172.81
172.99

174

170.65

2.6M

0.27%

Sep 26
172.34
173.36

173.82

171.42

3.4M

-1.76%

Sep 25
175.43
174.5

175.58

173.06

2.3M

-0.03%

Sep 22
175.48
174.99

176.88

174.26

2.8M

0.94%

Sep 21
173.84
175.4

176.66

173.4

3.8M

-1.27%

Sep 20
176.08
179.02

179.07

175.93

2.5M

-1.49%

Sep 19
178.75
178.2

179.02

176.16

2.8M

-0.54%

Sep 18
179.72
178.1

180.36

177.4

2.7M

0.89%

Sep 15
178.14
179.41

179.58

177.21

6.1M

-0.85%

Sep 14
179.67
178.25

180.11

175.22

4.1M

1.99%

Sep 13
176.17
175.91

177.62

175.3

2.3M

0.64%

Sep 12
175.05
176.5

179.01

175.01

2.8M

-1.46%

Sep 11
177.65
179.54

179.91

175.29

2.8M

0.10%

Sep 8
177.47
178.4

178.87

176.71

3.2M

-0.55%

Sep 7
178.46
179.94

181.41

177.65

5.5M

-2.04%

Sep 6
182.18
181.54

182.47

178.75

3.4M

0.35%

Sep 5
181.54
181.42

183.43

180.21

2.5M

0%