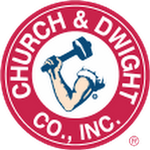 Church & Dwight Company, Inc.
About
Profile
Church & Dwight, Inc., founded in 1846, is the leading U.S. producer of sodium bicarbonate, popularly known as baking soda, a natural product that cleans, deodorizes, leavens and buffers.
---
Headquarters
Ewing Township, New Jersey, United States
---
Available for logged in users only.


The multiple price alert feature will smartly add or remove $1 if your alert was hit.
It's only available if you are logged in, a V.I.P. member or if you are using the AI chrome extension.

Contact us via Twitter if you are interested in trying it out.
Church & Dwight beats Q2 top and bottom line estimates; initiates Q3 and raises FY23 outlook
Church & Dwight Q2 2023 Earnings Preview
Church & Dwight declares $0.2725 dividend
Church & Dwight tops Q1 estimates as pricing actions promote revenue growth
Church & Dwight Non-GAAP EPS of $0.85 beats by $0.08, revenue of $1.43B beats by $80M
Church & Dwight Q1 2023 Earnings Preview
Church & Dwight declares $0.2725 dividend
Deutsche Bank picks winners and losers in the consumer staples sector
Church & Dwight downgraded to Hold at Argus on sales, cost concerns
Church & Dwight is a top pick at Oppenheimer after analyst day impresses
Church & Dwight upgraded as Atlantic Equities sees balanced risk/reward
Church & Dwight dips after setting profit guidance below expectations
Church & Dwight raises dividend by 3.8% to $0.2725
Church & Dwight Non-GAAP EPS of $0.62 beats by $0.02, revenue of $1.44B beats by $40M
Church & Dwight Q4 2022 Earnings Preview
Colgate-Palmolive upgraded, named top pick at Morgan Stanley
Church & Dwight lands bull ratings from Morgan Stanley and Credit Suisse ahead of earnings
Kimberly Clark, Conagra cut to Sell as DB eyes more difficult operating environment
P&G, Reynolds highlighted among resilient consumer staples stocks
Church & Dwight gains after Argus calls out buying opportunity
Earnings History
Date
EPS / Forecast
Revenue / Forecast
January 28, 2022

0.64

/ 0.5953

1.37B

/ 1.35B
Beat!

October 29, 2021

0.8

/ 0.7134

1.31B

/ 1.28B
Beat!

July 30, 2021

0.76

/ 0.6968

1.27B

/ 1.26B
Beat!

April 29, 2021

0.83

/ 0.8082

1.24B

/ 1.21B
Beat!

January 29, 2021

0.53

/ 0.5238

1.3B

/ 1.26B
Beat!

October 29, 2020

0.7

/ 0.6734

1.24B

/ 1.2B
Beat!

July 31, 2020

0.77

/ 0.63

1.19B

/ 1.15B
Beat!

April 30, 2020

0.83

/ 0.77

1.17B

/ 1.14B
Beat!

January 31, 2020

0.55

/ 0.55

1.14B

/ 1.14B
October 31, 2019

0.66

/ 0.61

1.09B

/ 1.1B
July 31, 2019

0.57

/ 0.52

1.08B

/ 1.07B
Beat!

May 2, 2019

0.7

/ 0.66

1.04B

/ 1.04B
February 5, 2019

0.57

/ 0.58

1.07B

/ 1.07B
November 1, 2018

0.58

/ 0.54

1.04B

/ 1.02B
Beat!

August 2, 2018

0.49

/ 0.47

1.03B

/ 1.01B
Beat!

May 3, 2018

0.63

/ 0.61

1.01B

/ 979.16M
Date
Price
Open
High
Low
Vol
Change
ER
Sep 27
91.97
93.07

93.43

91.6

1.1M

-1.19%

Sep 26
93.08
93.91

93.91

93.04

1.0M

-0.81%

Sep 25
93.84
94.6

94.73

93.51

685K

-0.9%

Sep 22
94.69
94.88

95.47

94.46

838K

-0.35%

Sep 21
95.02
95.1

95.59

94.79

1.2M

-0.09%

Sep 20
95.11
95.19

95.69

94.79

820K

0.28%

Sep 19
94.84
94.96

95.67

93.93

984K

-0.33%

Sep 18
95.15
95.64

95.64

94.88

842K

-0.07%

Sep 15
95.22
95.57

96.54

95.06

2.2M

-0.4%

Sep 14
95.6
95.69

95.85

94.94

1.2M

-0.1%

Sep 13
95.7
95.32

95.85

94.95

1.1M

0.42%

Sep 12
95.3
96.48

96.61

95.02

738K

-1.06%

Sep 11
96.32
96.93

96.93

95.82

770K

0.68%

Sep 8
95.67
96.25

96.8

95.46

972K

-0.88%

Sep 7
96.52
94.64

97.2

94.64

1.6M

2.55%

Sep 6
94.12
95.27

95.78

93.92

1.5M

-1.1%

Sep 5
95.17
95.95

96.31

94.78

1.1M

-1.13%

Sep 1
96.26
96.91

97.32

96.03

1.5M

-0.53%

Aug 31
96.77
96.1

97.05

95.84

2.7M

0.79%

Aug 30
96.01
95.38

96.17

95.38

963K

0.60%

Aug 29
95.44
94.42

95.55

93.84

1.0M

1.06%

Aug 28
94.44
94.61

94.85

93.96

958K

1.22%

Aug 25
93.3
93.24

93.55

92.88

701K

0.50%

Aug 24
92.84
92.49

93.77

92.38

768K

0.38%

Aug 23
92.49
93.01

93.48

91.99

770K

-0.24%

Aug 22
92.71
92.23

93.18

91.88

907K

0.28%

Aug 21
92.45
92.72

93.04

91.93

920K

-0.69%

Aug 18
93.09
91.83

93.18

91.38

1.3M

1%

Aug 17
92.17
93.8

93.92

92.13

1.3M

-1.54%

Aug 16
93.61
94.07

94.49

93.36

1.1M

-0.62%

Aug 15
94.19
94.96

95.08

94.04

766K

-1.02%

Aug 14
95.16
95.94

96.43

94.96

996K

-0.86%

Aug 11
95.99
95.83

96.43

95.47

1.2M

0.46%

Aug 10
95.55
96.39

97.18

95.31

1.3M

-0.52%

Aug 9
96.05
95.51

96.75

95.44

1.1M

0.58%

Aug 8
95.5
96.15

96.15

95.24

1.4M

-0.19%

Aug 7
95.68
94.65

95.79

94.65

907K

1.11%

Aug 4
94.63
94.93

95.35

94.38

1.1M

-0.5%

Aug 3
95.11
97.12

97.22

95.1

1.6M

-1.73%

Aug 2
96.78
96.55

97.56

95.92

1.4M

0.43%

Aug 1
96.37
95.8

96.66

95.8

1.1M

0.73%

Jul 31
95.67
97.37

97.5

94.69

3.3M

-1.52%

Jul 28
97.15
97.02

98.4

95.95

1.8M

1.25%

Jul 27
95.95
97.88

98.23

95.84

2.5M

-2%

Jul 26
97.91
97.93

98.34

97.3

1.3M

-0.06%

Jul 25
97.97
98.37

98.37

97.19

1.3M

-0.11%

Jul 24
98.08
98.07

98.34

97.65

962K

-0.05%

Jul 21
98.13
97.3

98.65

97.3

1.3M

0.92%

Jul 20
97.24
97.98

98.04

96.03

1.8M

-1.05%

Jul 19
98.27
98.35

98.56

97.35

1.7M

0.09%

Jul 18
98.18
98.38

99.26

97.83

950K

-0.21%

Jul 17
98.39
98.73

98.96

98

700K

-0.44%

Jul 14
98.82
98.04

98.94

97.62

693K

0.82%

Jul 13
98.02
97.95

98.45

97.44

728K

-0.23%

Jul 12
98.25
97.7

98.47

97.43

769K

0.46%

Jul 11
97.8
98.28

98.52

97.11

994K

-0.5%

Jul 10
98.29
99.27

99.85

98.08

895K

-0.69%

Jul 7
98.97
99.99

100.04

98.66

1.5M

-1.26%

Jul 6
100.23
99.46

100.52

99.22

1.3M

0.31%

Jul 5
99.92
100

100.38

99.55

1.1M

0%