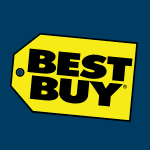 Best Buy
About
Profile
We at Best Buy work hard every day to enrich the lives of consumers through technology, whether they come to us online, visit our stores or invite us into their homes.
---
Headquarters
Richfield, Minnesota, United States
---
Recent Earnings
Best Buy shares boosted by earnings beat, improved comp sales guide
Available for logged in users only.


The multiple price alert feature will smartly add or remove $1 if your alert was hit.
It's only available if you are logged in, a V.I.P. member or if you are using the AI chrome extension.

Contact us via Twitter if you are interested in trying it out.
Best Buy shares boosted by earnings beat, improved comp sales guide
Best Buy declares $0.88 dividend
Best Buy tops consensus in Q3, resumes buyback program
Best Buy Q3 2023 Earnings Preview
ETFs to Watch: Dell could drive tech funds; Zoom big for Cathie Wood; Black Friday in focus
Catalyst watch: Eyes on Zoom Video earnings, Best Buy call, Mobileye ratings, DWAC vote and Polestar's reveal
Earnings week ahead: Zoom, Best Buy, Dell and more
Best Buy stock slips as electronics sales sink, Target shakes retail sector
Retail stocks are soaring because inflation may have peaked
Holiday retail sales are forecast to be solid despite inflation headwinds
Walmart takes aim at Amazon with half-off special on its subscription service
Catalyst watch: FOMC jitters, Starbucks and Pfizer earnings, Boeing and AMD events
Best Buy launches new program to make it easier for customers to upgrade MacBooks
Are retail stocks due for a holiday rally or a year-end retreat?
Best Buy is downgraded at Evercore because deflation could be a problem
Walgreens, CVS and Walmart start selling over-the-counter hearing aids
Retail stocks are on watch as signs of a disappointing holiday season emerge
Best Buy is called a big-box standout by Loop Capital
Retail winners and losers emerge amid back-to-school season, inventory clearing
Best Buy declares $0.88 dividend
Recent Earnings
Best Buy shares boosted by earnings beat, improved comp sales guide
Earnings History
Date
EPS / Forecast
Revenue / Forecast
November 23, 2021

-

/ 1.93

-

/ 11.61B
August 24, 2021

2.98

/ 1.89

11.85B

/ 11.56B
Beat!

May 27, 2021

2.23

/ 1.4

11.64B

/ 10.4B
Beat!

February 25, 2021

3.48

/ 3.47

16.94B

/ 17.2B
November 24, 2020

2.06

/ 1.71

11.85B

/ 11B
Beat!

August 25, 2020

1.71

/ 1.04

9.91B

/ 9.73B
Beat!

May 21, 2020

0.67

/ 0.49

8.56B

/ 8.24B
Beat!

February 27, 2020

2.9

/ 2.75

15.2B

/ 15.05B
Beat!

November 26, 2019

1.13

/ 1.03

9.76B

/ 9.7B
Beat!

August 29, 2019

1.08

/ 0.99

9.54B

/ 9.55B
May 23, 2019

1.02

/ 0.87

9.14B

/ 9.14B
February 27, 2019

2.72

/ 2.56

14.8B

/ 14.68B
Beat!

November 20, 2018

0.93

/ 0.85

9.59B

/ 9.57B
Beat!

August 28, 2018

0.91

/ 0.83

9.38B

/ 9.25B
Beat!

May 24, 2018

0.82

/ 0.74

9.11B

/ 8.74B
Beat!

March 1, 2018

2.42

/ 2.04

15.36B

/ 14.51B
Beat!

November 16, 2017

0.78

/ 0.47

9.32B

/ 8,850M
Date
Price
Open
High
Low
Vol
Change
ER
Jul 27
74.49
72.82

74.86

71.67

2.15M

3.44%

Jul 26
72.01
73.00

73.53

71.70

3.27M

-5.05%

Jul 25
75.84
76.92

76.92

75.24

2.17M

-1.25%

Jul 22
76.80
78.62

80.08

76.27

2.93M

-1.79%

Jul 21
78.20
77.56

78.22

76.00

2.29M

0.10%

Jul 20
78.12
76.21

78.33

75.70

3.31M

2.83%

Jul 19
75.97
73.97

76.48

73.67

2.68M

3.59%

Jul 18
73.34
73.20

75.25

72.95

2.50M

1.23%

Jul 15
72.45
72.47

72.57

71.13

2.13M

1.84%

Jul 14
71.14
70.55

71.45

69.53

2.00M

-0.21%

Jul 13
71.29
68.86

71.74

68.84

2.20M

1.24%

Jul 12
70.42
70.37

72.02

69.92

2.26M

0.73%

Jul 11
69.91
71.21

71.91

69.70

1.75M

-1.77%

Jul 8
71.17
70.19

71.52

69.15

2.04M

0.39%

Jul 7
70.89
68.73

70.98

68.52

2.34M

3.46%

Jul 6
68.52
69.81

70.13

67.22

2.64M

-2.09%

Jul 5
69.98
66.11

69.99

65.90

3.26M

4.81%

Jul 1
66.77
65.79

66.86

65.01

2.87M

2.42%

Jun 30
65.19
65.81

66.25

64.29

3.48M

-2.92%

Jun 29
67.15
68.29

68.61

66.60

3.32M

-2.47%

Jun 28
68.85
71.72

72.00

68.67

2.59M

-4.56%