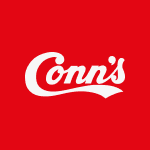 Conns Inc.
About
Profile
---
Headquarters
The Woodlands, Texas, United States
---
Recent Earnings
Conn's Non-GAAP EPS of -$1.52 misses by $0.19, revenue of $284.57M misses by $14.2M
Available for logged in users only.


The multiple price alert feature will smartly add or remove $1 if your alert was hit.
It's only available if you are logged in, a V.I.P. member or if you are using the AI chrome extension.

Contact us via Twitter if you are interested in trying it out.
Conn's Non-GAAP EPS of -$1.52 misses by $0.19, revenue of $284.57M misses by $14.2M
Conn's Q1 2024 Earnings Preview
Warning: CONN is at high risk of performing badly
Conn's stock swings nearly 30% intraday after earnings
Conn's posts wider than expected loss, same store sales slump
Conn's Q4 2023 Earnings Preview
Franchise Group, Conn's gain on report of potential takeover bids
First Solar rises on addition to S&P 500; Conn's dips
Conn's stock rises on lighter than expected loss
Conn's Non-GAAP EPS of -$0.78 beats by $0.05, revenue of $321.2M beats by $5.65M
Conn's amends revolving credit agreement
Hot Stocks: AKUS, AVEO jump on merger deals; SI drops on earnings; CONN plunges on CEO departure
Steep slide for Conn's stock offers opportunity - Jefferies
Conn's stock crashes 20% after sudden CEO resignation, pulled guidance
Conn's tumbles after lower same store sales, earnings miss disappoint investors
Conn's Non-GAAP EPS of $0.04 misses by $0.05, revenue of $346.63M misses by $23.6M
Conn's cautious on guidance after first quarter sales slump
Conn's and Belk sign strategic partnership for pilot store-within-a-store concept
Conn's Non-GAAP EPS of $0.25 beats by $0.08, revenue of $339.82M misses by $20.96M
Conn's Q1 2023 Earnings Preview
Recent Earnings
Conn's Non-GAAP EPS of -$1.52 misses by $0.19, revenue of $284.57M misses by $14.2M
Earnings History
Date
EPS / Forecast
Revenue / Forecast
December 7, 2021

0.6

/ 0.595

405.46M

/ 383.18M
Beat!

September 1, 2021

1.22

/ 0.7075

418.38M

/ 396.74M
Beat!

June 3, 2021

1.55

/ 0.3

363.7M

/ 327.37M
Beat!

March 31, 2021

0.91

/ 0.2375

367.79M

/ 347.76M
Beat!

December 8, 2020

0.25

/ 0.2325

334.16M

/ 345.19M
September 3, 2020

0.75

/ -0.04

366.92M

/ 377.69M
June 9, 2020

-1.89

/ -0.32

317.16M

/ 309.86M
Beat!

April 14, 2020

0.2

/ 0.35

412.99M

/ 412.09M
Beat!

December 10, 2019

0.61

/ 0.54

377.71M

/ 394.29M
Date
Price
Open
High
Low
Vol
Change
ER
May 26
4.19
3.97

4.24

3.92

157K

6.62%

May 25
3.93
4.33

4.33

3.9

281K

-9.03%

May 24
4.32
4.35

4.5

4.24

103K

-0.69%

May 23
4.35
4.24

4.45

4.23

164K

1.87%

May 22
4.27
4.29

4.41

4.2

148K

-0.47%

May 19
4.29
4.54

4.54

4.28

111K

-4.24%

May 18
4.48
4.3

4.55

4.28

134K

4.43%

May 17
4.29
4.01

4.32

4.01

227K

7.25%

May 16
4
4.25

4.25

4

184K

-7.62%

May 15
4.33
4.3

4.34

4.17

171K

0.93%

May 12
4.29
4.6

4.68

4.27

137K

-7.54%

May 11
4.64
4.62

4.89

4.51

99.2K

0.43%

May 10
4.62
4.98

4.98

4.56

128K

-4.94%

May 9
4.86
4.68

4.9

4.66

100K

2.53%

May 8
4.74
4.77

4.86

4.73

128K

0.64%

May 5
4.71
4.42

4.82

4.42

135K

8.53%

May 4
4.34
4.39

4.6

4.29

207K

-2.69%

May 3
4.46
4.5

4.65

4.28

277K

-0.45%

May 2
4.48
4.33

4.53

3.9

644K

2.28%

May 1
4.38
4.77

4.83

4.35

229K

-8.37%

Apr 28
4.78
4.72

4.93

4.68

115K

0.63%

Apr 27
4.75
4.52

4.83

4.52

210K

6.74%

Apr 26
4.45
4.54

4.62

4.43

168K

-1.77%

Apr 25
4.53
4.82

4.83

4.5

242K

-6.6%

Apr 24
4.85
4.77

4.88

4.72

155K

1.89%

Apr 21
4.76
4.98

5.11

4.66

253K

-4.23%

Apr 20
4.97
5.01

5.11

4.93

146K

-1.97%

Apr 19
5.07
5.15

5.27

5.03

186K

-2.5%

Apr 18
5.2
5.38

5.38

5.18

166K

-2.62%

Apr 17
5.34
5.25

5.39

5.25

178K

1.52%

Apr 14
5.26
5.29

5.37

5.21

164K

0.19%

Apr 13
5.25
5.37

5.39

5.23

177K

-2.23%

Apr 12
5.37
5.67

5.79

5.3

117K

-4.45%

Apr 11
5.62
5.42

6

5.37

282K

4.85%

Apr 10
5.36
5.2

5.47

5.2

217K

1.90%

Apr 6
5.26
5.27

5.34

5.22

192K

-0.57%

Apr 5
5.29
5.37

5.4

5.22

168K

-2.94%

Apr 4
5.45
5.66

5.66

5.31

219K

-4.72%

Apr 3
5.72
6.04

6.25

5.58

265K

-5.61%

Mar 31
6.06
6

6.09

5.7

250K

0.83%

Mar 30
6.01
6

6.25

5.8

403K

-3.99%

Mar 29
6.26
4.77

6.47

4.73

1.4M

15.71%

Mar 28
5.41
5.71

5.99

5.33

435K

-6.08%

Mar 27
5.76
5.95

6

5.63

322K

-2.54%

Mar 24
5.91
6.31

6.31

5.82

465K

-7.8%

Mar 23
6.41
6.49

6.66

6.25

245K

-0.31%

Mar 22
6.43
6.6

6.71

6.41

158K

-0.77%

Mar 21
6.48
6.46

6.81

6.45

124K

3.51%

Mar 20
6.26
6.51

6.58

6.23

145K

-2.19%

Mar 17
6.4
6.86

6.87

6.36

430K

-8.57%

Mar 16
7
6.42

7.09

6.34

235K

7.20%

Mar 15
6.53
6.48

6.53

5.97

315K

-1.95%

Mar 14
6.66
7.05

7.14

6.56

231K

-0.75%

Mar 13
6.71
7.45

7.62

6.7

178K

-12.17%

Mar 10
7.64
7.72

7.9

7.49

103K

-2.43%

Mar 9
7.83
8.07

8.11

7.75

166K

-3.21%

Mar 8
8.09
8.12

8.15

7.91

109K

-0.37%

Mar 7
8.12
8.25

8.5

8.07

112K

-1.81%

Mar 6
8.27
8.92

8.92

8.21

159K

-7.29%

Mar 3
8.92
8.59

9.04

8.49

132K

0%