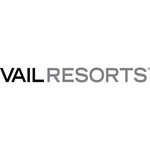 Vail Resorts Inc.
About
Profile
---
Headquarters
Broomfield, Colorado, United States
---
Recent Earnings
Vail Resorts GAAP EPS of -$3.35 misses by $0.03, revenue of $269.77M misses by $12.49M
Available for logged in users only.


The multiple price alert feature will smartly add or remove $1 if your alert was hit.
It's only available if you are logged in, a V.I.P. member or if you are using the AI chrome extension.

Contact us via Twitter if you are interested in trying it out.
Vail Resorts declares $2.06 dividend
Vail Resorts GAAP EPS of -$3.35 misses by $0.03, revenue of $269.77M misses by $12.49M
Vail Resorts Q4 2023 Earnings Preview
Vail Resorts has 'real' pricing power; Truist boosts ski co. to Buy
Vail Resorts rallies as Stifel upgrades on fresh potential
Airbnb, Blackstone rise on joining S&P 500 index
Corvex Management adds Catalent, exits California Resources
Vail Resorts goes ex dividend tomorrow
Hot Stocks: GLW, ADBE rise on analyst upgrades; TSLA gains on deal with GM; QS, MTN fall
Vail Resorts GAAP EPS of $8.18 misses by $0.61, revenue of $1.24B misses by $30M
Vail Resorts trades lower after FQ3 earnings miss, guidance trim
Vail Resorts FQ3 2023 Earnings Preview
Earnings Week Ahead: NIO, DocuSign, GameStop, FuelCell and more
Vail Resorts reports ski season results in line with expectations
Vail Resorts raises dividend by 8% to C$2.06
Vail Resorts stock slides as inclement weather prompts slashed forecasts
Vail Resorts GAAP EPS of $5.16 misses by $1.07, revenue of $1.1B beats by $30M
Vail Resorts Q2 2023 Earnings Preview
Leisure trends show Caribbean spending is hot and ski traffic is cold
Soros Fund Management exits Zoom, Elanco, boosts Alphabet, Disney in Q4
Recent Earnings
Vail Resorts GAAP EPS of -$3.35 misses by $0.03, revenue of $269.77M misses by $12.49M
Date
Price
Open
High
Low
Vol
Change
ER
May 26
241.41
241.51

244.2

240.88

273K

0.16%

May 25
241.03
237.34

242.68

237.34

407K

1.71%

May 24
236.97
234.11

237.76

230.18

372K

1.16%

May 23
234.26
240.23

240.23

234.15

272K

-2.81%

May 22
241.04
242.23

242.82

239.36

214K

-0.74%

May 19
242.84
245.2

245.27

240.62

187K

-0.93%

May 18
245.11
239.44

245.6

238.64

295K

2.23%

May 17
239.76
238.3

241.54

238.3

165K

0.87%

May 16
237.69
242.31

242.31

237.37

192K

-2.3%

May 15
243.28
236.67

243.51

234.61

251K

2.68%

May 12
236.93
239.52

242.53

236.34

178K

-1.04%

May 11
239.42
238.5

239.64

236.42

149K

-0.27%

May 10
240.06
243.93

245.41

237.2

323K

-0.95%

May 9
242.37
238.82

243.25

237.01

227K

1.27%

May 8
239.33
238.43

242.9

238.43

239K

0.44%

May 5
238.27
239.34

240.41

234.65

263K

1.25%

May 4
235.32
237.49

238.99

233.52

252K

-1.26%

May 3
238.32
244.85

244.99

238.03

225K

-2.54%

May 2
244.52
242.38

244.62

238.53

237K

0.38%

May 1
243.59
240.39

245.18

240.39

404K

1.28%

Apr 28
240.52
237.15

241.37

237.15

288K

1.06%

Apr 27
237.99
234.66

238.08

234.15

250K

1.28%

Apr 26
234.99
241.55

243.72

234.46

288K

-2.59%

Apr 25
241.24
244.03

245.66

241.04

285K

-1.72%

Apr 24
245.47
249.75

250.99

244.9

319K

-1.47%

Apr 21
249.13
248.15

252.3

246.73

270K

0.70%

Apr 20
247.4
245.61

248

244.74

234K

0.39%

Apr 19
246.44
250.64

252.09

246.09

328K

-1.77%

Apr 18
250.87
248.06

254.71

247.82

546K

1.77%

Apr 17
246.5
244.72

247.88

244.32

269K

0.68%

Apr 14
244.83
242.52

244.97

242

330K

1.15%

Apr 13
242.05
238.82

242.97

237.54

431K

2.03%

Apr 12
237.24
244.83

244.92

236.78

353K

-2.39%

Apr 11
243.04
241.34

244

239.61

502K

1.31%

Apr 10
239.89
234.42

241.74

234.42

482K

2.14%

Apr 6
234.87
234.32

235.3

232.76

514K

0.37%

Apr 5
234.01
233.94

234.16

231.03

509K

-0.45%

Apr 4
235.06
233.47

235.08

231.86

435K

0.85%

Apr 3
233.09
233.28

234

231

681K

-0.25%

Mar 31
233.68
230

233.69

229.16

484K

2.28%

Mar 30
228.47
226.7

229.21

226.32

938K

1.78%

Mar 29
224.47
221.25

225.02

220.4

623K

2.33%

Mar 28
219.35
221.89

222.73

218.46

462K

-1.06%

Mar 27
221.7
221.93

223.54

220.2

533K

1.01%

Mar 24
219.49
216.49

220.02

214.35

371K

0%

Mar 23
219.48
220.69

224.18

217.94

586K

-0.15%

Mar 22
219.81
222.93

224.38

219.6

441K

-1.78%

Mar 21
223.79
224.49

227.22

223.2

516K

1.08%

Mar 20
221.39
220.28

223.34

220.05

390K

0.71%

Mar 17
219.84
219.27

221.26

217.62

1.0M

-0.34%

Mar 16
220.58
214.92

221.64

214.47

500K

1.84%

Mar 15
216.6
212

217.68

211.24

653K

0.15%

Mar 14
216.27
220.64

222.04

215.28

611K

0.02%

Mar 13
216.22
218.1

218.48

213.05

860K

-2.22%

Mar 10
221.13
224.18

226.28

214.91

1.3M

-3.31%

Mar 9
228.69
234.32

235.34

228.69

608K

-2.25%

Mar 8
233.95
234.13

234.72

231.76

474K

-0.06%

Mar 7
234.08
237.62

240.76

233.96

438K

-1.34%

Mar 6
237.27
239.22

239.87

236.65

384K

-0.74%

Mar 3
239.05
239.18

240.14

237.49

253K

0%