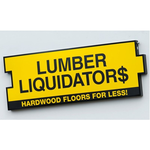 Lumber Liquidators Holdings, Inc.
Recent Earnings
LL Flooring Non-GAAP EPS of -$1.28 misses by $0.87, revenue of $236.42M misses by $21.48M
Available for logged in users only.


The multiple price alert feature will smartly add or remove $1 if your alert was hit.
It's only available if you are logged in, a V.I.P. member or if you are using the AI chrome extension.

Contact us via Twitter if you are interested in trying it out.
LL Flooring Non-GAAP EPS of -$1.28 misses by $0.87, revenue of $236.42M misses by $21.48M
LL Flooring Q2 2023 Earnings Preview
LL Flooring falls after Loop Capital downgrades to sell
LL Flooring appoints Robert Madore as CFO
LL Flooring rejects takeover offer from Cabinets To Go
LL Flooring gains as investor consortium pushes for sales process, talks with F9
LL Flooring jumps after founder offers $5.76 a share for company (update)
LL Flooring stock spikes on merger interest (update)
LL Flooring stock slides on wider than expected loss
Lumber Liquidators Non-GAAP EPS of -$0.31 misses by $0.16, revenue of $240.69M misses by $17.71M
Earnings Week Ahead: Fox Corporation, Disney, Airbnb, and more
Lumber Liquidators Q1 2023 Earnings Preview
LL Floring appoints interim CFO
LL Flooring slides to new low after soft sales demand, inflation whack Q4 results
Lumber Liquidators Non-GAAP EPS of -$0.29 misses by $0.37, revenue of $263.87M misses by $3.73M
Lumber Liquidators Q4 2022 Earnings Preview
Semtech replaces Diversified Healthcare Trust in S&P SmallCap 600; CubeSmart replaces NuVasive in S&P MidCap 400
LL Flooring CFO Nancy Walsh to depart
LL Flooring opens three new stores
Lumber Liquidators Non-GAAP EPS of -$0.14, revenue of $268.8M
Recent Earnings
LL Flooring Non-GAAP EPS of -$1.28 misses by $0.87, revenue of $236.42M misses by $21.48M
Date
Price
Open
High
Low
Vol
Change
ER
May 25
4.26
4.1

4.87

4.04

2.6M

10.94%

May 24
3.84
4.09

4.11

3.81

274K

-5.42%

May 23
4.06
3.94

4.21

3.93

947K

2.53%

May 22
3.96
3.89

4.01

3.71

742K

1.54%

May 19
3.9
3.8

3.91

3.73

667K

3.45%

May 18
3.77
3.75

3.81

3.65

478K

0%

May 17
3.77
3.48

3.79

3.43

836K

7.71%

May 16
3.5
3.56

3.58

3.28

1.1M

-3.58%

May 15
3.63
3.5

3.63

3.5

340K

3.13%

May 12
3.52
3.33

3.58

3.32

1.0M

5.71%

May 11
3.33
3.3

3.37

3.25

284K

0.91%

May 10
3.3
3.29

3.34

3.23

497K

1.85%

May 9
3.24
3

3.24

2.94

772K

5.88%

May 8
3.06
3.26

3.26

2.75

1.7M

-13.8%

May 5
3.55
3.62

3.7

3.51

712K

0.57%

May 4
3.53
3.47

3.58

3.47

423K

0.86%

May 3
3.5
3.42

3.63

3.39

576K

2.94%

May 2
3.4
3.39

3.41

3.3

577K

-0.58%

May 1
3.42
3.35

3.43

3.31

537K

3.95%

Apr 28
3.29
3.22

3.34

3.22

1.6M

2.49%

Apr 27
3.21
3.26

3.29

3.12

299K

-0.31%

Apr 26
3.22
3.23

3.29

3.21

367K

-0.62%

Apr 25
3.24
3.24

3.35

3.23

484K

-1.22%

Apr 24
3.28
3.18

3.28

3.14

286K

3.14%

Apr 21
3.18
3.11

3.22

3.06

519K

2.58%

Apr 20
3.1
3.28

3.3

3.1

567K

-6.06%

Apr 19
3.3
3.37

3.38

3.28

412K

-2.08%

Apr 18
3.37
3.52

3.52

3.37

316K

-2.88%

Apr 17
3.47
3.39

3.49

3.34

457K

2.36%

Apr 14
3.39
3.47

3.5

3.35

291K

-1.45%

Apr 13
3.44
3.43

3.46

3.36

324K

0%

Apr 12
3.44
3.65

3.68

3.4

285K

-4.71%

Apr 11
3.61
3.62

3.67

3.57

317K

0.56%

Apr 10
3.59
3.56

3.64

3.53

334K

0%

Apr 6
3.59
3.61

3.62

3.52

347K

-1.37%

Apr 5
3.64
3.71

3.71

3.61

473K

-1.89%

Apr 4
3.71
3.77

3.79

3.6

538K

-1.85%

Apr 3
3.78
3.8

3.85

3.63

402K

-0.53%

Mar 31
3.8
3.62

3.85

3.61

771K

5.56%

Mar 30
3.6
3.56

3.64

3.54

413K

2.56%

Mar 29
3.51
3.54

3.6

3.51

422K

-0.85%

Mar 28
3.54
3.44

3.59

3.44

484K

2.61%

Mar 27
3.45
3.54

3.62

3.39

689K

-0.58%

Mar 24
3.47
3.34

3.51

3.32

524K

2.06%

Mar 23
3.4
3.47

3.6

3.39

510K

-1.45%

Mar 22
3.45
3.52

3.55

3.44

660K

-1.71%

Mar 21
3.51
3.52

3.59

3.46

1.2M

1.45%

Mar 20
3.46
3.5

3.54

3.34

1.3M

-1.14%

Mar 17
3.5
3.78

3.8

3.49

1.6M

-8.14%

Mar 16
3.81
3.82

3.87

3.76

787K

-1.3%

Mar 15
3.86
3.78

3.88

3.76

991K

0.26%

Mar 14
3.85
3.82

3.89

3.76

1.6M

2.67%

Mar 13
3.75
3.81

3.9

3.75

625K

-4.09%

Mar 10
3.91
3.95

4

3.86

985K

-1.26%

Mar 9
3.96
4.23

4.26

3.92

964K

-6.38%

Mar 8
4.23
4.29

4.33

4.14

865K

-2.31%

Mar 7
4.33
4.27

4.42

4.22

808K

1.41%

Mar 6
4.27
4.51

4.52

4.24

926K

-5.11%

Mar 3
4.5
4.64

4.67

4.49

682K

-2.17%

Mar 2
4.6
4.42

4.61

4.36

708K

0%