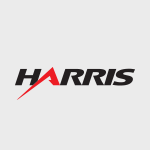 Harris Corp
About
Profile
Innovation has been the cornerstone of Harris' success since its founding more than 125 years ago – and it remains the driving force behind everything we do.
---
Headquarters
Melbourne, Florida, United States
---
Available for logged in users only.


The multiple price alert feature will smartly add or remove $1 if your alert was hit.
It's only available if you are logged in, a V.I.P. member or if you are using the AI chrome extension.

Contact us via Twitter if you are interested in trying it out.
Date
Price
Open
High
Low
Vol
Change
ER
Aug 17
239.88
237.57

242.36

237.00

611.12K

0.23%

Aug 16
239.33
239.88

240.93

238.06

444.11K

-0.29%

Aug 15
240.03
235.97

241.61

235.46

663.89K

1.39%

Aug 12
236.74
231.87

236.75

230.69

1.02M

2.36%

Aug 11
231.29
234.75

235.96

230.35

1.02M

-1.44%

Aug 10
234.68
234.78

235.17

232.60

725.43K

0.51%

Aug 9
233.50
232.80

234.48

231.04

1.20M

0.76%

Aug 8
231.75
235.32

236.40

228.82

1.04M

-1.21%

Aug 5
234.58
236.51

237.91

232.92

1.36M

-1.37%

Aug 4
237.85
241.97

242.99

237.68

935.02K

-1.45%

Aug 3
241.36
243.29

243.60

235.00

977.78K

-1.07%

Aug 2
243.97
242.67

248.53

239.96

1.05M

1.23%

Aug 1
241.00
240.51

243.93

238.40

1.14M

0.43%

Jul 29
239.97
229.17

241.11

228.09

1.76M

3.53%

Jul 28
231.79
225.05

232.08

223.07

1.25M

3.52%

Jul 27
223.90
223.68

225.38

220.87

1.05M

0.07%

Jul 26
223.75
226.30

227.60

223.15

718.54K

-1.13%

Jul 25
226.30
225.22

228.25

224.88

552.93K

0.52%

Jul 22
225.13
225.48

229.02

224.30

720.65K

0.46%

Jul 21
224.09
223.64

225.19

221.24

1.07M

-0.12%

Jul 20
224.37
226.16

227.06

223.71

1.45M

-0.56%

Jul 19
225.64
219.11

226.64

218.58

1.81M

2.51%

Jul 18
220.12
224.94

225.83

219.93

1.29M

-1.66%