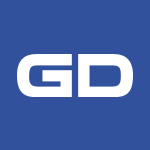 General Dynamics Corp
About
Profile
General Dynamics is organized into five business groups: Aerospace, Combat Systems, Information Technology, Mission Systems and Marine Systems.
---
Headquarters
Falls Church, Virginia, United States
---
Available for logged in users only.


The multiple price alert feature will smartly add or remove $1 if your alert was hit.
It's only available if you are logged in, a V.I.P. member or if you are using the AI chrome extension.

Contact us via Twitter if you are interested in trying it out.
General Dynamics GAAP EPS of $2.64 beats by $0.06, revenue of $9.9B beats by $600M
General Dynamics awarded $133.17M contract by U.S. Army
Aerospace unit performance, combat systems sales in focus for General Dynamics Q1 earnings
General Dynamics awarded $847.26M Navy contract
Catalyst watch: Earnings blitz, Mobileye lockup expiration and the new one-day VIX debut
Earnings Week Ahead: Amazon, Meta Platforms, Alphabet, Coca-Cola, Boeing, and more
General Dynamics to compete for $344.2M economic price adjustment contract by U.S. Army
Aerospace, defense stocks see EPS revisions at Jefferies
GDIT lands $1.7B U.S. Army flight school contract
General Dynamics bags $105.78M Army contract modification
NATO to expand as Finland gets last approval to join the alliance
General Dynamics rated Outperform in new coverage at William Blair
General Dynamics bags $1.8B Army contract
General Dynamics secures $1.48B Army contract modification
General Dynamics raises dividend by 5% to $1.32
General Dynamics secures $9.13M Army contract
Russia's Putin gives speech following Biden's visit to Ukraine
China sanctions Lockheed Martin, Raytheon over arms sales to Taiwan
General Dynamics to compete for $993.79M contract by U.S. army
Merck, GM among BofA's latest Alpha Surprise picks
Date
Price
Open
High
Low
Vol
Change
ER
May 26
205.25
204.71

207.23

204.52

1.1M

0.44%

May 25
204.35
205.55

206.32

202.88

1.5M

-1.06%

May 24
206.53
206.8

208.46

205.84

1.6M

-0.2%

May 23
206.95
212.04

212.04

206.47

1.8M

-2.62%

May 22
212.52
210.49

213.93

208.77

1.2M

0.89%

May 19
210.65
211.74

211.96

209.1

1.0M

-0.13%

May 18
210.93
210.92

211.7

208.87

755K

-0.18%

May 17
211.32
208.85

211.49

208.61

1.1M

1.80%

May 16
207.59
210.11

210.36

207.56

943K

-1.25%

May 15
210.21
210.21

211.51

209.37

787K

0.12%

May 12
209.96
208.85

210.32

208.11

1.1M

0.92%

May 11
208.05
210.1

210.6

206.56

1.5M

-1.65%

May 10
211.53
212

212.55

208.93

1.3M

0.16%

May 9
211.2
211.13

211.79

209.45

1.0M

0.23%

May 8
210.71
212.91

213.04

210

719K

-0.57%

May 5
211.92
209.23

212.51

209.01

1.1M

1.47%

May 4
208.85
209.52

209.84

205.4

1.4M

-0.55%

May 3
210.01
213.25

213.77

209.71

1.2M

-1.41%

May 2
213.01
217.55

217.55

211.89

2.6M

-2.35%

May 1
218.13
218.05

220.42

218

1.8M

-0.1%

Apr 28
218.34
215.21

218.6

214.92

2.2M

1.23%

Apr 27
215.69
215.17

216.97

214.03

1.6M

0.40%

Apr 26
214.83
216.51

216.72

210.11

2.8M

-3.55%

Apr 25
222.74
223.88

224.09

221.9

994K

-0.78%

Apr 24
224.5
225.05

225.71

223.7

792K

-0.23%

Apr 21
225.02
228.34

228.34

224.65

913K

-1.1%

Apr 20
227.52
228.73

228.73

226.5

652K

-0.56%

Apr 19
228.8
230.1

230.63

228.55

557K

-0.5%

Apr 18
229.96
229.8

232.03

229.1

972K

0.22%

Apr 17
229.46
227.11

229.48

226.82

1.6M

0.78%

Apr 14
227.69
227.69

228.5

226.23

1.1M

-0.47%

Apr 13
228.77
227.77

229.47

226

902K

-0.21%

Apr 12
229.24
228.42

231.07

228.42

945K

0.42%

Apr 11
228.27
229.65

230.16

228.01

1.1M

-0.34%

Apr 10
229.05
226.9

230.42

226.66

911K

0.59%

Apr 6
227.71
229.36

231.08

226.52

1.5M

-0.55%

Apr 5
228.98
229.05

230.75

228.07

1.3M

-0.15%

Apr 4
229.32
231.9

232.52

228.42

1.4M

-1.31%

Apr 3
232.36
228.71

233.35

228.21

1.0M

1.82%

Mar 31
228.21
227.55

228.3

226.64

1.3M

0.76%

Mar 30
226.49
227.28

227.71

225.46

936K

-0.14%

Mar 29
226.8
226.11

226.8

225.4

723K

0.58%

Mar 28
225.5
225.02

226.47

224.82

663K

0.21%

Mar 27
225.03
225.01

225.68

223.68

865K

0.68%

Mar 24
223.5
220.1

223.75

219.66

1.4M

1.54%

Mar 23
220.11
219.96

221.77

219.1

1.5M

0.40%

Mar 22
219.23
222.62

223.23

219.23

1.0M

-1.41%

Mar 21
222.37
222.01

222.99

221.47

893K

1.12%

Mar 20
219.91
219.15

221.21

219

983K

0.81%

Mar 17
218.15
219.15

219.99

216.6

2.4M

-0.86%

Mar 16
220.05
215.78

227.79

215.46

2.6M

1.52%

Mar 15
216.75
217.05

217.85

212.77

1.4M

-1.4%

Mar 14
219.83
221.27

221.82

217.93

1.1M

0.48%

Mar 13
218.79
218

220.51

216.93

1.6M

-0.97%

Mar 10
220.93
222.27

224.11

220.65

1.5M

-0.87%

Mar 9
222.87
228.21

229.16

222.41

1.7M

-1.85%

Mar 8
227.06
229.83

230.53

224.62

1.4M

-1.27%

Mar 7
229.99
232.78

233.77

229.98

1.0M

-1.12%

Mar 6
232.6
231

233.4

230.54

1.1M

0.68%

Mar 3
231.04
231

231.37

229.55

1.6M

0%