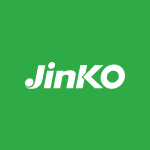 JinkoSolar Holding Co., Ltd.
About
Profile
---
Headquarters
Shanghai, China
---
Recent Earnings
JinkoSolar Holding GAAP EADPS of $0.85 misses by $0.45, revenue of $4.41B beats by $760M
Available for logged in users only.


The multiple price alert feature will smartly add or remove $1 if your alert was hit.
It's only available if you are logged in, a V.I.P. member or if you are using the AI chrome extension.

Contact us via Twitter if you are interested in trying it out.
Solar, alternative energy stocks rebound as banking fears ease
Sunnova sinks near three-year low amid broad solar sector losses
JinkoSolar sinks after Q4 earnings miss, declining gross margin
JinkoSolar Holding GAAP EADPS of $0.85 misses by $0.45, revenue of $4.41B beats by $760M
U.S. solar panel imports from China rising, top White House advisor says
JinkoSolar's Jiangxi Jinko lays down prelim FY 2022 numbers
JinkoSolar soars on Roth upgrade as improved U.S. policy points to strong outlook
Chinese solar companies evading U.S. tariffs, Commerce Department probe says
JinkoSolar to provide solar modules for Brazil's Santa Luzia Complex Project
JinkoSolar sinks 5% despite beating Q3 consensus
JinkoSolar Holding GAAP EPADS of $0.90 beats by $0.38, revenue of $2.74B beats by $140M
JinkoSolar Holding Q3 2022 Earnings Preview
JinkoSolar rises despite Q2 loss as total shipments more than doubled Y/Y
JinkoSolar Holding reports Q2 mixed earnings; reaffirms FY22 total shipments guidance
JinkoSolar Holding Q2 2022 Earnings Preview
Commerce Department delays decision on solar trade imports to November
JinkoSolar's Sichuan plants shut by power rationing
Earnings week ahead: Nvidia, Zoom, Peloton, Macy's, Salesforce, Dollar General and more
JinkoSolar's subsidiary to raise RMB10B in convertible bonds issuance
Manchin reaches surprise deal with Schumer on energy, healthcare package
Recent Earnings
JinkoSolar Holding GAAP EADPS of $0.85 misses by $0.45, revenue of $4.41B beats by $760M
Earnings History
Date
EPS / Forecast
Revenue / Forecast
November 30, 2021

0.05

/ -0.0696

8.57B

/ 8.2B
Beat!

September 15, 2021

5.73

/ -1.03

7.9B

/ 7.74B
Beat!

June 25, 2021

0.9682

/ -0.02

7.82B

/ 1,178M
April 9, 2021

0.7215

/ 0.37

9.47B

/ 1,377M
December 7, 2020

1.20

/ 0.85

-

/ 1,295M
Date
Price
Open
High
Low
Vol
ER
Aug 25
58.65
59.78

59.80

57.23

1.21M
Aug 24
57.69
57.55

58.36

56.96

976.65K
Aug 23
57.36
58.15

58.38

55.90

1.16M
Aug 22
56.40
56.87

57.60

54.76

1.58M
Aug 19
58.97
60.41

60.56

58.00

3.01M
Aug 18
62.65
60.59

64.00

60.50

1.62M
Aug 17
60.15
60.81

61.66

59.57

895.02K
Aug 16
61.25
61.88

62.35

60.60

787.89K
Aug 15
62.26
63.49

64.45

61.48

845.91K
Aug 12
64.26
64.50

64.75

61.83

1.69M
Aug 11
66.71
68.96

69.14

66.55

990.69K
Aug 10
68.27
62.87

68.68

62.24

1.63M