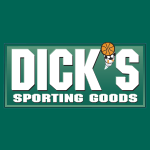 Dick's Sporting Goods
About
Profile
Dick's Sporting Goods, Inc. is an American sporting goods retail company, based in Coraopolis, Pennsylvania. The company was established by Richard "Dick" Stack in 1948, and has approximately 850 stores and 30,000 employees, as of 2018. Dick's is the nation's largest sporting goods retailer, and is listed on the Fortune 500.
---
Headquarters
Coraopolis, Pennsylvania, United States
---
Recent Earnings
Dick's Sporting Goods Non-GAAP EPS of $2.60 beats by $0.34, revenue of $2.96B beats by $260M
Available for logged in users only.


The multiple price alert feature will smartly add or remove $1 if your alert was hit.
It's only available if you are logged in, a V.I.P. member or if you are using the AI chrome extension.

Contact us via Twitter if you are interested in trying it out.
Dick's Sporting Goods declares $0.4875 dividend
Dick's Sporting Goods Non-GAAP EPS of $2.60 beats by $0.34, revenue of $2.96B beats by $260M
Dick's Sporting Goods Q3 2023 Earnings Preview
Catalyst watch: Eyes on Zoom Video earnings, Best Buy call, Mobileye ratings, DWAC vote and Polestar's reveal
Holiday retail sales are forecast to be solid despite inflation headwinds
Walmart takes aim at Amazon with half-off special on its subscription service
Catalyst watch: FOMC jitters, Starbucks and Pfizer earnings, Boeing and AMD events
Dick's Sporting Goods is upgraded at Oppenheimer in outlier bull call for retail
Watch these retail stocks for earnings jolts
Retail stocks are on watch as signs of a disappointing holiday season emerge
Lululemon, Under Armour, and Foot Locker fall after Nike's margin warning
Peloton selects Dick's as first retail store partner
DICK'S Sporting Goods hiring up to 9K seasonal associates for the 2022 holiday season
Inflation breakdown: Food prices run hot again, while apparel and sporting goods lag
DICK'S Sporting Goods and SidelineSwap expand resale partnership
Sporting goods stocks: Dick's earnings impress but Academy Sports could be the sector sleeper
Dick's Sporting Goods gains after setting guidance ahead of expectations
Dick's Sporting Goods exceeds consensus mark in Q2, raises FY2022 outlook
Dick's Sporting Goods declares $0.4875 dividend
Dick's Sporting Goods Q2 2023 Earnings Preview
Recent Earnings
Dick's Sporting Goods Non-GAAP EPS of $2.60 beats by $0.34, revenue of $2.96B beats by $260M
Earnings History
Date
EPS / Forecast
Revenue / Forecast
November 23, 2021

-

/ 2.03

-

/ 2.48B
August 25, 2021

5.08

/ 2.88

3.27B

/ 2.84B
Beat!

May 26, 2021

3.79

/ 1.21

2.92B

/ 2.23B
Beat!

March 9, 2021

2.43

/ 2.3

3.13B

/ 3.07B
Beat!

November 24, 2020

2.01

/ 1.08

2.41B

/ 2.24B
Beat!

August 26, 2020

3.21

/ 1.26

2.71B

/ 2.46B
Beat!

June 2, 2020

-1.71

/ -0.43

1.33B

/ 1.44B
March 10, 2020

1.32

/ 1.22

2.61B

/ 2.56B
Beat!

November 26, 2019

0.52

/ 0.38

1.96B

/ 1.91B
Beat!

August 27, 2019

-

/ 1.21

-

/ 2.2B
May 29, 2019

0.62

/ 0.58

1.92B

/ 1.9B
Beat!

March 12, 2019

1.07

/ 1.06

2.49B

/ 2.48B
Beat!

November 28, 2018

0.39

/ 0.26

1.86B

/ 1.88B
August 29, 2018

1.2

/ 0.99

2.18B

/ 2.16B
Beat!

May 30, 2018

0.59

/ 0.45

1.91B

/ 1.88B
Beat!

March 13, 2018

1.22

/ 1.2

2.66B

/ 2.74B
November 14, 2017

0.3

/ 0.42

1.94B

/ 1,767M
Date
Price
Open
High
Low
Vol
Change
ER
Aug 25
110.22
108.07

111.21

107.63

1.24M

2%

Aug 24
108.06
110.60

111.55

107.22

2.05M

-2.77%

Aug 23
111.14
113.63

115.49

108.68

5.55M

0.70%

Aug 22
110.37
108.83

111.29

108.04

2.45M

-0.61%

Aug 19
111.05
113.00

113.00

110.51

1.18M

-1.26%

Aug 18
112.47
112.04

112.61

110.57

923.47K

0.19%

Aug 17
112.26
110.84

113.66

110.19

1.71M

-0.52%

Aug 16
112.85
108.57

115.56

108.42

2.16M

5.05%

Aug 15
107.43
107.11

108.23

106.03

882.16K

0.18%

Aug 12
107.24
106.00

107.34

105.17

803.49K

2.03%

Aug 11
105.11
103.44

106.62

103.19

1.64M

3.08%

Aug 10
101.97
101.85

103.00

100.63

1.36M

3.94%