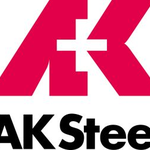 Ak Steel Holding Corp
About
Profile
AK Steel is a leading producer of flat-rolled carbon, stainless and electrical steel products, and carbon and stainless tubular products, primarily for the automotive, infrastructure and manufacturing, electrical power generation and distribution markets.
---
Headquarters
West Chester Township, Butler County, Ohio, Ohio, United States
---
Available for logged in users only.


The multiple price alert feature will smartly add or remove $1 if your alert was hit.
It's only available if you are logged in, a V.I.P. member or if you are using the AI chrome extension.

Contact us via Twitter if you are interested in trying it out.
Date
Price
Open
High
Low
Vol
Change
ER
Mar 12
1.550
1.640

1.700

1.550

27.76M

-13.89%

Mar 11
1.800
1.860

1.880

1.750

8.85M

-6.25%

Mar 10
1.920
1.980

2.010

1.760

5.42M

3.23%

Mar 9
1.860
1.900

1.990

1.820

7.64M

-10.58%

Mar 6
2.080
2.090

2.275

2.010

7.91M

-4.15%

Mar 5
2.170
2.240

2.250

2.120

6.48M

-5.24%

Mar 4
2.290
2.270

2.290

2.190

5.72M

2.69%

Mar 3
2.230
2.370

2.440

2.180

9.28M

-4.7%

Mar 2
2.340
2.310

2.350

2.200

8.38M

1.30%

Feb 28
2.310
2.150

2.350

2.150

12.79M

1.76%

Feb 27
2.270
2.420

2.440

2.270

11.15M

-9.92%

Feb 26
2.520
2.560

2.625

2.510

8.59M

-2.33%

Feb 25
2.580
2.700

2.730

2.500

10.57M

-4.8%

Feb 24
2.710
2.730

2.740

2.650

9.51M

-3.9%

Feb 21
2.820
2.870

2.870

2.810

5.09M

-2.08%

Feb 20
2.880
2.940

2.960

2.770

10.51M

-4.95%

Feb 19
3.030
2.970

3.080

2.970

5.87M

2.36%

Feb 18
2.960
2.910

3.010

2.910

4.27M

0.68%

Feb 14
2.940
3.050

3.050

2.920

10.54M

-3.29%

Feb 13
3.040
3.000

3.090

3.000

5.88M

0.33%

Feb 12
3.030
3.100

3.140

3.020

11.64M

-0.66%

Feb 11
3.050
3.010

3.110

3.000

4.25M

2.69%

Feb 10
2.970
2.950

3.000

2.930

2.70M

-0.34%

Feb 7
2.980
3.000

3.020

2.960

4.53M

-1.97%

Feb 6
3.040
3.110

3.130

3.040

5.27M

-1.3%

Feb 5
3.080
3.000

3.120

2.990

7.72M

4.05%

Feb 4
2.960
2.940

2.990

2.920

5.14M

2.78%

Feb 3
2.880
2.770

2.910

2.760

6.51M

4.35%

Jan 31
2.760
2.770

2.820

2.700

6.40M

-2.13%

Jan 30
2.820
2.800

2.830

2.730

5.32M

81.94%