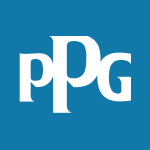 PPG Industries Inc
About
Profile
PPG Industries is a leader in its markets; is a streamlined, efficient manufacturer; and operates on the leading edge of new technologies and solutions.
---
Headquarters
Pittsburgh, Pennsylvania, United States
---
The paint manufacturer's stock gained less than 1%. The company issued second-quarter guidance that came in ahead of analysts' expectations, according to FactSet. PPG anticipates adjusted earnings will be $2.05 to $2.15 per share, compared to analysts' estimates of $1.96 per share. PPG also issued rosy guidance for the full year.
Available for logged in users only.


The multiple price alert feature will smartly add or remove $1 if your alert was hit.
It's only available if you are logged in, a V.I.P. member or if you are using the AI chrome extension.

Contact us via Twitter if you are interested in trying it out.
PPG Non-GAAP EPS of $1.82 beats by $0.27, revenue of $4.38B misses by $10M
PPG declares $0.62 dividend
PPG Q1 2023 Earnings Preview
PPG Industries expects Q1 earnings to outperform prior guidance and consensus
PPG Industries added to top stock picks at Baird
Druckenmiller's Duquesne adds Nvidia, AMD, exits Amazon, Microsoft
Sherwin-Williams declines as outlook for housing weighs on profit guidance
PPG expects another Covid-19 wave to hit workers in China
PPG beats Q4 estimates as higher prices lessen inflationary pressures
PPG Non-GAAP EPS of $1.22 beats by $0.09, revenue of $4.19B beats by $70M
PPG declares $0.62 dividend
PPG Q4 2022 Earnings Preview
PPG Industries downgraded to Sector Perform at RBC
PPG, Sherwin-Williams plunge 5% as RPM results disappoint
Caterpillar receives favorable mention in Barron's on recent gains
PPG declares $0.62 dividend
PPG dips after guiding for below-consensus Q4 earnings
PPG Non-GAAP EPS of $1.66 beats by $0.01, revenue of $4.47B beats by $10M
PPG names COO Tim Knavish as new CEO
PPG Q3 2022 Earnings Preview
Date
Price
Open
High
Low
Vol
Change
ER
May 2
139.6
139.09

139.94

137.23

1.0M

-0.11%

May 1
139.76
140.2

141.57

139.6

842K

-0.36%

Apr 28
140.26
139.06

141.37

139.06

1.5M

0.96%

Apr 27
138.93
138.76

138.98

136.5

1.7M

0.94%

Apr 26
137.64
139.39

140.45

136.89

1.9M

-1.99%

Apr 25
140.43
142.16

142.87

139.76

1.5M

-1.77%

Apr 24
142.96
144.99

145.51

141.9

1.8M

0.69%

Apr 21
141.98
144.86

145.14

141.19

2.7M

0.37%

Apr 20
141.45
139.46

141.57

139.09

2.0M

0.64%

Apr 19
140.55
141.64

142.38

139.89

1.5M

-0.75%

Apr 18
141.61
141.67

142.46

140.71

1.2M

0.48%

Apr 17
140.93
138.95

141.01

138.37

978K

1.81%

Apr 14
138.42
139.04

140.08

137.5

1.0M

-0.62%

Apr 13
139.29
138.96

139.46

137.79

1.8M

0.93%

Apr 12
138.01
140.66

141.36

137.78

1.3M

-0.93%

Apr 11
139.3
139.19

141.26

138.68

1.2M

0.69%

Apr 10
138.34
137.7

139.25

137.16

897K

0.20%

Apr 6
138.07
137.14

138.44

136.98

1.5M

-0.63%

Apr 5
138.95
137.26

139.32

137.2

1.7M

0.46%

Apr 4
138.32
139.97

140.18

137.97

1.9M

-1.23%

Apr 3
140.04
138.12

140.22

137.26

3.6M

4.84%

Mar 31
133.58
130.55

133.76

130.05

1.5M

2.89%

Mar 30
129.83
129.34

131

128.8

987K

1.24%

Mar 29
128.24
128.16

128.87

127.68

857K

1.60%

Mar 28
126.22
126.11

126.71

125.04

1.1M

0.17%

Mar 27
126
127.11

127.3

125.26

1.1M

0.45%

Mar 24
125.44
122.77

125.48

120.9

1.2M

1.56%

Mar 23
123.51
123.78

125.63

122.35

938K

-0.08%

Mar 22
123.61
126.22

127.04

123.59

947K

-2.36%

Mar 21
126.6
127.16

127.78

126.02

776K

1.03%

Mar 20
125.31
123.53

125.57

123.53

1.0M

2.30%

Mar 17
122.49
125.68

125.84

122.26

2.8M

-3.21%

Mar 16
126.55
124.6

127.19

123.55

1.4M

0.89%

Mar 15
125.43
127.87

128.22

123.24

1.6M

-2.89%

Mar 14
129.16
127.35

129.27

126.02

2.0M

3.57%

Mar 13
124.71
124.44

126.72

123.66

1.3M

-1.02%

Mar 10
126
127.03

127.44

124.2

2.4M

-1.1%

Mar 9
127.4
131.28

132.22

126.93

1.2M

-2.9%

Mar 8
131.21
130.79

131.73

130.1

945K

0.23%

Mar 7
130.91
133.25

133.8

129.91

1.6M

-2.04%

Mar 6
133.64
137.4

137.74

133.6

1.5M

-2.78%

Mar 3
137.46
136.11

137.51

134.59

1.3M

1.94%

Mar 2
134.84
132.15

135.51

131.96

1.6M

1.21%

Mar 1
133.23
131.26

134.7

131.02

2.6M

0.89%

Feb 28
132.06
131.19

133.51

131.19

1.5M

0.34%

Feb 27
131.61
131.39

132.71

131.09

1.2M

1.46%

Feb 24
129.71
125.75

129.81

125.29

1.3M

1.20%

Feb 23
128.17
129.47

130.1

126.27

1.1M

-0.39%

Feb 22
128.67
126.62

128.82

126.61

1.3M

1.96%

Feb 21
126.2
130.25

130.25

126.09

1.5M

-2.86%

Feb 17
129.91
128.81

130.12

128.4

1.3M

0.59%

Feb 16
129.15
128.29

131.1

127.96

1.1M

-1.44%

Feb 15
131.04
129.03

131.16

128.26

909K

0.97%

Feb 14
129.78
128.69

130.96

128.65

1.1M

0.81%

Feb 13
128.74
126.95

128.86

126.04

992K

1.99%

Feb 10
126.23
127.98

128.35

125.74

1.1M

-2.04%

Feb 9
128.86
132.26

132.83

127.86

961K

-1.17%

Feb 8
130.38
129.92

132.06

129.6

1.1M

-0.68%

Feb 7
131.27
128.96

131.64

128.63

1.4M

1.41%

Feb 6
129.44
129.27

129.78

128.5

986K

-0.99%

Feb 3
130.73
132.72

133.39

129.85

1.0M

-2.75%

Feb 2
134.43
132.04

134.94

130.25

1.3M

1.83%

Feb 1
132.01
130.42

133.3

129.68

1.7M

1.28%

Jan 31
130.34
128.35

130.47

127.65

2.3M

2.11%

Jan 30
127.65
127.04

129.57

126.95

1.3M

0.24%

Jan 27
127.35
127.31

128.65

127.02

1.6M

-0.27%

Jan 26
127.7
125.75

128.48

125.46

2.1M

-0.35%

Jan 25
128.15
129.08

129.33

127.77

1.6M

-2.15%

Jan 24
130.97
130.24

132.04

127.7

1.3M

0.51%

Jan 23
130.3
130.1

132.3

128.79

1.8M

-0.53%

Jan 20
131
133.37

133.37

125.75

4.1M

5.99%

Jan 19
123.6
125.78

126.53

123.32

2.9M

-3.27%

Jan 18
127.78
131.53

132

127.71

2.0M

-2.17%

Jan 17
130.62
132.36

132.64

129.55

1.7M

-1.34%

Jan 13
132.4
130.39

132.78

130.36

871K

0.59%

Jan 12
131.62
132.49

132.61

130.53

1.0M

-0.36%

Jan 11
132.09
131.99

132.51

129.68

1.4M

1.78%

Jan 10
129.78
127

129.85

126.87

981K

0.71%

Jan 9
128.87
128.68

131.06

127.07

1.3M

0.29%

Jan 6
128.5
124.86

128.87

123.6

1.2M

4.38%

Jan 5
123.11
126.54

126.54

122.53

1.6M

-5.28%

Jan 4
129.97
128.85

130.22

127.91

759K

2.47%

Jan 3
126.84
126.79

127.43

125.09

1,000K

0.87%

Dec 30
125.74
125.22

126.01

124.17

649K

-0.52%

Dec 29
126.4
125.37

126.85

125.02

648K

1.71%

Dec 28
124.27
127.01

127.54

124.25

639K

-1.7%

Dec 27
126.42
126.49

127.81

126.03

689K

-0.24%

Dec 23
126.72
125.25

126.79

124.92

458K

0.68%

Dec 22
125.86
125.29

125.88

123.22

723K

-1.01%

Dec 21
127.15
125.73

127.8

125.73

910K

1.92%

Dec 20
124.76
125.21

126.21

123.55

1.1M

-0.69%

Dec 19
125.63
126.04

126.95

124.8

682K

-0.43%

Dec 16
126.17
127.24

127.78

125.25

1.7M

-2.02%

Dec 15
128.77
130.43

130.43

128.13

1.1M

-3.01%

Dec 14
132.77
133.67

135.08

131.5

881K

-0.97%

Dec 13
134.07
136.93

137.72

133.13

1.2M

1.32%

Dec 12
132.32
130.57

132.38

130.04

1.0M

1.46%

Dec 9
130.41
130.45

131.71

130.04

719K

0.04%

Dec 8
130.36
130.24

130.85

129.34

1.1M

0.71%

Dec 7
129.44
131.3

131.96

128.8

1.7M

-1.97%

Dec 6
132.04
134.95

135.84

130.57

882K

-1.89%

Dec 5
134.59
135.36

135.91

133.8

923K

-1.97%

Dec 2
137.3
133.1

137.7

132.96

777K

1.73%

Dec 1
134.96
136.4

136.98

133.98

795K

-0.19%

Nov 30
135.22
131.64

135.46

130.87

2.0M

2.57%

Nov 29
131.83
130.7

132.6

130.66

1.6M

1.17%

Nov 28
130.3
132.3

133.19

130.04

1.0M

-2.29%

Nov 25
133.36
132.35

133.37

132.17

320K

0.23%

Nov 23
133.06
132.22

133.8

131.87

1.1M

0.81%

Nov 22
131.99
130

132.08

129.18

1.5M

2.28%

Nov 21
129.05
127.5

130.15

127.5

1.2M

0.45%

Nov 18
128.47
128.82

130.27

127.33

999K

1.43%

Nov 17
126.66
126.91

127.14

124.57

1.1M

-1.81%

Nov 16
128.99
129.21

129.97

128.22

1.4M

-0.39%

Nov 15
129.5
130.59

133.39

127.46

1.6M

1.20%

Nov 14
127.96
128.98

129.96

127.6

1.9M

-1.64%

Nov 11
130.09
125.84

131

125.7

2.1M

4.23%

Nov 10
124.81
120.26

124.88

119.96

1.5M

9.31%

Nov 9
114.18
115.55

115.84

113.85

760K

-1.96%

Nov 8
116.46
117.03

118.15

115.46

1.1M

0.10%

Nov 7
116.34
116.47

116.61

114.48

1.4M

0.76%

Nov 4
115.46
112.2

115.9

111.93

1.5M

5.24%

Nov 3
109.71
108.13

110.85

107.42

1.1M

-0.34%

Nov 2
110.08
114.05

114.98

110

1.3M

-3.44%

Nov 1
114
115.39

115.82

113.03

1.0M

-0.16%

Oct 31
114.18
113.63

115.28

113.19

1.7M

0.02%

Oct 28
114.16
112.38

114.39

112.01

1.2M

1.60%

Oct 27
112.36
113.44

114.96

112.11

919K

-0.41%

Oct 26
112.82
113.23

114.2

111.64

1.1M

-0.12%

Oct 25
112.96
112.39

113.91

112.27

1.7M

0.90%

Oct 24
111.95
113.41

114.22

111.75

1.4M

-0.57%

Oct 21
112.59
109.6

113.5

108.75

2.2M

3.86%

Oct 20
108.41
113.12

115.26

107.4

3.3M

-5.43%

Oct 19
114.64
115.84

116.14

113

1.3M

-1.8%

Oct 18
116.74
116.5

118.08

115.6

1.1M

3.03%

Oct 17
113.31
113.13

114.5

112.21

1.2M

2.70%

Oct 14
110.33
113.53

114.09

109.9

1.5M

-1.68%

Oct 13
112.22
107.79

113.68

107.46

1.8M

2.31%

Oct 12
109.69
111.46

111.46

109.6

1.3M

-0.97%

Oct 11
110.76
110.34

112.68

109.84

2.0M

0.01%

Oct 10
110.75
108.66

112.44

107.67

3.0M

-3.17%

Oct 7
114.37
116.39

116.92

113.57

1.1M

-2.85%

Oct 6
117.73
119.77

120.95

117.2

1.7M

-2.08%

Oct 5
120.23
117.45

121

117.4

1.5M

0.91%

Oct 4
119.15
116.03

119.41

116.02

1.6M

4.34%

Oct 3
114.19
112.44

115.34

112.44

1.4M

3.16%

Sep 30
110.69
112

113.37

110.57

1.2M

-0.82%

Sep 29
111.61
111.82

111.94

110.11

906K

-1.49%

Sep 28
113.3
112.47

114.02

111.13

1.5M

2.02%

Sep 27
111.06
112.39

112.46

109.78

1.2M

-0.1%

Sep 26
111.17
112.5

113.08

110.53

925K

-1.02%

Sep 23
112.32
111

112.41

110.33

1.2M

0.36%

Sep 22
111.92
112.93

112.93

111.09

965K

-1.22%

Sep 21
113.3
116.21

116.86

113.27

1.1M

-2.88%

Sep 20
116.66
117.73

117.73

115.94

1.1M

-2.16%

Sep 19
119.23
116.83

119.53

116.68

973K

1.49%

Sep 16
117.48
117.05

117.61

115.39

2.1M

-2.46%

Sep 15
120.44
120.3

122.87

119.67

1.3M

0.23%

Sep 14
120.16
123.66

124.13

118.9

1.9M

-3.48%

Sep 13
124.49
127.27

127.43

124.34

1.2M

-5.39%

Sep 12
131.58
129.08

131.93

129.07

1.0M

2.71%

Sep 9
128.11
128.43

129.07

126.97

1.2M

0.27%

Sep 8
127.76
126.38

127.85

124.96

1.2M

-0.06%

Sep 7
127.84
124.29

128.26

123.94

2.1M

3.36%

Sep 6
123.69
125.49

125.88

122.95

1.3M

-0.06%

Sep 2
123.76
126.51

128.27

123.03

1.3M

-0.63%

Sep 1
124.54
125.65

125.91

123.55

1.1M

-1.92%

Aug 31
126.98
129.13

129.29

126.42

1.6M

-0.63%

Aug 30
127.78
128.13

129.3

126.78

1.2M

1.46%

Aug 29
125.94
125.09

126.96

124.4

508K

-0.08%

Aug 26
126.04
132.31

132.31

125.96

751K

-4.63%

Aug 25
132.16
129.17

132.22

129.07

716K

3.24%

Aug 24
128.01
127.47

128.71

126.72

782K

0.28%

Aug 23
127.65
126.99

129.26

126.99

760K

0.33%

Aug 22
127.23
129.8

129.8

126.85

1.1M

-3.57%

Aug 19
131.94
132.7

132.93

130.65

772K

-1.15%

Aug 18
133.48
134.25

134.9

132.6

880K

-0.53%

Aug 17
134.19
135.3

135.84

133.38

1.0M

-2.2%

Aug 16
137.21
135.69

137.93

135.5

761K

0.60%

Aug 15
136.39
135.22

137.37

134.77

738K

0.62%

Aug 12
135.55
134.04

135.89

133.42

783K

1.66%

Aug 11
133.34
134.75

136.12

133.12

1.1M

-0.15%

Aug 10
133.54
130.94

134.63

130.25

1.4M

4.99%

Aug 9
127.19
126.96

127.48

125.65

976K

-0.86%

Aug 8
128.29
128.91

130.48

128

939K

0.73%

Aug 5
127.36
126.7

128.99

126.29

1.1M

-0.6%

Aug 4
128.13
128.56

128.69

126.92

839K

-0.09%

Aug 3
128.24
126.53

128.31

125.06

1.0M

1.26%

Aug 2
126.65
128.82

128.82

126.5

1.5M

-2.06%

Aug 1
129.31
128.37

130.24

127.12

899K

0.02%

Jul 29
129.29
130.35

130.57

128.44

1.3M

-0.82%

Jul 28
130.36
127.48

130.53

127.48

1.3M

2.70%

Jul 27
126.93
124.5

128

123.48

1.8M

0.56%

Jul 26
126.22
125.4

126.98

123.42

1.7M

-0.51%

Jul 25
126.87
127.27

128.74

125.47

1.9M

-0.67%

Jul 22
127.73
131.2

134.09

126.56

2.6M

3.89%

Jul 21
122.95
120.2

123.27

119.43

1.8M

2.37%

Jul 20
120.1
119.78

120.83

118.39

1.2M

0.28%

Jul 19
119.77
117.16

119.88

116.63

1.3M

4.23%

Jul 18
114.91
117.22

117.97

114.42

1.8M

-1.62%

Jul 15
116.8
117.27

117.57

115.24

908K

1.71%

Jul 14
114.84
113.63

115.06

112.45

826K

-0.75%

Jul 13
115.71
113.71

116.31

112.61

1.0M

-0.28%

Jul 12
116.03
114.21

117.7

114.07

1.1M

1.63%

Jul 11
114.17
116.58

117.21

113.88

1.2M

-3.14%

Jul 8
117.87
118.7

119.74

117.32

1.1M

-1.03%

Jul 7
119.1
119.44

120.16

116.57

1.5M

-0.25%

Jul 6
119.4
119.57

120

117

1.6M

0.54%

Jul 5
118.76
115.51

118.78

113.86

1.6M

0.76%

Jul 1
117.86
113.88

117.96

113.61

1.3M

3.08%

Jun 30
114.34
115.49

116.11

113.05

2.2M

-2.45%

Jun 29
117.21
118.5

118.75

115.77

1.6M

-1.73%

Jun 28
119.27
121.77

123.54

118.86

2.1M

-1.67%

Jun 27
121.3
121.89

122.13

119.48

1.7M

0.24%

Jun 24
121.01
115.28

121.1

115.1

2.3M

5.81%

Jun 23
114.36
112.69

114.66

111.76

1.3M

1.44%

Jun 22
112.74
108.95

114.19

108.62

1.4M

1.93%

Jun 21
110.6
111.97

112.18

109.84

1.3M

0.53%

Jun 17
110.02
108.84

110.88

107.06

1.9M

1.40%

Jun 16
108.5
109.75

110.05

107.32

1.3M

-4.51%

Jun 15
113.62
113.44

115.08

111.45

1.5M

1.89%

Jun 14
111.51
113.16

113.39

109.12

2.0M

-1.58%

Jun 13
113.3
112.84

114.3

110.96

1.3M

-2.24%

Jun 10
115.9
121.01

121.04

115.83

1.8M

-6.52%

Jun 9
123.99
126.4

128.39

123.97

1.4M

-2.38%

Jun 8
127.01
127.16

133.99

126.62

2.4M

-1.37%

Jun 7
128.78
125.66

129.05

124.92

899K

1.30%

Jun 6
127.13
126.17

128.54

125.36

688K

1.33%

Jun 3
125.46
127.6

128.08

125.01

814K

-2.59%

Jun 2
128.79
126.25

128.91

125.66

722K

2.73%

Jun 1
125.37
127.88

128

124

912K

-0.89%

May 31
126.49
127.77

128.36

124.6

2.8M

-2.72%

May 27
130.03
127.5

130.54

126.74

1.3M

2.95%

May 26
126.3
124.83

127.04

123.42

1.9M

2.34%

May 25
123.41
121.35

123.62

120.78

931K

1.61%

May 24
121.46
122.88

122.88

120.37

976K

-1.1%

May 23
122.81
121.36

122.94

119.14

1.1M

2.62%

May 20
119.68
122

123.68

117.74

1.8M

-2.44%

May 19
122.67
118.95

124

118.19

1.3M

2.60%

May 18
119.56
122.69

122.99

119.05

1.1M

-3.84%

May 17
124.33
123.78

125.47

122.5

1.1M

3.20%

May 16
120.47
121.29

122.24

118

1.3M

-1.54%

May 13
122.36
124.3

125.49

121.76

1.0M

-0.78%

May 12
123.32
123.66

125.45

120.68

1.3M

-0.79%

May 11
124.3
124.75

127.43

123.81

990K

-0.59%

May 10
125.04
128.73

129.55

123.32

1.1M

-1.65%

May 9
127.14
126.44

129.04

125.81

1.4M

-1.08%

May 6
128.53
130.52

130.52

126.26

1.3M

-2.31%

May 5
131.57
135.21

135.58

130.2

1.1M

-4.2%

May 4
137.34
133.21

137.48

131.65

1.3M

3.10%

May 3
133.21
130.74

133.91

130.62

1.8M

1.69%

May 2
130.99
127.39

131.09

126.3

2.2M

2.34%

Apr 29
127.99
130.75

131.94

127.63

3.3M

-2.19%

Apr 28
130.85
130.89

131.4

127.57

1.3M

0.96%

Apr 27
129.61
126.49

131.02

126.49

1.6M

2.95%

Apr 26
125.9
129.73

134.18

125.89

1.9M

-2.66%

Apr 25
129.34
132.48

132.48

126.05

2.5M

-2.64%

Apr 22
132.85
134.95

138.1

130.52

3.3M

-0.23%

Apr 21
133.15
135.83

137.54

132.9

2.4M

1.10%

Apr 20
131.7
130.47

132.97

130.45

1.4M

1.59%

Apr 19
129.64
126.8

130.28

126.74

1.3M

2.49%

Apr 18
126.49
127.47

128.43

126.18

1.1M

-1.39%

Apr 14
128.27
131.45

132.3

128.07

3.0M

-1.78%

Apr 13
130.59
128.52

130.88

128.29

1.4M

1.46%

Apr 12
128.71
132.08

133.16

127.78

1.7M

-2.31%

Apr 11
131.75
132.06

134.78

131.4

1.6M

-0.59%

Apr 8
132.53
134.39

135.38

132.25

1.3M

-1.21%

Apr 7
134.15
133.39

134.88

131.34

1.1M

0.01%

Apr 6
134.14
131.19

134.4

129.86

1.4M

1.31%

Apr 5
132.41
132.59

133.51

131.21

1.6M

-0.72%

Apr 4
133.37
133.34

133.96

132.02

994K

-0.48%

Apr 1
134.01
132.86

134.08

131.26

993K

2.24%

Mar 31
131.07
132.47

133.47

131.01

1.7M

-1.41%

Mar 30
132.94
134.49

134.99

132.02

1.2M

-2.17%

Mar 29
135.89
133.38

137.91

132.64

2.2M

4.89%

Mar 28
129.55
129.66

129.66

127.29

1.4M

0.07%

Mar 25
129.46
129.22

129.82

128.33

1.2M

-0.04%

Mar 24
129.51
129.3

130.41

128.66

805K

0.60%

Mar 23
128.74
129.28

130.84

128.5

1.1M

-1.32%

Mar 22
130.46
130.22

131.32

129.46

1.3M

1.20%

Mar 21
128.91
130.5

131.16

128.13

1.5M

-1.54%

Mar 18
130.93
129.23

131.39

127.27

2.5M

1.75%

Mar 17
128.68
125.48

128.68

125.3

1.9M

0.63%

Mar 16
127.87
124.7

129.12

124.29

2.1M

3.65%

Mar 15
123.37
122.33

124.96

121.86

1.7M

1.16%

Mar 14
121.95
121.97

124.97

121.29

1.8M

1.43%

Mar 11
120.23
121.63

123.06

119.92

1.6M

-0.79%

Mar 10
121.19
119.53

122.03

119.12

2.1M

-0.69%

Mar 9
122.03
122.5

123.4

121.28

2.6M

3.64%

Mar 8
117.74
115

122.19

111.32

4.1M

2.83%

Mar 7
114.5
122.63

123.02

114.46

3.3M

-7.62%

Mar 4
123.95
125.9

126.53

122.86

2.4M

-3.2%

Mar 3
128.05
129.88

130.86

126.19

2.7M

-0.57%

Mar 2
128.78
127.35

129.75

125.43

3.2M

1.80%

Mar 1
126.5
132.09

133.06

124.74

3.5M

-5.21%

Feb 28
133.45
138.61

138.89

132.5

3.3M

-5.41%

Feb 25
141.09
138.62

141.61

137.12

1.8M

2.45%

Feb 24
137.71
137.52

138.52

134.59

2.5M

-2.06%

Feb 23
140.61
147.21

147.49

139.88

1.6M

-4.13%

Feb 22
146.67
149.82

149.82

145.53

1.2M

-1.98%

Feb 18
149.64
149.35

150.54

148.77

1.1M

0.40%

Feb 17
149.05
150.08

150.79

148.79

747K

-1.86%

Feb 16
151.87
151.74

152.55

150.35

837K

0.15%

Feb 15
151.64
151.77

152.93

150.78

923K

1.59%

Feb 14
149.27
149.58

150.45

147.97

1.2M

-0.42%

Feb 11
149.9
153.18

154.74

149.81

1.1M

-2.54%

Feb 10
153.81
155.77

157.55

153.04

1.3M

-2.03%

Feb 9
156.99
156.08

157.38

155.83

1.4M

1.78%

Feb 8
154.25
153.72

154.6

152.88

1.2M

0.93%

Feb 7
152.83
152.74

154.81

152.45

1.6M

-0.1%

Feb 4
152.99
155.37

156.15

152.29

1.3M

-2.39%

Feb 3
156.74
156.38

159.16

155.88

1.7M

-0.56%

Feb 2
157.62
157.76

159.13

155.92

2.4M

0.17%

Feb 1
157.35
156.31

157.7

155.29

1.6M

0.74%

Jan 31
156.2
153.6

156.52

153.14

1.5M

0.88%

Jan 28
154.83
153.19

154.89

150.25

922K

0.94%

Jan 27
153.39
155.27

156.49

152

1.3M

-0.07%

Jan 26
153.49
154.89

156.41

152.16

1.3M

-0.32%

Jan 25
153.99
152.19

155.62

149.77

1.4M

-0.67%

Jan 24
155.03
150

155.62

149.13

1.6M

0.19%

Jan 21
154.74
157.61

159.5

154.17

4.3M

-3.11%

Jan 20
159.7
161.19

162.78

159.15

1.7M

-1.15%

Jan 19
161.55
165.27

165.27

161.43

1.3M

-1.37%

Jan 18
163.79
163.02

163.93

160.28

1.6M

-0.73%

Jan 14
165
165.51

168.07

164.17

1.5M

-2.26%

Jan 13
168.82
169.41

171.13

168.25

1.2M

0.22%

Jan 12
168.45
169.51

169.59

167.03

1.2M

-0.21%

Jan 11
168.81
166.74

169.02

164.88

647K

1.58%

Jan 10
166.19
167.01

167.5

164.9

1.4M

-0.91%

Jan 7
167.71
170.43

170.51

167.43

1.1M

-1.71%

Jan 6
170.62
173.21

173.29

169.89

955K

-1.43%

Jan 5
173.1
172.08

177.32

171.23

1.7M

1.08%

Jan 4
171.25
170.33

172.99

170.3

1.8M

0.38%

Jan 3
170.6
172.1

172.91

169.61

828K

-1.07%

Dec 31
172.44
170.86

172.98

170.41

675K

0.79%

Dec 30
171.09
171.38

172.78

170.96

635K

-0.07%

Dec 29
171.21
170.9

172.28

170.65

645K

0.01%

Dec 28
171.19
169.99

171.87

169.95

610K

0.85%

Dec 27
169.74
168.04

169.99

167.54

622K

1.60%

Dec 23
167.06
166.31

168.32

166.31

709K

0.80%

Dec 22
165.74
163.4

166.79

163.4

1.1M

1.10%

Dec 21
163.93
161.89

164.34

161.34

1.1M

2.02%

Dec 20
160.68
162.26

162.26

158.25

866K

-2.38%

Dec 17
164.59
168.92

169.31

164.45

2.4M

-2.79%

Dec 16
169.32
167.39

170.43

166.62

1.6M

2.09%

Dec 15
165.86
163.03

165.94

161.94

1.0M

2.09%

Dec 14
162.46
162.75

163.62

162

838K

-0.21%

Dec 13
162.81
163.31

164.57

162.14

946K

-0.34%

Dec 10
163.37
165.51

165.73

162.87

1.1M

-0.41%

Dec 9
164.05
164.12

165.08

163.18

822K

-0.47%

Dec 8
164.82
166.45

167.23

163.56

927K

-0.88%

Dec 7
166.28
166.36

167.87

165.69

1.2M

1.13%

Dec 6
164.43
162.64

166.33

162.27

1.3M

2.52%

Dec 3
160.39
158.83

161.99

158.45

1.5M

0.86%

Dec 2
159.03
154.34

159.84

154.23

1.2M

3.62%

Dec 1
153.48
156.35

159.05

153.4

1.1M

-0.45%

Nov 30
154.17
155.84

157.85

153.83

2.3M

-2.03%

Nov 29
157.36
156.9

158.45

156.22

1.3M

1.13%

Nov 26
155.6
155.12

156.39

153.11

695K

-1.99%

Nov 24
158.76
159.72

160.25

158.04

846K

-1.04%

Nov 23
160.43
161.35

162.35

159.79

907K

-0.53%

Nov 22
161.29
161.44

163.02

161.22

586K

0.28%

Nov 19
160.84
162.43

162.89

160.38

794K

-0.93%

Nov 18
162.35
164.45

164.87

162.03

917K

-1.19%

Nov 17
164.3
164.29

165.09

163.41

1.0M

-0.33%

Nov 16
164.84
163.4

166.97

162.93

1.5M

1.17%

Nov 15
162.93
161.97

162.94

160.25

1.1M

0.80%

Nov 12
161.64
159.77

161.91

159.18

3.1M

1.34%

Nov 11
159.51
160.5

160.88

158.5

2.0M

-0.76%

Nov 10
160.73
161.6

163.37

160.47

2.9M

-0.45%

Nov 9
161.45
162.03

163.96

161.04

1.2M

-0.63%

Nov 8
162.47
163.26

164.82

162.11

1.1M

-0.38%

Nov 5
163.09
163.92

165.65

162.83

991K

-0.1%

Nov 4
163.25
162.89

164.28

162.27

756K

0.27%

Nov 3
162.81
161.24

163.61

160.04

1.2M

0.57%

Nov 2
161.89
160.12

162.29

159.41

1.3M

1.80%

Nov 1
159.03
160.42

161.23

158.34

787K

-0.96%

Oct 29
160.57
162.21

164

159.41

2.1M

-1.48%

Oct 28
162.98
162.12

163.73

161.67

1.3M

0.90%

Oct 27
161.52
161.83

162.82

160.26

1.0M

-0.22%

Oct 26
161.87
160.11

162.57

159.57

1.0M

1.12%

Oct 25
160.07
162.2

162.2

158.49

1.8M

-1.02%

Oct 22
161.72
162.44

164.95

161.52

1.5M

-1.99%

Oct 21
165
156.91

165.16

156.91

2.5M

2.85%

Oct 20
160.43
160.56

161.19

156.57

1.7M

0.94%

Oct 19
158.94
158.28

159.11

157.21

1.3M

0.98%

Oct 18
157.4
159.45

159.87

157.33

1.8M

-1.81%

Oct 15
160.3
159.65

161.65

158.54

1.4M

0.89%

Oct 14
158.88
155.82

159.06

155.06

1.6M

2.72%

Oct 13
154.68
153.76

155.04

152.01

1.3M

1.23%

Oct 12
152.8
151.74

153.3

151

1.4M

0.62%

Oct 11
151.86
151.71

153.73

151.23

1.3M

0.74%

Oct 8
150.74
150.47

151.31

149.39

977K

0.17%

Oct 7
150.48
148.12

151.67

147.93

1.7M

2.54%

Oct 6
146.75
144.6

146.88

143.08

1.3M

0.62%

Oct 5
145.85
144.66

147.01

143.52

1.3M

1.28%

Oct 4
144.01
144

145.89

142.46

1.4M

0%

Oct 1
144.01
143.64

145.27

141.81

1.2M

0.70%

Sep 30
143.01
146.58

147.13

143

1.1M

-1.88%

Sep 29
145.75
145.67

147.49

144.87

973K

-0.23%

Sep 28
146.09
148

149.02

145.68

901K

-1.4%

Sep 27
148.16
148.83

150.3

147.94

981K

-0.28%

Sep 24
148.58
146.6

149.18

146.26

1.1M

1.41%

Sep 23
146.52
146.44

147.98

146.31

1.0M

0.87%

Sep 22
145.26
146.82

147.3

145.15

951K

-0.27%

Sep 21
145.66
147.3

147.9

145.27

854K

-0.44%

Sep 20
146.31
144.14

146.55

143.8

1.1M

-0.29%

Sep 17
146.74
148.75

149.7

146.35

1.9M

-2.04%

Sep 16
149.79
150.72

150.84

149.05

777K

-0.61%

Sep 15
150.71
150.1

151.62

149.95

1.0M

0.25%

Sep 14
150.33
153.27

153.27

149.97

967K

-1.43%

Sep 13
152.51
154.5

154.99

151.62

1.1M

-0.34%

Sep 10
153.03
154.89

155.88

153.01

1.3M

-0.99%

Sep 9
154.56
148.92

155.61

148.92

2.4M

2.34%

Sep 8
151.02
149.45

151.37

148.61

2.8M

0.41%

Sep 7
150.4
149.49

153.65

149

2.0M

-3.38%

Sep 3
155.66
158.26

158.93

155.35

1.1M

-1.87%

Sep 2
158.63
158

159.85

157.71

1.0M

0.56%

Sep 1
157.75
159.53

159.64

156.52

1.1M

-1.13%

Aug 31
159.55
161.42

161.73

158.68

1.2M

-1.34%

Aug 30
161.71
162.87

163.03

161.67

496K

-0.08%

Aug 27
161.84
161.94

162.91

161.48

647K

0.43%

Aug 26
161.15
163.23

163.27

161.01

662K

-1.37%

Aug 25
163.39
163.21

163.66

161.1

885K

0.31%

Aug 24
162.88
162.98

163.49

162.19

650K

0.32%

Aug 23
162.36
161.68

163.22

161.13

699K

0.77%

Aug 20
161.12
161.42

162.53

159.87

1.1M

-0.01%

Aug 19
161.14
162.77

163.77

160.94

958K

-2.05%

Aug 18
164.51
165.96

166.55

164.4

648K

-1.25%

Aug 17
166.59
168.37

168.46

164.34

816K

-1.65%

Aug 16
169.39
169.29

169.7

167.61

579K

-0.23%

Aug 13
169.78
170.43

170.43

168.9

528K

-0.36%

Aug 12
170.39
169.76

170.62

167.86

910K

0.12%

Aug 11
170.19
167.63

170.26

166.59

999K

1.69%

Aug 10
167.36
164.56

167.61

164.5

1.0M

1.86%

Aug 9
164.3
163.98

164.58

162.36

739K

0.04%

Aug 6
164.23
164.15

164.99

163.64

813K

0.79%

Aug 5
162.95
165.26

165.92

162.8

1.2M

-0.52%

Aug 4
163.81
164.27

165.94

163.75

1.2M

-1.1%

Aug 3
165.63
163.82

165.71

162.29

844K

1.43%

Aug 2
163.3
164.8

166.85

163

849K

-0.13%

Jul 30
163.52
163.08

165.06

162.39

1.3M

0.41%

Jul 29
162.86
164.31

164.59

162.25

1.5M

-0.3%

Jul 28
163.35
165.24

165.8

162.72

1.7M

-1.08%

Jul 27
165.14
163.89

165.68

162.75

1.7M

0.12%

Jul 26
164.94
164.22

165.07

162.91

1.4M

1.24%

Jul 23
162.92
161.52

163.4

161.22

1.2M

1.51%

Jul 22
160.5
160.15

160.98

159.32

1.3M

0.46%

Jul 21
159.77
158.98

160.93

157.1

2.0M

0.81%

Jul 20
158.49
154.8

159.13

152.35

4.0M

-4.38%

Jul 19
165.75
167.07

168.14

164.18

1.6M

-2.61%

Jul 16
170.2
171.85

171.85

169.06

958K

-0.75%

Jul 15
171.48
169.21

171.8

169.21

681K

0.82%

Jul 14
170.09
170.03

171.5

168.86

640K

0.09%

Jul 13
169.94
171.85

171.85

169.49

665K

-1.24%

Jul 12
172.08
169.96

172.32

169.26

565K

0.39%

Jul 9
171.41
170.95

172.31

169.91

852K

1.44%

Jul 8
168.97
170.29

170.6

167.99

928K

-1.93%

Jul 7
172.3
168.59

172.52

168.59

941K

1.95%

Jul 6
169.01
170

170.22

166.7

996K

-0.97%

Jul 2
170.66
169.81

170.92

168.66

608K

0.39%

Jul 1
169.99
170.95

171.38

169.14

758K

0.13%

Jun 30
169.77
167.86

170.1

167.58

1.1M

0.72%

Jun 29
168.56
169.54

170.85

167.98

872K

0.07%

Jun 28
168.44
167.86

168.58

165.51

1.8M

0.74%

Jun 25
167.21
170

170.76

166.68

3.4M

-1.36%

Jun 24
169.52
170.49

170.74

168.42

795K

-0.1%

Jun 23
169.69
171.45

171.65

169.47

710K

-1.06%

Jun 22
171.51
172.48

173.1

170.86

785K

-0.08%

Jun 21
171.64
169.79

172.17

169.15

977K

2.09%

Jun 18
168.12
169.11

170.3

167.86

1.8M

-1.78%

Jun 17
171.16
174.84

174.86

168.92

1.2M

-2.04%

Jun 16
174.72
175.67

176.28

174.23

769K

-0.92%

Jun 15
176.35
176.14

176.74

174.49

802K

0.55%

Jun 14
175.38
177.17

177.57

174.07

588K

-1.21%

Jun 11
177.53
178.4

178.92

176.61

557K

0.08%

Jun 10
177.39
178.69

178.69

176.51

817K

0.16%

Jun 9
177.11
178.36

178.95

176.73

993K

-1.09%

Jun 8
179.07
179.3

179.57

177.24

1.1M

-0.51%

Jun 7
179.98
182.85

182.97

179.33

816K

-1.29%

Jun 4
182.33
181.85

182.58

180.72

524K

0.74%

Jun 3
180.99
179.51

181.11

178.83

1.1M

0.36%

Jun 2
180.34
181.48

181.98

178.9

1.3M

-0.23%

Jun 1
180.75
182.11

182.95

179.67

1.2M

0.57%

May 28
179.72
180.81

181.35

178.55

884K

-0.59%

May 27
180.79
179.96

181.14

179.42

3.2M

1.14%

May 26
178.75
178.55

179.4

178.16

768K

-0.2%

May 25
179.1
179.41

180.3

178.92

660K

-0.26%

May 24
179.57
179.77

180.39

178.33

700K

0.63%

May 21
178.45
178.72

180.97

178.39

883K

0.55%

May 20
177.48
176.66

178.87

176.49

1.0M

0.64%

May 19
176.35
176.04

176.62

173.95

949K

-0.46%

May 18
177.16
180.26

180.52

177.11

1.3M

-1.56%

May 17
179.96
178.82

180.46

177.53

1.0M

0.48%

May 14
179.1
178.13

179.85

177.21

659K

0.60%

May 13
178.04
174.73

178.45

173.61

1.1M

2.41%

May 12
173.85
178.17

178.62

173.42

1.3M

-2.87%

May 11
178.99
179.46

179.63

176.41

953K

-0.16%

May 10
179.27
180.53

181.35

179.22

1.2M

-0.12%

May 7
179.49
179.55

179.82

177.88

724K

-0.33%

May 6
180.09
179.99

180.21

177.91

963K

0.59%

May 5
179.04
177.65

179.82

176.39

994K

0.16%

May 4
178.75
171.98

179.56

171.98

1.9M

3.32%

May 3
173.01
172.64

173.99

172.11

654K

1.03%

Apr 30
171.24
172.89

173.88

170.12

1.8M

-1.13%

Apr 29
173.19
172.7

173.41

171.54

755K

0.37%

Apr 28
172.55
172.69

173.68

171.88

1.2M

0.19%

Apr 27
172.23
172

172.95

171

1.6M

-0.52%

Apr 26
173.13
175.74

176.63

172.74

1.1M

-0.87%

Apr 23
174.65
171.5

175.07

171.22

1.1M

1.80%

Apr 22
171.56
173.07

174.36

171

1.2M

-1.16%

Apr 21
173.57
169.92

173.88

169.23

1.6M

2.70%

Apr 20
169
169.01

170.84

168.3

1.4M

0.13%

Apr 19
168.78
167.54

169.94

165.9

2.1M

0.82%

Apr 16
167.41
169.29

172.67

166.91

7.1M

8.73%

Apr 15
153.97
152.21

154.01

151.62

1.9M

2.05%

Apr 14
150.87
150.74

152.47

150.26

1.7M

-0.13%

Apr 13
151.07
150.67

151.45

149.24

1.1M

-0.21%

Apr 12
151.39
150.49

152.21

150.16

1.3M

0.61%

Apr 9
150.47
149.12

150.57

148.6

1.0M

1.63%

Apr 8
148.05
148.04

150.01

146.73

1.6M

0.05%

Apr 7
147.97
153.54

153.93

146.82

2.1M

-3.65%

Apr 6
153.57
153.37

154.03

152.28

1.6M

0.01%

Apr 5
153.56
151.5

154.11

151.45

2.5M

1.05%

Apr 1
151.96
150.26

152.04

148.96

1.7M

1.13%

Mar 31
150.26
152.41

153.12

149.9

1.7M

-1.66%

Mar 30
152.79
155.25

156.57

152.54

1.4M

-1.76%

Mar 29
155.52
154.98

156.21

154.16

1.1M

0.45%

Mar 26
154.82
153.37

154.94

151.93

1.4M

1.63%

Mar 25
152.34
148.45

152.51

147.39

1.4M

2.82%

Mar 24
148.16
147.49

150.52

147.49

1.1M

0.47%

Mar 23
147.47
147.67

149.46

146.79

1.4M

-0.32%

Mar 22
147.94
147.8

148.29

146.68

1.1M

0.35%

Mar 19
147.42
149.2

149.25

147.28

1.9M

-1.59%

Mar 18
149.8
146.9

150.22

145.74

1.3M

2.21%

Mar 17
146.56
145.17

146.94

144.49

1.0M

1.22%

Mar 16
144.8
145.33

145.84

142.57

1.2M

-0.17%

Mar 15
145.05
144.76

145.51

142.69

1.5M

-0.17%

Mar 12
145.3
146.65

147.54

144.07

1.3M

-0.53%

Mar 11
146.07
148.63

149.15

145.82

1.3M

-1.62%

Mar 10
148.48
146.57

149.99

146.36

1.1M

1.65%

Mar 9
146.07
146.97

148.07

145.74

1.7M

-0.02%

Mar 8
146.1
142.71

148.43

142.4

1.7M

2.45%

Mar 5
142.61
138.66

142.8

138.1

1.3M

3.47%

Mar 4
137.83
139.59

140.3

135.08

1.7M

-1.28%

Mar 3
139.62
140.76

141.4

139.57

1.5M

-0.82%

Mar 2
140.77
137.96

142.38

137.96

2.2M

2.12%

Mar 1
137.85
136.03

138.87

136.03

962K

2.25%

Feb 26
134.82
135.37

136

133.68

1.5M

-0.11%

Feb 25
134.97
136.5

137.11

133.96

1.0M

-1.4%

Feb 24
136.89
135.48

137.94

135.39

904K

1.42%

Feb 23
134.97
134.77

135.81

132.1

1.4M

0.39%

Feb 22
134.45
135.5

136.56

134.18

1.8M

-1.62%

Feb 19
136.67
136.71

137.81

135.91

1.3M

0.28%

Feb 18
136.29
135.51

136.74

134.67

939K

-0.23%

Feb 17
136.6
136.19

137.65

134.75

917K

-0.55%

Feb 16
137.35
139.5

139.5

136.4

805K

-0.87%

Feb 12
138.55
137.09

138.87

136.78

927K

0.35%

Feb 11
138.06
138.45

139.29

137.03

819K

0.07%

Feb 10
137.96
138.35

138.89

136.96

1.3M

0.49%

Feb 9
137.29
140.37

140.63

137.1

1.5M

-2.09%

Feb 8
140.22
141.4

141.7

139.61

1.1M

0.08%

Feb 5
140.11
140.63

140.98

138.17

1.9M

0.61%

Feb 4
139.26
140.05

140.88

139.13

1.7M

-0.46%

Feb 3
139.91
139.93

141.44

139.32

1.4M

-0.44%

Feb 2
140.53
139.99

142.4

138.29

2.2M

1.41%

Feb 1
138.58
135.86

138.94

134.92

2.0M

2.87%

Jan 29
134.71
137.95

138.21

133.78

1.9M

-3.18%

Jan 28
139.14
141.52

143.15

139.07

1.8M

-0.58%

Jan 27
139.95
138.42

140.43

136.44

2.3M

-0.75%

Jan 26
141.01
142.72

143.25

140.65

1.4M

0.29%

Jan 25
140.6
137.56

141.22

135.17

1.9M

2.02%

Jan 22
137.82
138.75

142.18

137.56

2.5M

-3.98%

Jan 21
143.53
145.12

145.28

142.61

1.7M

-0.71%

Jan 20
144.55
146

146.41

142.77

1.3M

-0.34%

Jan 19
145.04
148.44

149.39

144.96

1.9M

-2.03%

Jan 15
148.04
150.36

150.9

146.43

2.9M

-2.44%

Jan 14
151.75
153.5

153.81

151.22

1.6M

-0.17%

Jan 13
152.01
150.88

153.06

149.91

1.4M

0.48%

Jan 12
151.28
149.19

152.3

148.45

1.1M

1.22%

Jan 11
149.45
146.92

149.96

146.35

1.1M

0.78%

Jan 8
148.3
150.61

150.95

147.43

1.1M

-1.68%

Jan 7
150.83
149.73

151.32

149.43

1.5M

1.28%

Jan 6
148.93
145.49

149.81

145.49

1.9M

3.18%

Jan 5
144.34
141.61

144.76

141.57

1.3M

2.14%

Jan 4
141.31
144.66

145

140.83

1.2M

-2.02%

Dec 31
144.22
143.04

144.44

141.93

930K

0.70%

Dec 30
143.22
143.21

144.32

142.85

988K

0.22%

Dec 29
142.9
143.81

144.04

141.32

885K

-0.19%

Dec 28
143.17
145.64

146.95

143.17

1.2M

-1.26%

Dec 24
145
143.8

145.31

143.15

301K

0.79%

Dec 23
143.87
144.71

146.11

143.87

948K

-0.57%

Dec 22
144.7
146.51

146.52

143.89

1.1M

-0.96%

Dec 21
146.1
143.67

146.81

142.33

900K

0.46%

Dec 18
145.43
144.26

145.91

142.37

2.4M

0.79%

Dec 17
144.29
144.05

144.6

142.58

851K

0.98%

Dec 16
142.89
144.86

145.34

142.18

1.2M

-0.85%

Dec 15
144.12
143.19

144.69

142.43

1.2M

1.66%

Dec 14
141.76
143.8

144.01

141.37

996K

-0.82%

Dec 11
142.93
142.34

143.46

141.42

1.2M

-0.28%

Dec 10
143.33
144.46

145.44

142.61

1.1M

-1.42%

Dec 9
145.39
145.2

145.81

143.52

959K

0.35%

Dec 8
144.88
144.18

145.83

143.97

1.0M

-0.01%

Dec 7
144.9
146.5

146.9

144.72

917K

-1.38%

Dec 4
146.93
146.28

147.74

146.02

1.1M

1.03%

Dec 3
145.43
147.16

148.03

145.16

993K

-1.14%

Dec 2
147.11
148.63

149.3

146.86

801K

-1.34%

Dec 1
149.11
149.16

149.88

147.84

1.3M

1.59%

Nov 30
146.77
147.3

147.35

144.35

1.4M

-0.68%

Nov 27
147.78
146.99

147.9

146.42

322K

0.74%

Nov 25
146.69
147.5

147.83

145.83

779K

-0.84%

Nov 24
147.93
146.4

148.09

145.89

1.5M

2.18%

Nov 23
144.78
144.19

145.69

143.55

823K

1.22%

Nov 20
143.04
142.96

143.9

141.33

915K

-0.13%

Nov 19
143.22
142.03

143.78

140.66

745K

0.29%

Nov 18
142.8
144.08

144.87

142.69

874K

-0.33%

Nov 17
143.27
143.05

143.73

140.55

917K

-0.69%

Nov 16
144.27
145

145.67

142.9

1.0M

1.02%

Nov 13
142.82
141.23

143.23

140.7

749K

2.11%

Nov 12
139.87
141.75

142.23

138.41

768K

-1.95%

Nov 11
142.65
143.77

143.77

141.29

1.1M

-0.12%

Nov 10
142.82
142.11

143.97

140.9

1.1M

0.67%

Nov 9
141.87
146.41

149.34

139.91

1.8M

2.24%

Nov 6
138.76
138.46

139.6

137.04

810K

0.36%

Nov 5
138.26
135.5

139.63

135.38

1.2M

4.10%

Nov 4
132.81
135.19

136.07

131.15

1.9M

-2.96%

Nov 3
136.86
136.46

138.03

134.64

1.5M

1.24%

Nov 2
135.18
131.84

135.9

130.81

1.9M

4.21%

Oct 30
129.72
127.48

130.01

126.8

2.2M

1.26%

Oct 29
128.1
124.71

129.38

123.52

1.2M

2.31%

Oct 28
125.21
124.62

127.58

124.5

1.5M

-1.71%

Oct 27
127.39
131.13

131.7

127.3

1.2M

-3%

Oct 26
131.33
132.5

132.82

129.46

1.2M

-2.19%

Oct 23
134.27
135.11

135.99

133.91

981K

0.43%

Oct 22
133.7
134.65

135.11

132.8

1.1M

-0.25%

Oct 21
134.03
134.97

137.48

133.96

1.2M

-0.45%

Oct 20
134.63
135.56

137.69

133.61

1.7M

0.23%

Oct 19
134.32
137.19

138.4

134.32

1.5M

-2.07%

Oct 16
137.16
137.34

138.39

136.08

1.3M

0.31%

Oct 15
136.74
132.56

137.29

132.5

1.3M

1.60%

Oct 14
134.59
133.8

135.72

133.8

946K

0.76%

Oct 13
133.57
135.22

135.99

133.12

1.3M

-1.82%

Oct 12
136.05
136.35

137.08

134.51

1.3M

0.13%

Oct 9
135.88
135.46

137

133.45

2.1M

0.66%

Oct 8
134.99
132.23

136.51

131.3

3.2M

4.69%

Oct 7
128.94
126.56

129.68

126.45

1.4M

3.52%

Oct 6
124.55
127

129.04

124.37

1.7M

-1.09%

Oct 5
125.92
124.2

126.49

124.2

1.5M

2.15%

Oct 2
123.27
120.19

123.88

120

1.4M

1.22%

Oct 1
121.78
122.41

124.01

121.19

1.4M

-0.25%

Sep 30
122.08
121.12

123.6

120.19

1.5M

1.45%

Sep 29
120.33
122.2

122.77

120.29

689K

-1.16%

Sep 28
121.74
122.38

123.63

121.63

1.1M

1.24%

Sep 25
120.25
118.25

120.72

118.03

790K

1.09%

Sep 24
118.95
118.65

120.09

116.95

1.1M

0.53%

Sep 23
118.32
120.36

121.15

117.75

1.8M

-2.07%

Sep 22
120.82
119.78

121.19

119.33

1.4M

0.62%

Sep 21
120.08
123.57

123.89

118.8

1.4M

-4.52%

Sep 18
125.77
128.62

129.27

125.37

1.9M

-2.69%

Sep 17
129.25
127.98

130

127.11

1.1M

0.16%

Sep 16
129.04
130.06

131

129

1.3M

-0.68%

Sep 15
129.92
130.61

131.09

128.88

1.4M

-0.22%

Sep 14
130.21
128

131.05

127.64

1.8M

2.45%

Sep 11
127.1
125.94

127.6

125.09

1.3M

1.08%

Sep 10
125.74
125.75

127.41

125.37

1.7M

0.32%

Sep 9
125.34
122.64

126.07

122.53

1.8M

3.60%

Sep 8
120.99
121.7

121.97

119.39

1.3M

-1.32%

Sep 4
122.61
123.78

124.81

121.9

1.2M

-0.15%

Sep 3
122.79
125.77

126.05

121.23

1.5M

-2.53%

Sep 2
125.98
123.65

126.29

123.52

1.5M

1.60%

Sep 1
124
119.94

124

119.5

1.5M

2.99%

Aug 31
120.4
122.1

122.3

119.96

938K

-1.41%

Aug 28
122.12
120.95

122.3

120.12

877K

1.10%

Aug 27
120.79
120.94

121.54

120.05

941K

0.70%

Aug 26
119.95
119.58

120.88

119.37

620K

0.11%

Aug 25
119.82
121.53

121.71

119.27

850K

-1.04%

Aug 24
121.08
119.16

121.16

118.78

736K

2.41%

Aug 21
118.23
117.98

118.66

117.3

941K

-0.01%

Aug 20
118.24
117.68

118.65

117.35

736K

-0.34%

Aug 19
118.64
119.23

119.7

118.18

1.1M

-0.04%

Aug 18
118.69
119.16

119.43

118.26

957K

-0.19%

Aug 17
118.92
119.86

120.13

118.57

842K

-0.05%

Aug 14
118.98
118.33

119.95

117.66

872K

0.14%

Aug 13
118.81
120.01

120.68

118.65

1.1M

-1.8%

Aug 12
120.99
122.11

122.47

119.15

1.6M

0.08%

Aug 11
120.89
119.55

123.6

119.46

3.4M

4.45%

Aug 10
115.74
113.54

115.92

113.5

841K

1.79%

Aug 7
113.71
110.56

113.73

110.43

1.5M

2.04%

Aug 6
111.44
111.75

112.43

110.4

1.5M

-0.2%

Aug 5
111.66
108.41

112.56

108.41

2.1M

3.59%

Aug 4
107.79
107.11

108.45

106.93

1.2M

0.38%

Aug 3
107.38
107.84

108.78

107.06

1.2M

-0.25%

Jul 31
107.65
108.12

108.27

105.94

1.3M

-0.51%

Jul 30
108.2
108.55

108.94

107.57

1.1M

-2%

Jul 29
110.41
109.79

110.56

108.39

1.4M

1.69%

Jul 28
108.58
109.85

110.58

108.35

1.2M

-1.5%

Jul 27
110.23
110.59

111.58

109.65

1.4M

-0.3%

Jul 24
110.56
110.65

111.67

110.07

957K

-0.24%

Jul 23
110.83
111.48

112.33

110.2

1.2M

-0.76%

Jul 22
111.68
109.76

112.01

109.48

1.9M

1.38%

Jul 21
110.16
109.92

111.4

109.75

1.5M

0.70%

Jul 20
109.39
112.84

112.91

109.14

2.1M

-2.23%

Jul 17
111.88
118.81

119.03

110.56

5.6M

-2.93%

Jul 16
115.26
115.23

115.91

113.35

1.9M

-0.31%

Jul 15
115.62
113.57

116.18

112.94

1.5M

3.49%

Jul 14
111.72
108.99

112.24

108.14

1.6M

2.14%

Jul 13
109.38
108.32

110.82

107.76

1.9M

2.19%

Jul 10
107.04
105.52

107.1

104.87

738K

1.87%

Jul 9
105.08
106.5

106.5

103.58

1.3M

-1.31%

Jul 8
106.47
108.18

109.11

105.19

1.3M

-1.8%

Jul 7
108.42
108.89

109.27

107.47

1.6M

-1.33%

Jul 6
109.88
110.85

111.85

107.85

1.6M

0.74%

Jul 2
109.07
108.11

110.12

107.81

1.4M

2.56%

Jul 1
106.35
106.17

107.02

105.1

1.4M

0.27%

Jun 30
106.06
105.23

106.98

104.1

1.3M

2.04%

Jun 29
103.94
103.3

104.98

102.55

1.2M

1.76%

Jun 26
102.14
102.24

103.2

101.19

3.6M

-0.61%

Jun 25
102.77
101.73

102.9

100.14

900K

0.87%

Jun 24
101.88
102.42

102.94

100.4

1.2M

-1.75%

Jun 23
103.69
105.11

105.5

103.48

1.1M

0.02%

Jun 22
103.67
103.26

104.4

101.89

856K

-0.05%

Jun 19
103.72
107.36

107.61

102.88

1.8M

-0.67%

Jun 18
104.42
104.26

105.54

103.93

876K

-0.43%

Jun 17
104.87
105.58

106.3

104.17

848K

0.11%

Jun 16
104.76
106.46

107.83

103.74

817K

1.51%

Jun 15
103.2
98.97

103.71

98.41

1.1M

1.54%

Jun 12
101.63
102.59

104.37

100.17

1.2M

2.08%

Jun 11
99.56
105.77

105.77

99.3

2.5M

-8.69%

Jun 10
109.04
111.33

111.63

108.33

1.8M

-2.14%

Jun 9
111.42
111.89

112.17

109.72

1.6M

-1.75%

Jun 8
113.4
114.86

116.38

112.65

1.5M

-0.48%

Jun 5
113.95
114.5

116.45

113.61

2.1M

2.55%

Jun 4
111.12
110.06

111.7

109.49

1.7M

-0.5%

Jun 3
111.68
109.16

112.75

108.52

2.7M

3.87%

Jun 2
107.52
103.79

107.94

103.76

2.8M

4.01%

Jun 1
103.37
101.74

103.56

101.16

1.7M

1.67%

May 29
101.67
102

102.44

100.56

2.8M

-0.95%

May 28
102.64
103.16

103.17

100.92

2.0M

0.28%

May 27
102.35
102.61

104.29

101.73

2.0M

2.35%

May 26
100
99.72

101.33

99.21

1.7M

3.97%

May 22
96.18
95.14

96.24

94.48

1.0M

1.15%

May 21
95.09
95.6

96.44

94.61

3.1M

-0.94%

May 20
95.99
94.64

96.32

94.64

2.3M

2.97%

May 19
93.22
91.31

94.19

90.35

2.7M

1.49%

May 18
91.85
90.86

92.63

89.95

1.6M

5.67%

May 15
86.92
85.32

86.93

84.6

1.9M

1.11%

May 14
85.97
82.64

86.03

81.43

2.1M

2.05%

May 13
84.24
87.01

87.48

83.6

1.5M

-3.87%

May 12
87.63
90.93

91.58

87.6

1.7M

-3.09%

May 11
90.42
90.8

91.08

89.61

1.6M

-1.7%

May 8
91.98
91.54

92.71

90.87

1.8M

1.79%

May 7
90.36
89.93

90.94

89.52

1.7M

1.76%

May 6
88.8
89.55

91.56

88.32

1.8M

0.60%

May 5
88.27
88.16

89.72

87.77

2.0M

1.66%

May 4
86.83
86.7

87.08

85.19

2.8M

-1.33%

May 1
88
89.2

89.34

86.69

1.7M

-3.12%

Apr 30
90.83
94.19

94.19

90.53

2.3M

-5.27%

Apr 29
95.88
93.29

97.37

92.86

2.6M

4.80%

Apr 28
91.49
97.5

99.09

90.94

3.2M

-4.7%

Apr 27
96
93.35

96.64

93.15

1.8M

3.52%

Apr 24
92.74
91.31

93.17

89.42

1.8M

2.45%

Apr 23
90.52
90.86

92.66

90.46

1.0M

0.50%

Apr 22
90.07
89.76

90.8

89.06

1.3M

2.34%

Apr 21
88.01
88.77

89.83

87.75

1.5M

-3.39%

Apr 20
91.1
91.63

93.3

90.17

1.0M

-2.37%

Apr 17
93.31
91.48

94.02

91.19

1.3M

4.96%

Apr 16
88.9
88.9

89.48

86.3

1.7M

0.47%

Apr 15
88.48
90.41

91.53

87.8

1.3M

-4.64%

Apr 14
92.79
95.89

95.89

92.23

2.0M

-0.95%

Apr 13
93.68
95.92

96.99

93.02

1.6M

-3.59%

Apr 9
97.17
94.72

98.81

94.2

2.2M

4.09%

Apr 8
93.35
91.99

94.1

91.07

1.7M

2.48%

Apr 7
91.09
89.09

93.28

89.09

2.1M

5.15%

Apr 6
86.63
84.39

87.68

84

2.9M

7.71%

Apr 3
80.43
80.39

81.68

80.17

2.4M

-0.37%

Apr 2
80.73
79.59

82.32

78.01

4.0M

1.05%

Apr 1
79.89
80.56

82.3

79.7

2.0M

-4.44%

Mar 31
83.6
85.14

87.33

83.12

1.9M

-2.7%

Mar 30
85.92
85.85

87.2

83.67

1.6M

1.08%

Mar 27
85
86.19

87.28

84.45

1.7M

-5.3%

Mar 26
89.76
86.24

90.39

85

2.0M

4.73%

Mar 25
85.71
77.77

89.58

77.77

3.8M

4.46%

Mar 24
82.05
75.82

82.24

75.62

2.6M

13.17%

Mar 23
72.5
78.38

80.63

71.53

3.0M

-9.06%

Mar 20
79.72
77.11

80.46

71.75

4.5M

4.13%

Mar 19
76.56
72.21

78.83

69.77

2.6M

4.99%

Mar 18
72.92
78.55

80

70.31

3.1M

-11.74%

Mar 17
82.62
84.33

84.33

79.61

3.4M

0.24%

Mar 16
82.42
82.93

88.56

81.2

2.7M

-12.5%

Mar 13
94.19
94.31

95.33

90.11

2.7M

4.77%

Mar 12
89.9
87.51

92.31

86.44

3.0M

-7.29%

Mar 11
96.97
99.18

99.18

95.22

2.2M

-4.91%

Mar 10
101.98
100.27

102

97.53

3.5M

4.69%

Mar 9
97.41
95.79

103.03

95.47

4.1M

-3.98%

Mar 6
101.45
99.66

102.82

99.57

2.5M

-1.17%

Mar 5
102.65
105.22

105.32

101.03

2.9M

-4.92%

Mar 4
107.96
105.88

107.96

104.95

2.9M

3.42%

Mar 3
104.39
105.07

106.95

102.75

2.6M

-0.87%

Mar 2
105.31
104.92

106.31

104.07

3.7M

0.82%

Feb 28
104.45
100.58

104.49

100.23

4.5M

0.83%

Feb 27
103.59
107.62

109.13

103.56

2.3M

-5.04%

Feb 26
109.09
110.49

111.63

108.98

2.1M

-0.49%

Feb 25
109.63
115.69

115.74

109.52

2.5M

-4.89%

Feb 24
115.27
116.71

117.06

114.49

1.9M

-3.06%

Feb 21
118.91
118.98

119.29

118.37

1.1M

-0.38%

Feb 20
119.36
118.62

119.83

118.31

1.7M

-0.13%

Feb 19
119.52
119.58

120

119.14

1.2M

0.16%

Feb 18
119.33
119.74

120.44

118.91

1.1M

-0.68%

Feb 14
120.15
120.41

120.94

119.51

1.6M

-0.26%

Feb 13
120.46
121.9

121.9

120.32

1.3M

-1.55%

Feb 12
122.36
122.65

122.72

121.5

898K

0.34%

Feb 11
121.95
121.46

122.94

121.2

1.4M

0.88%

Feb 10
120.89
122.05

122.05

120.36

1.9M

-1.4%

Feb 7
122.61
123.7

123.86

122.27

1.3M

-1.41%

Feb 6
124.36
125.3

125.44

123.61

1.4M

-0.4%

Feb 5
124.86
123.59

125.1

122.6

2.6M

1.90%

Feb 4
122.53
122.84

123.98

121.52

2.2M

0.98%

Feb 3
121.34
120.49

122.05

119.93

2.3M

1.25%

Jan 31
119.84
122.26

122.66

119.35

2.3M

-2.66%

Jan 30
123.11
122.18

123.25

120.93

1.2M

-0.25%

Jan 29
123.42
124.58

125.03

123.38

1.1M

-0.49%

Jan 28
124.03
123.47

124.53

123.07

1.1M

0.87%

Jan 27
122.96
123.42

124.06

122.61

1.4M

-2.27%

Jan 24
125.81
126.62

126.8

125.62

1.2M

-0.36%

Jan 23
126.26
125.43

126.84

124.65

2.2M

0.08%

Jan 22
126.16
126.18

126.56

125.56

1.4M

0.21%

Jan 21
125.89
127.82

128.12

125.67

1.9M

-2.02%

Jan 17
128.49
127.54

128.74

125.83

2.8M

0.85%

Jan 16
127.41
126.35

129.1

125.38

3.3M

-2.55%

Jan 15
130.74
129.71

131.88

129.47

1.4M

0.62%

Jan 14
129.93
129.2

131.05

129.2

2.2M

0.55%

Jan 13
129.22
127.74

129.38

127.46

2.1M

0.88%

Jan 10
128.09
128.86

129.47

127.96

1.7M

-0.44%

Jan 9
128.66
128.71

129.09

128.23

1.6M

0.19%

Jan 8
128.41
128.41

129.4

127.83

1.3M

0.26%

Jan 7
128.08
128.59

129.28

128.04

2.2M

-0.78%

Jan 6
129.09
128.89

129.98

128.74

1.5M

-0.46%

Jan 3
129.69
130.05

130.85

129.63

1.6M

-1.45%

Jan 2
131.6
133.97

134.16

131.34

1.4M

-1.42%

Dec 31
133.49
133.02

133.51

132.59

627K

0.43%

Dec 30
132.92
133.19

133.52

132.8

479K

-0.29%

Dec 27
133.31
133.98

133.98

132.98

632K

-0.04%

Dec 26
133.36
133.57

133.59

132.68

570K

-0.13%

Dec 24
133.54
132.96

133.64

132.81

378K

0.40%

Dec 23
133.01
132.55

133.21

131.84

1.2M

0.41%

Dec 20
132.47
133.36

133.63

132.44

1.9M

0.04%

Dec 19
132.42
131.76

132.81

130.76

1.0M

0.58%

Dec 18
131.65
133.3

133.3

130.57

1.2M

-1.09%

Dec 17
133.1
133.04

133.25

132.15

1.1M

-0.11%

Dec 16
133.25
133.63

134.36

132.91

1.2M

0.18%

Dec 13
133.01
133.56

134.36

132.98

969K

-0.56%

Dec 12
133.76
132.59

134.14

132.06

1.1M

1.10%

Dec 11
132.31
132.36

133.11

131.87

912K

-0.12%

Dec 10
132.47
132.91

133.8

132

997K

-0.38%

Dec 9
132.98
132.12

133.44

132.06

1.2M

0.33%

Dec 6
132.54
132.85

133.82

132.38

1.1M

1.08%

Dec 5
131.13
129.75

131.36

129.67

1.7M

1.57%

Dec 4
129.1
129.14

130.4

128.63

2.1M

0.89%

Dec 3
127.96
126.42

128.23

126.07

2.0M

-0.42%

Dec 2
128.5
129.37

129.66

128.28

1.1M

-0.26%

Nov 29
128.84
129.07

129.41

128.51

450K

-0.27%

Nov 27
129.19
129.71

129.71

128.42

919K

-0.4%

Nov 26
129.71
128.05

129.72

127.94

2.3M

1.50%

Nov 25
127.79
126.1

128.11

125.57

2.4M

1.90%

Nov 22
125.41
125.94

126

125.26

816K

-0.21%

Nov 21
125.68
126.49

126.55

125.31

1.1M

-0.65%

Nov 20
126.5
128.49

128.78

126.49

1.3M

-1.78%

Nov 19
128.79
129.36

129.36

127.67

1.3M

-0.1%

Nov 18
128.92
129

129.77

128.25

1.0M

-0.45%

Nov 15
129.5
130.35

130.73

129.08

767K

-0.19%

Nov 14
129.75
129.87

130.5

129.18

738K

-0.44%

Nov 13
130.32
129.24

130.7

129.06

936K

0.05%

Nov 12
130.25
129.39

130.81

129.3

844K

0.81%

Nov 11
129.2
128.16

129.44

127.98

917K

0.22%

Nov 8
128.92
130

130.02

128.3

863K

-0.7%

Nov 7
129.83
129.91

130.42

129.25

1.2M

0.05%

Nov 6
129.77
128.97

130.03

128.31

1.3M

0.68%

Nov 5
128.89
127.97

129.08

127.8

1.5M

0.62%

Nov 4
128.09
126.27

128.18

125.98

1.5M

2.11%

Nov 1
125.44
125.72

126.43

125.14

960K

0.26%

Oct 31
125.12
125.51

125.98

124.62

1.4M

-0.68%

Oct 30
125.98
124.68

126.28

123.73

1.3M

0.74%

Oct 29
125.05
123.71

125.35

123.28

1.3M

1.08%

Oct 28
123.71
124.04

124.64

123.44

1.2M

-0.27%

Oct 25
124.04
123.16

124.33

122.53

1.2M

0.37%

Oct 24
123.58
125.06

125.1

123.04

1.1M

-0.72%

Oct 23
124.47
125.12

126.08

124.24

1.7M

-0.64%

Oct 22
125.27
124.97

125.63

123.28

1.5M

0.47%

Oct 21
124.68
125

125.61

124.25

1.7M

0.36%

Oct 18
124.23
123

124.9

122.73

3.0M

2.47%

Oct 17
121.24
119.07

121.46

118.93

1.8M

1.92%

Oct 16
118.96
118.13

120.03

117.85

1.3M

0.63%

Oct 15
118.21
117.84

118.6

116.89

1.3M

0.85%

Oct 14
117.21
118.58

119.73

117.12

1.2M

-1.64%

Oct 11
119.17
117.5

119.87

117.1

1.3M

3.03%

Oct 10
115.66
114.35

115.88

114.28

749K

0.94%

Oct 9
114.58
113.5

115.03

113.26

1.5M

1.98%

Oct 8
112.35
114.91

114.94

112.31

1.1M

-2.9%

Oct 7
115.71
116.14

116.96

115.71

996K

-0.78%

Oct 4
116.62
114.75

116.91

114.75

1.0M

1.76%

Oct 3
114.6
114.1

114.61

112.02

693K

0.17%

Oct 2
114.41
115.35

115.88

113.55

1.2M

-2.1%

Oct 1
116.87
119.07

120.17

116.54

1.0M

-1.38%

Sep 30
118.51
118.64

119.15

117.53

842K

0.25%

Sep 27
118.22
116.72

118.81

116.49

1.1M

1.34%

Sep 26
116.66
116.5

117.11

115.52

1.2M

0%

Sep 25
116.66
116.7

117.15

116.25

675K

0.37%

Sep 24
116.23
118.51

118.73

116.02

1.1M

-1.79%

Sep 23
118.35
118.41

119.2

117.99

934K

-0.76%

Sep 20
119.26
120.73

121

119

1.5M

-1.18%

Sep 19
120.69
119.5

120.96

119.17

1.2M

1.06%

Sep 18
119.43
117.28

119.57

116.8

1.1M

1.89%

Sep 17
117.21
115.47

117.21

114.62

1.4M

1.60%

Sep 16
115.36
118.14

118.19

114.98

1.2M

-3.37%

Sep 13
119.38
118.65

119.9

118.64

844K

0.99%

Sep 12
118.21
118.1

118.39

117

852K

0.45%

Sep 11
117.68
117.25

117.88

116.48

893K

0.35%

Sep 10
117.27
116.41

117.27

115.74

939K

0.65%

Sep 9
116.51
116.2

116.59

114.86

1.2M

0.63%

Sep 6
115.78
114.2

116.12

113.72

1.1M

2.15%

Sep 5
113.34
112.91

114.18

112.47

1.0M

1.63%

Sep 4
111.52
111.42

111.9

110.82

958K

0.99%

Sep 3
110.43
109.78

110.61

108.95

848K

-0.32%

Aug 30
110.79
111.15

111.51

110.47

763K

0.59%

Aug 29
110.14
110.39

111.08

110.07

586K

1.02%

Aug 28
109.03
107.08

109.29

106.76

1.1M

1.51%

Aug 27
107.41
108.16

108.38

106.96

1.9M

0.22%

Aug 26
107.17
107.39

108

106.41

1.2M

0.59%

Aug 23
106.54
109.66

109.93

105.99

974K

-3.23%

Aug 22
110.1
110.87

111.23

109.45

602K

-0.54%

Aug 21
110.7
111.41

111.91

110.5

698K

0.36%

Aug 20
110.3
111.2

111.2

109.78

1.2M

-1.18%

Aug 19
111.62
111.98

112.71

111.36

737K

0.81%

Aug 16
110.72
109.14

111.44

109.14

856K

1%

Aug 15
109.62
110.33

110.86

108.95

891K

-0.54%

Aug 14
110.22
111.26

111.98

109.86

1.2M

-2.54%

Aug 13
113.09
112.23

114.77

111.74

987K

0.48%

Aug 12
112.55
114.83

115.18

112.32

1.2M

-2.41%

Aug 9
115.33
115.42

116.2

114.66

1.1M

-1.13%

Aug 8
116.65
114.58

116.76

114.38

1.8M

3.36%

Aug 7
112.86
110.05

113.24

109.62

2.2M

1.69%

Aug 6
110.98
111.49

111.49

109.39

1.1M

0.02%

Aug 5
110.96
112.92

113.08

109.7

1.1M

-2.81%

Aug 2
114.17
115.65

115.65

112.4

1.1M

-1.3%

Aug 1
115.67
117.39

118.24

114.99

1.1M

-1.47%

Jul 31
117.39
118.89

119.41

116.48

815K

-1.32%

Jul 30
118.96
117.8

119.35

117.35

786K

0.45%

Jul 29
118.43
117.69

119.05

117.4

1.2M

0.42%

Jul 26
117.94
118.13

118.21

117

1.2M

-0.17%

Jul 25
118.14
118.23

119.08

117.58

1.8M

0.03%

Jul 24
118.1
118.66

119.29

117.59

1.6M

-0.72%

Jul 23
118.96
117.48

118.96

116.94

2.0M

1.72%

Jul 22
116.95
117.54

118.31

116.67

1.1M

-0.48%

Jul 19
117.51
118.13

118.88

117.36

2.0M

0.44%

Jul 18
117
114.99

119

114.99

2.0M

0.33%

Jul 17
116.61
117.99

117.99

116.06

1.4M

-1.05%

Jul 16
117.85
117.93

118.52

117.39

1.6M

0.12%

Jul 15
117.71
117.15

118.06

116.78

1.1M

0.57%

Jul 12
117.04
116.28

117.85

116.27

1.1M

0.90%

Jul 11
116
115.43

116.03

114.57

962K

0.51%

Jul 10
115.41
116.5

116.91

115.17

661K

-0.46%

Jul 9
115.94
116.03

116.28

115.3

1.2M

-0.38%

Jul 8
116.38
117.5

117.91

115.28

1.3M

-1.34%

Jul 5
117.96
118.12

118.21

117.05

565K

-0.94%

Jul 3
119.08
117.81

119.1

117.81

454K

0.84%

Jul 2
118.09
118.88

118.88

117.28

731K

-0.46%

Jul 1
118.63
117.66

118.68

117.11

751K

1.65%

Jun 28
116.71
116.15

116.83

115.68

2.1M

0.71%

Jun 27
115.89
116.21

116.53

115.73

722K

0.31%

Jun 26
115.53
116.19

116.6

115.29

798K

-0.64%

Jun 25
116.27
117.02

117.07

115.5

711K

-0.54%

Jun 24
116.9
116

117.37

115.95

1.0M

0.72%

Jun 21
116.07
115.43

116.09

114.54

2.3M

0.76%

Jun 20
115.19
117

117.35

114.5

1.5M

-0.41%

Jun 19
115.66
115.18

116.04

114.33

1.2M

0.85%

Jun 18
114.68
115.5

115.76

114.47

1.2M

-0.22%

Jun 17
114.93
116.79

116.82

114.78

1.0M

-1.39%

Jun 14
116.55
116.84

116.84

115.91

812K

-0.31%

Jun 13
116.91
117.19

117.59

116.24

641K

-0.07%

Jun 12
116.99
117

117.39

115.41

672K

0.12%

Jun 11
116.85
115.33

117.34

115.33

1.4M

2.15%

Jun 10
114.39
114.27

114.69

113.49

1.6M

0.35%

Jun 7
113.99
113.56

114.57

113.13

1.9M

0.89%

Jun 6
112.99
112.91

113.23

112.12

2.6M

0.57%

Jun 5
112.35
112.38

112.77

110.2

2.4M

0.57%

Jun 4
111.71
109.08

111.72

108.73

2.1M

3.65%

Jun 3
107.78
104.66

107.78

104.44

1.6M

2.99%

May 31
104.65
105.93

106.33

104.57

1.2M

-2.42%

May 30
107.24
107.16

108.11

106.96

619K

0.06%

May 29
107.18
107.1

107.61

106.33

1.2M

-0.31%

May 28
107.51
107.51

108.35

107.34

1.5M

-0.22%

May 24
107.75
107.87

107.91

106.64

987K

0.87%

May 23
106.82
107.91

107.95

106.23

1.5M

-1.53%

May 22
108.48
108.29

108.68

107.6

1.4M

-0.48%

May 21
109
107.43

109.17

106.68

1.7M

1.17%

May 20
107.74
110.87

111.28

107.45

2.0M

-3.61%

May 17
111.77
111.96

112.53

111.37

1.7M

-1.02%

May 16
112.92
112.66

114.02

112.19

1.2M

0.88%

May 15
111.94
111.17

112.53

110.9

1.1M

0.34%

May 14
111.56
111.41

112.3

110.88

760K

0.28%

May 13
111.25
110.55

111.86

110.05

1.1M

-0.88%

May 10
112.24
112.55

112.95

110.3

1.3M

-0.57%

May 9
112.88
112.77

113.46

112

1.0M

-1%

May 8
114.02
114.08

114.64

113.45

697K

-0.38%

May 7
114.46
115.04

115.37

113.76

1.2M

-1.57%

May 6
116.29
116

116.51

115.06

816K

-1.14%

May 3
117.63
117.26

117.8

116.68

687K

0.75%

May 2
116.76
115.12

116.77

114.82

809K

1.12%

May 1
115.47
117.97

117.97

115.4

795K

-1.73%

Apr 30
117.5
117.14

117.72

116.29

895K

0.33%

Apr 29
117.11
117.99

117.99

116.98

897K

-0.59%

Apr 26
117.81
116

118.05

115.28

906K

1.97%

Apr 25
115.53
116.31

116.31

115.09

897K

-0.95%

Apr 24
116.64
117.73

118.1

116.49

1.0M

-0.83%

Apr 23
117.62
117.33

118.5

116.38

1.8M

0.32%

Apr 22
117.24
118.65

119.2

116.87

1.9M

-2.19%

Apr 18
119.86
119.78

121.29

119.22

3.7M

2.10%

Apr 17
117.39
118.7

118.77

117.17

1.7M

-0.85%

Apr 16
118.4
116.9

118.43

116.63

2.0M

1.66%

Apr 15
116.47
115.87

116.57

115.48

1.1M

0.75%

Apr 12
115.6
115.4

115.78

114.59

880K

0.94%

Apr 11
114.52
114.9

115.27

114.25

762K

-0.33%

Apr 10
114.9
114.66

115.24

114.46

779K

0.54%

Apr 9
114.28
113.83

114.84

113.35

798K

-0.1%

Apr 8
114.4
114.78

114.89

113.77

988K

-0.49%

Apr 5
114.96
115.08

115.64

114.62

838K

-0.03%

Apr 4
115
115.34

115.99

114.55

1.3M

0.37%

Apr 3
114.58
115.25

115.71

114.16

1.3M

0.30%

Apr 2
114.24
114.43

115.26

113.52

962K

0.02%

Apr 1
114.22
113.62

115.09

113.43

1.5M

1.20%

Mar 29
112.87
112

113

111.93

1.4M

1.03%

Mar 28
111.72
110.79

112.09

110.52

1.7M

1.49%

Mar 27
110.08
108.61

110.52

108.33

1.7M

1.59%

Mar 26
108.36
107.7

108.52

107.37

1.1M

0%