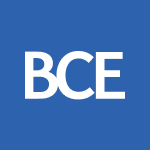 BCE, Inc.
Available for logged in users only.


The multiple price alert feature will smartly add or remove $1 if your alert was hit.
It's only available if you are logged in, a V.I.P. member or if you are using the AI chrome extension.

Contact us via Twitter if you are interested in trying it out.
Bell to acquire cloud-services provider FX Innovation
BCE beats Q1 top and bottom line estimates; reaffirms FY23 outlook
BCE Q1 2023 Earnings Preview
Bell launches C$1.5B debentures offering
BCE reports mixed Q4 earnings; initiates FY23 guidance
BCE raises dividend by 5.2% to CAD 0.9675
BCE Q4 2022 Earnings Preview
Bell communications services to be sold through Staples
BCE stock dips as TD cuts to Hold on valuation concerns
BCE goes ex-dividend tomorrow
Bell launches offering of C$1B 5.85% MTN Debentures
BCE trades flats after reaffirming 2022 guidance
BCE to renew NCIB to buy back preferred stock
BCE reports Q3 earnings; reaffirms FY22 guidance
BCE Q3 2022 Earnings Preview
Lions Gate, Bell Media team on TV development deal
Communications stocks resume weekly decline, led by Sea, Roblox
BCE declares CAD 0.92 dividend
BCE Non-GAAP EPS of C$0.87 beats by C$0.03, revenue of C$5.86B in line
BCE Q2 2022 Earnings Preview
Earnings History
Date
EPS / Forecast
Revenue / Forecast
February 3, 2022

0.76

/ 0.7335

6.21B

/ 6.25B
November 4, 2021

0.82

/ 0.8187

5.84B

/ 5.93B
August 5, 2021

0.83

/ 0.7831

5.7B

/ 5.72B
April 29, 2021

0.78

/ 0.7283

5.71B

/ 5.6B
Beat!

February 4, 2021

0.81

/ 0.7614

6.1B

/ 6.13B
November 5, 2020

0.79

/ 0.769

5.79B

/ 5.69B
Beat!

Date
Price
Open
High
Low
Vol
Change
ER
Mar 4
71.15
69.27

71.23

69.27

8.51M

2.57%

Mar 3
69.37
68.29

69.56

68.25

10.34M

1.73%

Mar 2
68.19
67.12

68.24

67.12

3.05M

1.70%

Mar 1
67.05
66.50

67.17

66.50

3.42M

0.72%

Feb 28
66.57
66.94

67.09

66.47

3.80M

-0.86%

Feb 25
67.15
66.90

67.44

66.74

2.74M

0.58%

Feb 24
66.76
65.19

66.94

65.08

5.68M

1.23%

Feb 23
65.95
66.49

66.60

65.88

4.66M

-0.74%

Feb 22
66.44
66.54

66.54

66.04

3.10M

-0.42%

Feb 18
66.72
66.90

67.19

66.58

1.89M

-0.07%

Feb 17
66.77
66.40

66.94

66.33

2.30M

0.38%

Feb 16
66.52
66.50

66.68

66.25

2.80M

-0.08%

Feb 15
66.57
66.53

66.85

66.48

3.04M

0.18%

Feb 14
66.45
66.50

66.65

65.88

2.54M

-0.32%

Feb 11
66.66
66.50

66.73

66.36

2.29M

0.27%

Feb 10
66.48
66.59

66.85

66.43

2.10M

-0.45%

Feb 9
66.78
66.86

66.92

66.56

1.65M

0.23%

Feb 8
66.63
67.25

67.25

66.60

1.88M

-0.66%

Feb 7
67.07
68.00

68.00

66.94

6.39M

-1.27%