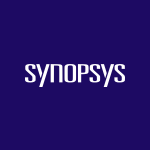 Synopsys, Inc.
About
Profile
Synopsys is an American EDA company. Majority of their products include tools used in the design of an application-specific integrated circuit.
---
Headquarters
Mountain View, California, United States
---
Shares rallied 8% the day after the software company announced its fiscal second-quarter results. Synopsys' quarterly earnings and revenue came above Wall Street's expectations. The company also raised its full-year guidance for earnings and revenue growth.
Available for logged in users only.


The multiple price alert feature will smartly add or remove $1 if your alert was hit.
It's only available if you are logged in, a V.I.P. member or if you are using the AI chrome extension.

Contact us via Twitter if you are interested in trying it out.
Synopsys jumps 8% as Baird sees it at 'beginning of decade of impact'
Synopsys Non-GAAP EPS of $2.54 beats by $0.07, revenue of $1.39B beats by $10M
Synopsys FQ2 2023 Earnings Preview
Synopsys rises as it unveils new AI tools for testing, designing chips
Synopsys enters $300M accelerated share repurchase agreement
Don't give up on these stocks punished by earnings - Goldman
Synopsys shares down on weak margins despite Q1 bottom-line beat and FY guidance boost
Synopsys Non-GAAP EPS of $2.62 beats by $0.13, revenue of $1.36B in-line
Synopsys Q1 2023 Earnings Preview
Stock picks de-risked from earnings from UBS
AMD, Nvidia among Wells Fargo's top chip stocks for 2023
Synopsys launches $300M accelerated share buyback
Synopsys rises as Baird is pleased by Q4 results, 'surprisingly strong' outlook for 2023
Synopsys closes fiscal year 2022 with record results
Synopsys Non-GAAP EPS of $1.91 beats by $0.07, revenue of $1.28B in-line
Synopsys brings in Glaser for top finance job
Synopsys Q4 2022 Earnings Preview
Nvidia, AMD lead chips higher as Broadcom seeks early EU approval of VMware acquisition
Applied Materials, Lam Research, KLA Corp. turn around even as export regulations start
Synopsys rises as Baird maintains outperform rating after investor event
Date
Price
Open
High
Low
Vol
Change
ER
May 26
444.73
434.3

450

434.3

1.9M

2.43%

May 25
434.2
410.03

440.64

409.83

2.6M

9.82%

May 24
395.39
390.58

398

390.2

814K

0.59%

May 23
393.09
399.61

399.68

392

834K

-2.14%

May 22
401.68
405.76

408.11

398.4

1.1M

-1.67%

May 19
408.5
413.03

418.4

407.47

1.3M

-0.3%

May 18
409.71
387.5

410.91

386.5

2.0M

8.65%

May 17
377.08
377.35

380.06

374.2

1.1M

0.52%

May 16
375.14
370.74

377

370.21

860K

0.50%

May 15
373.28
368.12

373.37

365.67

857K

1.20%

May 12
368.84
368.58

369.51

365.6

762K

0.24%

May 11
367.96
370.47

370.82

365.58

598K

-0.58%

May 10
370.12
370.66

372.76

365.46

563K

0.86%

May 9
366.95
369.5

370.07

366.05

560K

-1.29%

May 8
371.74
371.39

373.39

367.34

570K

0.05%

May 5
371.56
368.32

372.35

366.89

679K

1.35%

May 4
366.62
368.11

370.85

366.1

521K

-0.37%

May 3
368
369.06

373.77

366.1

580K

-0.23%

May 2
368.83
372.2

374.8

367.15

649K

-0.75%

May 1
371.62
370.76

372.89

367.94

539K

0.08%

Apr 28
371.32
368.39

374.85

367.2

743K

0.80%

Apr 27
368.39
367.3

369.5

362.06

555K

0.90%

Apr 26
365.1
364.53

370.61

363.99

719K

0.16%

Apr 25
364.53
371.41

372.03

360.36

841K

-2.97%

Apr 24
375.67
375.68

380.85

374.2

490K

-0.42%

Apr 21
377.26
376.82

381.71

374.62

559K

-0.08%

Apr 20
377.56
376.15

382.52

375.53

514K

-0.32%

Apr 19
378.77
378.65

379.77

375.19

433K

-0.44%

Apr 18
380.43
382.76

384.27

378.18

386K

0.06%

Apr 17
380.19
381.96

382.51

376.47

463K

-0.39%

Apr 14
381.68
378.86

383.29

377.75

614K

0.03%

Apr 13
381.56
380.3

382.26

377.39

1.1M

1.34%

Apr 12
376.52
382.38

383.38

376.07

532K

-0.76%

Apr 11
379.4
378

382.33

377.5

452K

-0.16%

Apr 10
379.99
372.97

380.45

371

488K

1.08%

Apr 6
375.92
375.62

378.31

373.4

848K

-0.64%

Apr 5
378.36
383.25

384.48

376.1

822K

-1.71%

Apr 4
384.93
389.88

392.79

384.01

567K

-1.03%

Apr 3
388.94
385.18

389.58

384.12

843K

0.70%

Mar 31
386.25
377

386.72

375.96

1.1M

2.74%

Mar 30
375.94
376.54

378.78

373.1

719K

0.24%

Mar 29
375.04
373.82

377.25

372.36

902K

1.40%

Mar 28
369.87
372.81

374.83

366.04

691K

-1.08%

Mar 27
373.92
377.09

378.78

371.2

655K

-0.7%

Mar 24
376.56
378.14

379.96

370.37

944K

-0.75%

Mar 23
379.4
375.47

381.13

371.23

974K

2.17%

Mar 22
371.35
373.39

381.86

371.17

723K

-0.8%

Mar 21
374.36
377.62

377.62

369.51

890K

-0.33%

Mar 20
375.59
373.8

376.01

370.24

713K

0.82%

Mar 17
372.53
374

378.3

370.52

1.6M

-0.39%

Mar 16
374
366.2

377.71

364.24

884K

1.96%

Mar 15
366.82
366.95

370

360.61

903K

-0.82%

Mar 14
369.84
361.34

370.2

360.11

744K

3.51%

Mar 13
357.29
351.3

363.22

350.58

784K

0.58%

Mar 10
355.23
361.81

364.66

353.63

758K

-1.85%

Mar 9
361.92
369.16

374.31

360.43

775K

-1.92%

Mar 8
369.02
361.21

370.11

360.5

829K

2.14%

Mar 7
361.28
367.66

370.27

359.33

551K

-2.03%

Mar 6
368.77
367.43

371.24

364.99

776K

0.35%

Mar 3
367.5
365

367.94

364.13

620K

0%