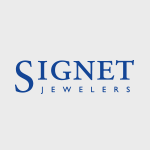 Signet Jewelers Limited (us)
About
Profile
Signet Jewelers is the world's largest retailer of diamond jewelry and the largest specialty jewelry retailer in the US, UK and Canada. Signet operates approximately 3,300 stores primarily under the name brands of Kay Jewelers, Zales, Jared, H.Samuel, Ern
---
Headquarters
Hamilton, Bermuda
---
The jewelry stock jumped 5% after Signet reported a stronger-than-expected second quarter. The company reported $1.55 in adjusted earnings per share on $1.61 billion of revenue. Analysts surveyed by StreetAccount were expecting $1.45 in earnings per share on $1.58 billion of revenue. The company also said it expected a multiyear rebound in engagements to start later this year.
Available for logged in users only.


The multiple price alert feature will smartly add or remove $1 if your alert was hit.
It's only available if you are logged in, a V.I.P. member or if you are using the AI chrome extension.

Contact us via Twitter if you are interested in trying it out.
Warning: SIG is at high risk of cutting its dividend
Why did Signet stock slide on Thursday? A dim forecast for the year ahead
Hot Stocks: CVNA rises on upbeat Q2 outlook; GME dips on firing CEO; AMZN, TEVA gain; SIG, GME fall
Signet Jewelers' lackluster earnings report leads peers lower
Signet stock slumps on slashed full-year forecasts
Signet declares $0.23 dividend
Signet Non-GAAP EPS of $1.78 beats by $0.29, revenue of $1.7B beats by $50M
Signet Q1 2024 Earnings Preview
Earnings Week Ahead: NIO, DocuSign, GameStop, FuelCell and more
Catalyst Watch: Apple's WWDC event, OPEC fallout and REITs on display
Signet Jewelers is seen benefiting from wedding and engagement boom in next few years
Hot Stocks: PATH, SIG, PD rises on earnings; INTC, QCOM, SWKS upgraded at Susquehanna, FRC, HALO ESPR slide
Signet stock surges as earnings shine brighter than expectations
Signet Non-GAAP EPS of $5.52 beats by $0.09, revenue of $2.66B beats by $10M
Signet Q4 2023 Earnings Preview
Earnings week ahead: Adobe, FedEx, Lennar, Xpeng, Dollar General and more
Holiday sales surge not likely in the cards - Wells Fargo
Signet rallies after earnings topper, guidance lift
Signet declares $0.20 dividend
Signet Non-GAAP EPS of $0.74 beats by $0.42, revenue of $1.6B beats by $90M
Earnings History
Date
EPS / Forecast
Revenue / Forecast
December 2, 2021

1.43

/ 0.7131

1.5B

/ 1.42B
Beat!

September 2, 2021

3.57

/ 1.7

1.8B

/ 1.65B
Beat!

June 10, 2021

2.23

/ 1.27

1.69B

/ 1.62B
Beat!

May 27, 2021

-

/ -0.2429

-

/ 1.28B
March 18, 2021

4.15

/ 3.54

2.19B

/ 2.1B
Beat!

December 3, 2020

0.11

/ -0.6571

1.3B

/ 1.14B
Beat!

September 3, 2020

-1.13

/ -2.07

888M

/ 788.51M
Beat!

June 9, 2020

-1.59

/ -2.97

852.1M

/ 861.74M
March 26, 2020

3.67

/ 3.5

2.15B

/ 2.12B
Beat!

December 5, 2019

-0.76

/ -1.09

1.19B

/ 1.14B
Beat!

September 5, 2019

0.51

/ 0.24

1.36B

/ 1.34B
Beat!

June 6, 2019

0.08

/ -0.23

1.43B

/ 1.42B
Beat!

April 3, 2019

3.96

/ 3.82

2.15B

/ 2.14B
Beat!

December 6, 2018

-1.06

/ -1.08

1.19B

/ 1.16B
Beat!

August 30, 2018

0.52

/ 0.2

1.42B

/ 1.34B
Beat!

June 6, 2018

0.1

/ -0.08

1.48B

/ 1.4B
Beat!

March 14, 2018

4.28

/ 4.25

2.29B

/ 2.24B
Beat!

November 21, 2017

-0.10

/ 0.20

1.16B

/ 1,177M
August 24, 2017

-0.10

/ 1.45

1.40B

/ 1,437M
May 25, 2017

1.03

/ 1.94

1.40B

/ 1,609M
Date
Price
Open
High
Low
Vol
Change
ER
Aug 8
67.81
64.70

68.48

64.70

642.02K

6.49%

Aug 5
63.68
63.10

65.02

62.31

328.11K

-0.52%

Aug 4
64.01
64.27

65.54

63.92

431.75K

-0.94%

Aug 3
64.62
62.05

64.91

62.05

576.79K

5.11%

Aug 2
61.48
61.15

62.44

59.94

307.86K

0.26%

Aug 1
61.32
60.01

61.54

59.51

471.13K

0.59%

Jul 29
60.96
61.16

61.46

59.00

432.33K

0.58%

Jul 28
60.61
58.00

60.81

56.47

549.47K

4.52%

Jul 27
57.99
57.28

58.51

55.18

350.24K

2.60%

Jul 26
56.52
56.63

57.10

54.84

571.32K

-3.86%

Jul 25
58.79
59.58

59.58

58.00

407.92K

-1.08%

Jul 22
59.43
60.82

62.68

58.87

442.12K

-3.02%

Jul 21
61.28
61.22

61.37

59.45

492.55K

-0.49%

Jul 20
61.58
60.25

61.85

59.49

695.71K

2.45%

Jul 19
60.11
57.23

60.48

57.23

873.26K

6.20%

Jul 18
56.60
56.70

58.96

56.49

729.10K

2.28%

Jul 15
55.34
54.25

55.55

52.73

623.49K

3.73%

Jul 14
53.35
52.84

54.40

52.42

563.82K

-1.08%

Jul 13
53.93
53.37

53.98

51.62

805.83K

0.71%

Jul 12
53.55
54.05

55.73

52.94

630.68K

-1.33%

Jul 11
54.27
55.50

56.08

53.80

385.65K

-2.53%