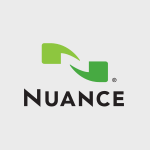 Nuance Communications
About
Profile
At Nuance, we understand that AI is only intelligent in the hands of those who use it. That's why our innovation in conversational AI begins with listening, analysis, and deep understanding of each unique entity we serve.
---
Headquarters
Burlington, Massachusetts, United States
---
Available for logged in users only.


The multiple price alert feature will smartly add or remove $1 if your alert was hit.
It's only available if you are logged in, a V.I.P. member or if you are using the AI chrome extension.

Contact us via Twitter if you are interested in trying it out.
Earnings History
Date
EPS / Forecast
Revenue / Forecast
February 7, 2022

0.08

/ 0.22

321.44M

/ 355M
November 18, 2021

0.09

/ 0.18

333.07M

/ 352.9M
August 6, 2021

0.16

/ 0.1733

336.58M

/ 334.2M
Beat!

May 10, 2021

0.2

/ 0.17

346.98M

/ 343.2M
Beat!

February 8, 2021

0.2

/ 0.1843

345.75M

/ 338.17M
Beat!

November 18, 2020

0.18

/ 0.1625

352.93M

/ 345.87M
Beat!

August 5, 2020

0.18

/ 0.12

338.4M

/ 317.61M
Beat!

May 7, 2020

0.21

/ 0.17

369.55M

/ 351.56M
Beat!

February 5, 2020

0.27

/ 0.24

418.32M

/ 406.3M
Beat!

November 20, 2019

0.33

/ 0.25

471.97M

/ 486.13M
November 4, 2019

-

/ 0.26

-

/ 486.13M
August 7, 2019

0.25

/ 0.28

451.05M

/ 455.95M
May 8, 2019

0.29

/ 0.25

451.01M

/ 445.55M
Beat!

February 7, 2019

0.33

/ 0.28

465.72M

/ 504.85M
November 19, 2018

0.38

/ 0.32

536.21M

/ 525.05M
Beat!

August 8, 2018

0.27

/ 0.27

506.03M

/ 495.53M
Beat!

May 9, 2018

0.27

/ 0.28

518.3M

/ 516.82M
Beat!

February 8, 2018

0.27

/ 0.35

501.6M

/ 490.37M
Beat!

November 28, 2017

0.2

/ 0.15

465.9M

/ 455.77M
Beat!

August 8, 2017

0.27

/ 0.27

486.2M

/ 495.54M
Date
Price
Open
High
Low
Vol
Change
ER
Mar 3
55.99
55.99

56.00

55.98

15.93M

0.02%

Mar 2
55.98
55.96

55.98

55.96

14.38M

0.81%

Mar 1
55.53
55.54

55.59

55.42

4.61M

0.02%

Feb 28
55.52
55.43

55.58

55.36

5.90M

0.13%

Feb 25
55.45
55.30

55.53

55.21

4.14M

0.42%

Feb 24
55.22
55.10

55.25

55.06

7.76M

0.04%

Feb 23
55.20
55.22

55.31

55.19

4.30M

0.16%

Feb 22
55.11
55.17

55.23

55.10

6.74M

-0.07%

Feb 18
55.15
55.25

55.25

55.08

3.07M

-0.05%

Feb 17
55.18
55.30

55.44

55.16

9.23M

-0.18%

Feb 16
55.28
55.27

55.34

55.23

5.10M

-0.05%

Feb 15
55.31
55.36

55.37

55.20

6.06M

0.11%

Feb 14
55.25
55.36

55.40

55.20

4.33M

-0.27%

Feb 11
55.40
55.45

55.49

55.36

2.73M

-0.05%

Feb 10
55.43
55.44

55.50

55.35

6.16M

-0.07%

Feb 9
55.47
55.30

55.50

55.29

4.78M

0.31%

Feb 8
55.30
55.36

55.40

55.20

6.03M

-0.16%

Feb 7
55.39
55.37

55.46

55.30

3.42M

0.04%

Feb 4
55.37
55.26

55.48

55.25

3.17M

0.04%

Feb 3
55.35
55.38

55.45

55.22

6.56M

-0.11%

Feb 2
55.41
55.26

55.50

55.23

11.32M

0.11%

Feb 1
55.35
55.25

55.35

55.18

6.91M

0.18%

Jan 31
55.25
55.05

55.30

55.03

8.81M

0.31%

Jan 28
55.08
54.90

55.09

54.80

3.72M

0.33%

Jan 27
54.90
54.92

55.10

54.75

5.46M

-0.16%

Jan 26
54.99
55.00

55.08

54.67

3.92M

0.37%

Jan 25
54.79
54.91

55.08

54.76

5.74M

-0.47%

Jan 24
55.05
55.05

55.24

54.54

11.24M

0.11%

Jan 21
54.99
55.10

55.20

54.95

9.20M

-0.2%

Jan 20
55.10
55.28

55.30

55.05

4.94M

-1.59%