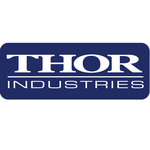 Thor Industries, Inc.
About
Profile
Thor Industries was founded in 1980 by Wade Thompson and Peter Orthwein with the purchase of Airstream. Thor Industries went public in 1984, and since that time, Thor has grown both organically and through strategic acquisitions. Today, Thor is the sole o
---
Headquarters
Elkhart, Indiana, United States
---
Recent Earnings
Thor GAAP EPS of $1.68 beats by $0.75, revenue of $2.74B beats by $310M
Available for logged in users only.


The multiple price alert feature will smartly add or remove $1 if your alert was hit.
It's only available if you are logged in, a V.I.P. member or if you are using the AI chrome extension.

Contact us via Twitter if you are interested in trying it out.
Thor GAAP EPS of $1.68 beats by $0.75, revenue of $2.74B beats by $310M
Notable earnings after Monday's close
Thor FQ4 2023 Earnings Preview
Catalyst Watch: Meta Platforms talks AI, Nike earnings and Huawei chip drama
Thor declares $0.45 dividend
Thor Industries trims full-year sales outlook despite Q3 earnings beat
Thor GAAP EPS of $2.24 beats by $1.12, revenue of $2.93B beats by $110M
Thor Q3 2023 Earnings Preview
Earnings Week Ahead: NIO, DocuSign, GameStop, FuelCell and more
Leisure stocks are at risk of macro headwinds but some names could stand out
Thor declares $0.45 dividend
Thor Industries stock slides on Q2 earnings miss, downbeat demand forecast
Thor GAAP EPS of $0.50 misses by $0.63, revenue of $2.35B misses by $140M
Thor Q2 2023 Earnings Preview
December RV wholesale shipments dip 51% Y/Y
RV retail registrations slip 25% in November, data better than survey
Thor shares rally after D.A. Davidson upgrades stock on robust RV show weekend
Thor declares $0.45 dividend
RV wholesale shipments expected to drop 21% next year
Thor Industries' cautious commentary overshadows earnings beat (update)
Recent Earnings
Thor GAAP EPS of $1.68 beats by $0.75, revenue of $2.74B beats by $310M
Earnings History
Date
EPS / Forecast
Revenue / Forecast
December 8, 2021

4.34

/ 3.25

3.96B

/ 3.48B
Beat!

September 28, 2021

4.12

/ 2.98

3.59B

/ 3.31B
Beat!

June 8, 2021

3.29

/ 2.34

3.46B

/ 3.03B
Beat!

March 9, 2021

2.38

/ 1.57

2.73B

/ 2.53B
Beat!

December 8, 2020

2.05

/ 1.58

2.54B

/ 2.38B
Beat!

September 28, 2020

2.14

/ 1.36

2.32B

/ 2.29B
Beat!

June 8, 2020

0.43

/ -0.25

1.68B

/ 1.64B
Beat!

March 9, 2020

0.67

/ 0.72

2B

/ 1.82B
Beat!

December 9, 2019

0.92

/ 1.19

2.16B

/ 2.23B
September 30, 2019

1.7

/ 1.43

2.31B

/ 2.33B
June 10, 2019

1.65

/ 1.65

2.51B

/ 2.63B
March 6, 2019

0.65

/ 1.02

1.29B

/ 1.54B
December 6, 2018

1.28

/ 1.67

1.76B

/ 1.92B
Date
Price
Open
High
Low
Vol
Change
ER
May 26
81.65
80.33

81.68

79.55

346K

1.86%

May 25
80.16
79.22

80.46

78.68

301K

0.02%

May 24
80.14
81.12

82.17

79.34

357K

-1.6%

May 23
81.44
80.62

82.61

80.3

501K

0.56%

May 22
80.99
81.08

81.5

80.27

419K

0.16%

May 19
80.86
82.04

82.04

79.99

471K

-1.2%

May 18
81.84
81.13

82.02

80.08

385K

0.73%

May 17
81.25
78.61

81.58

78.23

392K

4.01%

May 16
78.12
78.57

78.93

77.01

513K

-1.74%

May 15
79.5
78.9

80.35

78.4

260K

0.76%

May 12
78.9
81

81.23

78.15

449K

-1.83%

May 11
80.37
78.99

80.55

78.75

454K

1.39%

May 10
79.27
81.41

81.64

77.08

548K

-1.04%

May 9
80.1
81.74

82.33

80.07

388K

-3.03%

May 8
82.6
82.52

83.17

81.24

337K

0.57%

May 5
82.13
80.87

82.58

80.63

387K

3.35%

May 4
79.47
79.93

80.89

78.03

479K

-1.89%

May 3
81
80.25

85.23

80.25

865K

1.14%

May 2
80.09
79.45

80.2

76.79

625K

0.10%

May 1
80.01
79.19

80.21

78.88

271K

1.25%

Apr 28
79.02
77.68

79.4

77.6

556K

1.73%

Apr 27
77.68
75.48

78.16

75.3

696K

3.57%

Apr 26
75
76.37

77.61

74.5

495K

-2.29%

Apr 25
76.76
77.99

78.05

76.38

489K

-2.35%

Apr 24
78.61
79.36

80.26

78.17

523K

-0.97%

Apr 21
79.38
78.86

79.93

78.17

339K

0.57%

Apr 20
78.93
78.65

80.25

78.28

358K

-0.8%

Apr 19
79.57
79.33

80.16

78.88

489K

-0.03%

Apr 18
79.59
79.59

79.93

78.63

338K

-0.11%

Apr 17
79.68
79.57

80.36

78.36

379K

0.13%

Apr 14
79.58
78.78

80.43

78.78

339K

1.22%

Apr 13
78.62
79.46

79.46

77.91

594K

-0.51%

Apr 12
79.02
82

82.33

78.56

481K

-2.3%

Apr 11
80.88
78.21

81.44

78.21

600K

3.49%

Apr 10
78.15
76.09

78.2

76.09

358K

2.61%

Apr 6
76.16
76.74

76.94

75.71

371K

-0.54%

Apr 5
76.57
76.11

76.64

75.41

502K

-0.47%

Apr 4
76.93
79.05

79.05

76.23

353K

-1.96%

Apr 3
78.47
79.32

79.92

77.76

456K

-1.47%

Mar 31
79.64
79.1

80.28

78.86

413K

1.35%

Mar 30
78.58
78.79

79.89

78.25

371K

0.91%

Mar 29
77.87
78.8

78.8

77.31

461K

0.18%

Mar 28
77.73
76.66

77.93

76.13

609K

1.51%

Mar 27
76.57
77.17

77.65

75.76

521K

0.74%

Mar 24
76.01
76.38

76.98

75.35

947K

-1.35%

Mar 23
77.05
77.85

78.63

76.13

657K

-0.58%

Mar 22
77.5
80.65

81.01

77.43

1.0M

-2.81%

Mar 21
79.74
79.87

81.57

79.1

684K

1.87%

Mar 20
78.28
78.55

80.14

77

1.1M

0.13%

Mar 17
78.18
79.63

80.63

77.67

1.8M

-3.04%

Mar 16
80.63
78.74

82

78.51

1.0M

1.10%

Mar 15
79.75
77.5

80.15

77.11

1.2M

-0.28%

Mar 14
79.97
82.27

84.08

78.82

1.1M

-0.78%

Mar 13
80.6
80.89

82.45

78.44

976K

-3.18%

Mar 10
83.25
86.48

86.79

82.67

1.3M

-3.53%

Mar 9
86.3
88

88.71

86.14

672K

-2.42%

Mar 8
88.44
89.39

90.15

86.02

849K

-0.7%

Mar 7
89.06
87.74

89.91

85.79

2.1M

-3.8%

Mar 6
92.58
92.22

93.19

91.57

1.1M

0.58%

Mar 3
92.05
93.69

94.18

91.94

486K

0%