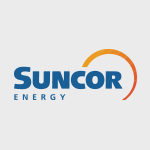 Suncor Energy Inc.
About
Profile
Making an investment decision is not an easy one. But with Suncor, you're tied to a company with a long history in the oil sands industry. That gives us an advantage over our competition; we understand the social, environmental and economic challenges ass
---
Headquarters
Calgary, Canada
---
Available for logged in users only.


The multiple price alert feature will smartly add or remove $1 if your alert was hit.
It's only available if you are logged in, a V.I.P. member or if you are using the AI chrome extension.

Contact us via Twitter if you are interested in trying it out.
Suncor Energy declares CAD 0.52 dividend
Suncor's Q1 earnings fall by a third from a year ago but beat expectations
Suncor Energy Q1 2023 Earnings Preview
TotalEnergies to sell Canada oil sands assets to Suncor in $4.1B deal
Suncor reports dead birds at oil sands tailings pond
Suncor's Fort Hills expansion plan to be reconsidered by Alberta regulator
Syncrude hit with charges in 2021 death of worker at oil sands mine
Suncor downgraded, Imperial Oil upgraded at Scotiabank in oil sands shuffle
Suncor extends time for Elliott to add board director
Suncor Energy offloads sale of U.K. exploration & production business
Suncor Energy confirms C$1.2B deal to sell U.K. oil assets to Equinor
Equinor nears deal to buy Suncor's U.K. oilfields - report
Suncor taps ex-Imperial Oil boss Kruger as new President, CEO
Suncor weighing options to replace supply from largest oil sands mine
Suncor Energy Non-GAAP EPS of C$1.81 beats by C$0.05; updates its FY23 production guidance
Suncor Energy declares CAD 0.52 dividend
Suncor Energy surges to strong Q4 on higher crude production, prices
Point72 Asset Management adds Salesforce, Netflix, exits Palo Alto Networks
Suncor Energy Q4 earnings expected to jump more than 50% Y/Y, revenue to fall
Suncor to own smaller stake in Canada oil sands after TotalEnergies' deal
Earnings History
Date
EPS / Forecast
Revenue / Forecast
February 2, 2022

0.7018

/ 0.7893

8.8B

/ 8.73B
Beat!

October 27, 2021

0.5756

/ 0.5775

8.27B

/ 8.26B
Beat!

July 29, 2021

-

/ 0.3947

-

/ 6.75B
May 3, 2021

0.3978

/ 0.3269

7.07B

/ 7.02B
Beat!

February 3, 2021

-0.0701

/ -0.1527

5.17B

/ 5.14B
Beat!

October 28, 2020

-0.1496

/ -0.0936

4.95B

/ 4.9B
Beat!

July 22, 2020

-0.7314

/ -0.5

3.17B

/ 3.17B
May 5, 2020

-0.1415

/ -0.08

5.53B

/ 5.53B
February 6, 2020

0.38

/ 0.49

7.22B

/ 7.25B
October 30, 2019

0.55

/ 0.55

7.53B

/ 7.59B
July 24, 2019

0.61

/ 0.67

7.69B

/ 7.68B
Beat!

May 1, 2019

0.57

/ 0.41

6.98B

/ 6.99B
February 6, 2019

0.27

/ 0.3

6.74B

/ 6.7B
Beat!

October 31, 2018

0.73

/ 0.69

8.29B

/ 8.29B
July 25, 2018

0.56

/ 0.51

7.97B

/ 7.18B
Beat!

May 2, 2018

0.47

/ 0.42

6.81B

/ 6.84B
February 7, 2018

0.47

/ 0.72

9.00B

/ 9,179M
October 25, 2017

0.63

/ 0.37

7.99B

/ 8,410M
July 26, 2017

0.09

/ 0.26

7.25B

/ 7,659M
April 26, 2017

0.36

/ 0.34

7.79B

/ 8,415M
Date
Price
Open
High
Low
Vol
Change
ER
May 26
28.54
28.72

28.92

27.59

9.0M

0.32%

May 25
28.45
28.4

28.59

28.11

4.3M

-1.59%

May 24
28.91
29.31

29.4

28.77

6.6M

-0.76%

May 23
29.13
28.88

29.49

28.85

4.3M

1.04%

May 22
28.83
28.73

29.21

28.37

2.9M

0.35%

May 19
28.73
28.86

28.98

28.28

4.6M

0.77%

May 18
28.51
28.46

28.58

28.07

6.4M

-0.42%

May 17
28.63
28.55

28.77

28

3.4M

1.71%

May 16
28.15
28.94

29.16

28.14

4.9M

-3.16%

May 15
29.07
28.83

29.17

28.83

4.2M

1.36%

May 12
28.68
29.05

29.25

28.49

2.8M

-0.52%

May 11
28.83
28.9

29.02

28.49

3.9M

-1.6%

May 10
29.3
29.89

29.98

29.27

6.0M

-1.21%

May 9
29.66
29.41

30.17

29.23

4.8M

-1.13%

May 8
30
30.29

30.43

29.91

3.3M

1.18%

May 5
29.65
29.31

29.9

29.14

3.9M

4%

May 4
28.51
28.71

28.91

28.47

4.1M

-0.35%

May 3
28.61
28.75

29.02

28.53

4.3M

-2.05%

May 2
29.21
30.28

30.39

28.95

6.8M

-5.29%

May 1
30.84
30.99

31.5

30.82

3.9M

-1.53%

Apr 28
31.32
30.66

31.34

30.41

4.2M

3.06%

Apr 27
30.39
29.24

30.67

29.19

8.3M

3.79%

Apr 26
29.28
29.89

29.95

29.14

5.0M

-1.98%

Apr 25
29.87
30.17

30.3

29.74

3.0M

-2.32%

Apr 24
30.58
30.37

30.77

30.22

3.4M

0.46%

Apr 21
30.44
30.65

30.79

30.32

3.3M

-0.56%

Apr 20
30.61
30.35

30.86

30.11

5.5M

-0.84%

Apr 19
30.87
31.21

31.26

30.75

6.8M

-2.5%

Apr 18
31.66
32.24

32.38

31.65

4.9M

-2.04%

Apr 17
32.32
32.5

32.65

32.11

3.6M

-0.89%

Apr 14
32.61
32.64

32.96

32.45

4.7M

-0.12%

Apr 13
32.65
32.71

32.9

32.54

5.5M

0.15%

Apr 12
32.6
32.51

32.91

32.36

4.5M

0.90%

Apr 11
32.31
32

32.62

31.98

4.0M

1.44%

Apr 10
31.85
31.66

32.08

31.35

2.6M

0.76%

Apr 6
31.61
31.97

32.13

31.49

4.0M

-1.22%

Apr 5
32
32.4

32.54

31.79

4.5M

-1.17%

Apr 4
32.38
33.31

33.33

32.13

5.5M

-1.94%

Apr 3
33.02
32.39

33.2

31.75

7.0M

6.34%

Mar 31
31.05
31

31.3

30.77

2.9M

0.13%

Mar 30
31.01
31.06

31.16

30.81

3.4M

1.11%

Mar 29
30.67
30.59

30.92

30.52

3.4M

1.46%

Mar 28
30.23
29.61

30.43

29.56

3.5M

1.68%

Mar 27
29.73
29.5

29.86

28.99

5.0M

2.62%

Mar 24
28.97
29.14

29.2

28.65

4.5M

-2.19%

Mar 23
29.62
30.26

30.7

29.38

6.2M

-1.3%

Mar 22
30.01
30.59

30.87

29.99

4.7M

-1.38%

Mar 21
30.43
30.08

30.6

30

5.5M

2.39%

Mar 20
29.72
28.98

29.87

28.7

4.3M

3.30%

Mar 17
28.77
29.16

29.32

28.35

6.7M

-1.37%

Mar 16
29.17
28.56

29.85

28.45

6.4M

-0.34%

Mar 15
29.27
30.12

30.21

28.11

11.4M

-7.11%

Mar 14
31.51
32.01

32.76

31.31

5.5M

-1.25%

Mar 13
31.91
32.46

33.16

31.63

6.6M

-4.58%

Mar 10
33.44
33.82

34.28

33.32

3.6M

-0.8%

Mar 9
33.71
34.38

35.08

33.64

4.4M

-1.17%

Mar 8
34.11
34

34.69

33.88

3.4M

-0.29%

Mar 7
34.21
34.94

35.15

34.14

3.7M

-2.56%

Mar 6
35.11
35.15

35.35

34.81

2.9M

-0.54%

Mar 3
35.3
34.39

35.49

34.21

3.3M

0%