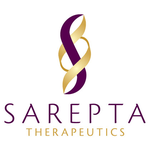 Sarepta Therapeutics Inc.
About
Profile
Sarepta Therapeutics is a U.S. commercial-stage biopharmaceutical company focused on the discovery and development of unique RNA-targeted therapeutics for the treatment of rare neuromuscular diseases.
---
Headquarters
Cambridge, Massachusetts, United States
---
Recent Earnings
Sarepta Therapeutics GAAP EPS of -$0.46 beats by $0.80, revenue of $331.8M beats by $45.03M
The bio-pharmaceutical stock advanced 1.6% after notably outperforming Wall Street expectations in the third quarter. Sarepta said it lost 46 cents per share and saw a revenue of $331.8 million. Meanwhile, Analysts anticipated a much larger loss of $1.22 per share on revenue of $285.3 million.
Available for logged in users only.


The multiple price alert feature will smartly add or remove $1 if your alert was hit.
It's only available if you are logged in, a V.I.P. member or if you are using the AI chrome extension.

Contact us via Twitter if you are interested in trying it out.
Sarepta Therapeutics GAAP EPS of -$0.46 beats by $0.80, revenue of $331.8M beats by $45.03M
Sarepta Therapeutics Q3 2023 Earnings Preview
Biggest stock movers today: Caterpillar, Arista Networks, BP, Pinterest and more
Sarepta in selloff after late-stage setback for Duchenne candidate
5 stocks to watch on Tuesday: Sarepta Therapeutics, Pfizer, AMD and more
Sarepta Phase 3 study for DMD drug fails to meet primary endpoint
Mizuho doesn't see Sarepta price decline connected to EMBARK study
Sarepta Therapeutics Non-GAAP EPS of -$0.85 beats by $0.15, revenue of $261.2M beats by $5.36M
Sarepta Therapeutics Q2 2023 Earnings Preview
Acumen, BridgeBio, Arcus among BTIG's top healthcare picks for 2H 2023
Catalyst Watch: CPI, major bank earnings, Amazon Prime Day and CAVA ratings
Sarepta raises $102M from selling priority review voucher
Sarepta down 9% as Duchenne treatment gets narrow population approval
Sarepta Duchenne treatment wins FDA nod, but with smaller population (update)
Regenxbio, UPenn file second patent suit against Sarepta over DMD therapy
Catalyst watch: C3.ai and Salesforce earnings, Knife River debut, Kenvue ratings & Faraday Future event
Hot Stocks: ANF, URBN and PANW rise on earnings; A, XPEV fall on weak outlooks; OCGN slides
Sarepta says FDA needs more time to review muscular dystrophy drug
Billions of dollars at stake as FDA shortcut allows half-proven drugs - report
Argenx, Blueprint Medicines, Sarepta likely M&A targets - analyst
Recent Earnings
Sarepta Therapeutics GAAP EPS of -$0.46 beats by $0.80, revenue of $331.8M beats by $45.03M
Earnings History
Date
EPS / Forecast
Revenue / Forecast
October 27, 2021

-

/ -1.83

-

/ 171.36M
August 4, 2021

-1.02

/ -1.3

164.09M

/ 167.07M
May 5, 2021

-2.1

/ -1.83

146.93M

/ 145.81M
Beat!

March 1, 2021

-2.4

/ -1.8

145.14M

/ 150.38M
November 5, 2020

-2.5

/ -1.71

143.92M

/ 137.76M
Beat!

August 5, 2020

-1.93

/ -1.72

137.36M

/ 116.29M
Beat!

May 6, 2020

-0.23

/ -1.92

113.67M

/ 116.49M
February 26, 2020

-3.16

/ -1.81

100.11M

/ 98.8M
Beat!

November 7, 2019

-1.7

/ -1.35

99.04M

/ 98.48M
Beat!

August 7, 2019

-3.74

/ -1.07

94.67M

/ 91.05M
Beat!

May 8, 2019

-1.07

/ -1.61

87.01M

/ 86.6M
Beat!

February 27, 2019

-2.05

/ -1.02

84.42M

/ 84.92M
October 24, 2018

-1.15

/ -0.78

78.49M

/ 78.75M
August 8, 2018

-1.67

/ -0.84

73.53M

/ 71.4M
Beat!

May 3, 2018

-0.55

/ -0.32

64.6M

/ 65.09M
February 26, 2018

-

/ -0.32

-

/ 55.57M
October 25, 2017

-0.76

/ -0.85

45.95M

/ 40.77M
Beat!

July 19, 2017

-0.46

/ -0.77

35.01M

/ 22.38M
Beat!

April 27, 2017

-0.71

/ -0.81

16.34M

/ -
Beat!

February 28, 2017

-0.71

/ -0.45

5.42M

/ 46.83M
October 27, 2016

-1.18

/ -0.52

-

/ 3.08M
Date
Price
Open
High
Low
Vol
Change
Dec 4
86.12
84.38

86.94

84

1.3M

1.99%

Dec 1
84.44
81.28

84.5

78.67

1.3M

3.89%

Nov 30
81.28
81.01

81.9

80.22

1.3M

1.09%

Nov 29
80.4
82.72

83.5

80.14

1.1M

-2.68%

Nov 28
82.61
81.97

82.9

81.6

928K

0.04%

Nov 27
82.58
82.5

84.04

81.64

651K

-0.35%

Nov 24
82.87
83.83

84.23

82.28

395K

-1.07%

Nov 22
83.77
84.42

85.23

82.06

607K

-0.37%

Nov 21
84.08
85.03

85.4

83.42

1.0M

1.23%

Nov 20
83.06
83

85.94

82.62

1.4M

-0.11%

Nov 17
83.15
82.98

85.5

82.77

1.4M

0.20%

Nov 16
82.98
83.08

83.43

81.18

1.4M

-0.93%

Nov 15
83.76
81.77

84.71

81.46

1.2M

1.53%

Nov 14
82.5
81.93

82.56

80.68

1.7M

3.55%

Nov 13
79.67
79.74

80.3

76.61

883K

0.28%

Nov 10
79.45
78.81

79.66

76.25

1.3M

0.38%

Nov 9
79.15
79.88

80.25

75.85

2.1M

-1.91%

Nov 8
80.69
82.93

83.47

80.4

1.1M

-2.7%

Nov 7
82.93
80.62

84.19

80.62

2.2M

3.53%

Nov 6
80.1
81.5

83.11

79.66

2.6M

2.68%

Nov 3
78.01
78.42

81.27

77.8

2.3M

0.32%

Nov 2
77.76
79.43

82.22

75.69

3.7M

1.62%

Nov 1
76.52
68.4

76.77

68

6.8M

13.68%

Oct 31
67.31
57.63

68

55.25

23.5M

-37.47%

Oct 30
107.65
107.95

109.96

106.92

742K

0.77%

Oct 27
106.83
111.9

111.9

106.05

929K

-4.27%

Oct 26
111.6
107.39

112.23

105.92

1.1M

4.07%

Oct 25
107.24
112.39

112.66

106.52

1.1M

-5.45%

Oct 24
113.42
111.63

113.95

110.72

827K

1.81%

Oct 23
111.4
111

113.42

109.78

869K

0.18%

Oct 20
111.2
113.18

113.96

111

1.0M

-1.59%

Oct 19
113
114.55

114.99

111.78

743K

-0.72%

Oct 18
113.82
118.32

118.32

112.77

938K

-4.07%

Oct 17
118.65
117

119.99

116.57

710K

0.94%

Oct 16
117.55
117.75

119.06

116.44

651K

-0.35%

Oct 13
117.96
116.7

118.73

114.12

780K

0.64%

Oct 12
117.21
125

125

116.82

1.1M

-6.05%

Oct 11
124.76
122.9

124.85

122.4

782K

1.55%

Oct 10
122.86
123.4

124.01

121.5

1.4M

-0.46%

Oct 9
123.43
122.97

124.1

121.12

1.0M

-0.41%

Oct 6
123.94
120.79

124.16

119.85

879K

2.08%

Oct 5
121.41
117.89

122.65

117

1.1M

3.06%

Oct 4
117.81
119.99

120.63

116.82

1.3M

-2.19%

Oct 3
120.45
117.97

121.07

117.71

916K

1.57%

Oct 2
118.59
120.4

121.67

118.09

917K

-2.17%

Sep 29
121.22
124

124.1

120.84

782K

-1.92%

Sep 28
123.59
122.94

124.51

121.31

937K

0.12%

Sep 27
123.44
120.52

124.15

119.34

858K

3.37%

Sep 26
119.41
114.92

119.94

114.92

805K

4.07%

Sep 25
114.74
120

120.3

110.56

1.7M

-4.33%

Sep 22
119.93
120

121.82

119.65

553K

0.32%

Sep 21
119.55
117.32

119.79

117.27

828K

1.34%

Sep 20
117.97
118.85

118.85

117.41

721K

-0.96%

Sep 19
119.11
118.66

120.11

118.1

727K

0.90%

Sep 18
118.05
117.79

118.65

116.98

705K

-0.3%

Sep 15
118.4
119.4

120.05

117.4

1.0M

-1.1%

Sep 14
119.72
119.47

120.48

119

629K

0.62%

Sep 13
118.98
119.69

120.53

118.03

536K

-0.73%

Sep 12
119.85
118.03

120.79

117.88

642K

1.22%

Sep 11
118.4
120.05

120.63

118.22

801K

0%