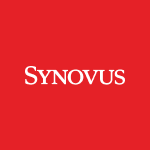 Synovus Financial Corp.
About
Profile
---
Headquarters
Columbus, Georgia, United States
---
Available for logged in users only.


The multiple price alert feature will smartly add or remove $1 if your alert was hit.
It's only available if you are logged in, a V.I.P. member or if you are using the AI chrome extension.

Contact us via Twitter if you are interested in trying it out.
Synovus Non-GAAP EPS of $1.33 beats by $0.10, revenue of $613.88M beats by $24.48M
Synovus Q1 2023 Earnings Preview
Citizens Financial, Fifth Third among oversold regional bank stocks set to rebound: CFRA
Federal Reserve's balance sheet implies liquidity stress is stabilizing, UBS says
Midsize banks press FDIC to insure all deposits over next two years - Bloomberg
UBS awards Western Alliance as its top buy among 19 regional banks buy, sell, hold initiations
Synovus raises quarterly dividend by 11.8% to $0.38/share
Synovus Q4 earnings in line with expectations as higher rates continue to drive NII
Synovus Non-GAAP EPS of $1.35 misses by $0.01, revenue of $603.79M beats by $1.71M
Synovus Q4 2022 Earnings Preview
Synovus declares $0.34 dividend
Synovus Q3 earnings tops consensus on loan growth, margin expansion
Synovus Non-GAAP EPS of $1.34 beats by $0.06, revenue of $583.19M beats by $12.67M
Synovus Q3 2022 Earnings Preview
BofA screens for dividends that are secure, not stretched
Synovus declares $0.34 dividend
Wall Street consensus on bank deposits likely too high in QT environment, Evercore says
Synovus Financial prices $350M in senior notes offering
Synovus Financial to raise capital in senior notes offering
Synovus Non-GAAP EPS of $1.17 beats by $0.07, revenue of $522.65M beats by $4.01M