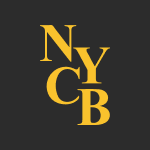 New York Community Bancorp, Inc.
Recent Earnings
New York Community Bancorp Non-GAAP EPS of $0.23 beats by $0.02, revenue of $2.65B
Available for logged in users only.


The multiple price alert feature will smartly add or remove $1 if your alert was hit.
It's only available if you are logged in, a V.I.P. member or if you are using the AI chrome extension.

Contact us via Twitter if you are interested in trying it out.
New York Community Bancorp Non-GAAP EPS of $0.23 beats by $0.02, revenue of $2.65B
Black Knight ticks higher as Einhorn's Greenlight sees 75% chance of ICE deal closed (update)
New York Community Bancorp Q1 2023 Earnings Preview
Western Alliance, other hard-hit regional lenders added to Wedbush Best Ideas List
New York Community Bancorp upgraded to Buy at Jefferies on Signature deal
Columbia Banking stock gaps up after boost to Outperform at KBW
Credit Suisse stock plunged, NY Community Bancorp soared: week in financials
Regional banks lead U.S. banks higher after European banks pare decline
New York Community Bancorp raised to Buy at DA Davidson on Signature deal
Hot Stocks: Bank stocks rise; NYCB jumps 32%; FRC plunges on S&P downgrade; CGC hits 52-week low
New York Community Bancorp shines with 30% gain on multiple analyst upgrades amid Signature deal
NY Community Bancorp unit agrees to buy Signature Bank deposits, some loans
New York Community Bancorp pursuing acquisition of Signature Bank - report
UBS awards Western Alliance as its top buy among 19 regional banks buy, sell, hold initiations
UBS starts coverage of 19 mid-cap banks with "relatively cautious" view
Stablecoin issuer Circle held some USDC cash reserves at embattled SVB Financial
New York Community Bancorp rises as 2023 margin expected to be above 2022 levels
New York Community Bancorp Q4 revenue climbs, mortgage business restructures
New York Community Bancorp Non-GAAP EPS of $0.25 misses by $0.01, revenue of $577M beats by $167.46M
New York Community Bancorp Q4 2022 Earnings Preview
Recent Earnings
New York Community Bancorp Non-GAAP EPS of $0.23 beats by $0.02, revenue of $2.65B