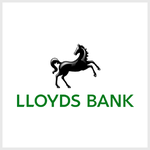 Lloyds Banking Group plc
About
Profile
---
Headquarters
London, United Kingdom
---
Available for logged in users only.


The multiple price alert feature will smartly add or remove $1 if your alert was hit.
It's only available if you are logged in, a V.I.P. member or if you are using the AI chrome extension.

Contact us via Twitter if you are interested in trying it out.
Lloyds Banking reports Q4 earnings; initiates FY23 and updates 2024 and 2026 guidance
Lloyds Banking FY 2022 Earnings Preview
Catalyst watch: Eyes on Virgin Galactic, Monster Beverage, Procter & Gamble and Netflix
U.K., European bank stocks swoon after Bank of England seeks to calm markets
WKHS, BTU and LYG are among pre market gainers
Lloyds Banking goes ex dividend tomorrow
Lloyds Banking Group raises 2022 guidance after strong Q2 results
Lloyds Banking Non-GAAP EPS of £0.037, Net interest income of £6.14B
HSBC, Lloyds Banking, Standard Chartered 'living wills' have shortcomings, BOE says
European bank stocks gain after Lagarde sees positive rates possible at Q3 end
Morgan Stanley-backed Thought Machine raises new funds at $2.7B valuation
Lloyds Banking goes ex-dividend tomorrow
U.K. consumers handling credit card spending 'relatively well', Fair Issac says
Citigroup, Bank of America among financial stocks sliding amid Ukraine invasion
Financial stocks swoon, cryptos shudder as Russia moves into Ukraine
Lloyds Banking GAAP EPS of 7.50p; plans buyback and fresh strategy
Lagarde justifies slower ECB normalization pace as wages aren't 'way up'
Lloyds Banking goes ex-dividend tomorrow
Lloyd Banking Group enters private residential rental market
Jones Lang LaSalle appoints Kylie Kendrick as COO
Earnings History
Date
EPS / Forecast
Revenue / Forecast
February 24, 2022

0.0704

/ 0.071

5.47B

/ 5.36B
Beat!

October 28, 2021

0.1104

/ 0.0744

5.63B

/ 5.27B
Beat!

July 29, 2021

0.1571

/ 0.1299

5.45B

/ 5.35B
Beat!

April 28, 2021

0.0282

/ 0.0701

5.1B

/ 5.08B
Beat!

February 24, 2021

0.0735

/ 0.0791

5.07B

/ 4.93B
Beat!

October 29, 2020

0.0412

/ 0.0323

4.38B

/ 4.71B
July 30, 2020

-0.0619

/ -0.03

4.51B

/ 4.67B
April 30, 2020

0.0316

/ 0.05

4.98B

/ 5.12B
February 20, 2020

0.0795

/ 0.07

5.72B

/ 5.69B
Beat!

Date
Price
Open
High
Low
Vol
ER
Apr 29
2.230
2.270

2.300

2.230

18.93M
Apr 28
2.310
2.290

2.320

2.240

17.44M
Apr 27
2.290
2.260

2.310

2.233

15.88M
Apr 26
2.270
2.325

2.350

2.260

17.35M
Apr 25
2.330
2.320

2.330

2.260

17.75M
Apr 22
2.320
2.350

2.350

2.300

11.14M
Apr 21
2.370
2.420

2.430

2.370

8.37M
Apr 20
2.390
2.390

2.417

2.360

7.67M
Apr 19
2.340
2.320

2.350

2.310

10.09M
Apr 18
2.320
2.330

2.340

2.300

4.70M
Apr 14
2.320
2.320

2.330

2.300

7.62M
Apr 13
2.300
2.250

2.300

2.250

8.03M
Apr 12
2.250
2.290

2.310

2.240

12.42M
Apr 11
2.300
2.310

2.340

2.300

10.79M
Apr 8
2.290
2.290

2.300

2.270

10.10M
Apr 7
2.300
2.310

2.320

2.270

16.46M
Apr 6
2.320
2.340

2.350

2.300

11.23M
Apr 5
2.370
2.380

2.390

2.350

13.33M
Apr 4
2.440
2.430

2.460

2.414

9.63M
Apr 1
2.460
2.460

2.475

2.430

7.52M
Mar 31
2.410
2.450

2.460

2.400

7.34M
Mar 30
2.480
2.530

2.530

2.480

8.35M