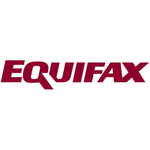 Equifax, Inc.
About
Profile
Equifax is a global information solutions company that uses unique data, innovative analytics, technology and industry expertise to power organizations and individuals around the world by transforming knowledge into insights that help make more informed b
---
Headquarters
---
Available for logged in users only.


The multiple price alert feature will smartly add or remove $1 if your alert was hit.
It's only available if you are logged in, a V.I.P. member or if you are using the AI chrome extension.

Contact us via Twitter if you are interested in trying it out.
Equifax GAAP EPS of $0.91 misses by $0.09, revenue of $1.3B beats by $20M
Equifax Q1 2023 Earnings Preview
Equifax launches OneScore to help expand access to credit
Sleep-at-night stocks for those hedging or risk averse
Narrative partners with Equifax for customization of financial datasets
Stephen Mandel's Lone Pine exits Meta, PayPal in Q4, takes stakes in AMD, Salesforce
Equifax agrees to acquire Brazil's Boa Vista Serviços in deal valued at $596M
Equifax GAAP EPS of $0.88 misses by $0.20, revenue of $1.2B beats by $20M
Equifax Q4 2022 Earnings Preview
Equifax declares $0.39 dividend
Equifax acquires The Food Industry Credit Bureau
Goldman picks 50 top return-on-equity stocks for a tough ROE year
Equifax makes R$8/share bid to acquire Boa Vista Serviços
Mastercard, Square, Equifax among fintechs in Canadian lobbying group
Equifax declares $0.39 dividend
FHFA ends some upfront fees at Fannie Mae, Freddie Mac, revises credit score models
Equifax downgraded at RBC on mortgage, FX headwinds, but Truist stays bullish
Equifax cuts year EPS guidance as housing cooldown hits Mortgage Solutions revenue
Equifax GAAP EPS of $1.34 beats by $0.03, revenue of $1.24B beats by $20M
Equifax Q3 2022 Earnings Preview
Earnings History
Date
EPS / Forecast
Revenue / Forecast
February 9, 2022

1.84

/ 1.81

1.25B

/ 1.25B
October 20, 2021

1.85

/ 1.73

1.22B

/ 1.18B
Beat!

July 21, 2021

1.98

/ 1.71

1.23B

/ 1.16B
Beat!

April 21, 2021

1.97

/ 1.52

1.21B

/ 1.12B
Beat!

February 10, 2021

2

/ 1.83

1.12B

/ 1.08B
Beat!

October 21, 2020

1.87

/ 1.6

1.07B

/ 1B
Beat!

July 22, 2020

1.6

/ 1.3

982.8M

/ 922.55M
Beat!

April 20, 2020

1.4

/ 1.29

957.9M

/ 911.7M
Beat!

February 12, 2020

1.53

/ 1.49

905.8M

/ 896.44M
Beat!

October 23, 2019

1.48

/ 1.45

875.7M

/ 873.13M
Beat!

July 24, 2019

1.4

/ 1.36

880M

/ 873.63M
Beat!

May 10, 2019

1.2

/ 1.2

846.1M

/ 848.38M
February 20, 2019

1.38

/ 1.32

835.3M

/ 839.94M
October 24, 2018

1.41

/ 1.42

834.2M

/ 856.93M
Date
Price
Open
High
Low
Vol
Change
ER
Sep 14
199.7
198.24

200.32

197.24

420K

1.25%

Sep 13
197.24
197.39

198.03

195.89

683K

-0.14%

Sep 12
197.51
197.62

198.52

196.92

725K

-0.25%

Sep 11
198.01
197.28

198.81

196.91

836K

0.74%

Sep 8
196.56
201

202.37

195.96

563K

-2.44%

Sep 7
201.48
202.83

204.1

201.37

514K

-1.33%

Sep 6
204.19
204.15

206.74

203.91

559K

0.06%

Sep 5
204.06
205.45

207.02

203.82

411K

-1.34%

Sep 1
206.83
207.57

209.24

205.99

435K

0.06%

Aug 31
206.7
208

209.07

206.69

437K

-0.39%

Aug 30
207.51
205.57

207.86

204.66

429K

1.02%

Aug 29
205.42
199.98

206.32

199.19

610K

2.77%

Aug 28
199.88
198.75

200.8

198.1

487K

0.96%

Aug 25
197.98
197.78

198.91

196.47

1.2M

0.78%

Aug 24
196.44
197.59

198.85

196.07

1.3M

0.11%

Aug 23
196.23
193.01

197.34

192.74

818K

2.25%

Aug 22
191.91
191.81

192.22

190.57

1.4M

0.10%

Aug 21
191.71
192.35

192.51

190.08

650K

-0.23%

Aug 18
192.16
189.65

192.33

188.88

640K

0.70%

Aug 17
190.83
193.46

193.55

190.03

544K

-1.3%

Aug 16
193.35
192.84

195.45

192.84

524K

-0.04%

Aug 15
193.43
195.08

196.17

192.5

783K

-1.67%

Aug 14
196.72
196.58

197.84

195.64

605K

-0.3%

Aug 11
197.31
196.52

198.45

195.86

421K

-0.5%

Aug 10
198.31
198.13

200.76

197.24

385K

0.01%

Aug 9
198.29
199.25

199.3

196.87

688K

-0.44%

Aug 8
199.17
196.56

199.23

196.21

843K

0.57%

Aug 7
198.05
197.84

199.38

196.88

1.1M

0.17%

Aug 4
197.71
197.26

199.9

196.23

844K

0.30%

Aug 3
197.11
200.01

200.75

196.53

1.2M

-2.28%

Aug 2
201.7
201.03

202.66

199.01

1.5M

-0.25%

Aug 1
202.21
202.51

203.53

201.9

1.3M

-0.92%

Jul 31
204.08
203.64

205.18

201.92

980K

0.65%

Jul 28
202.77
203

203.68

201.25

1.5M

-0.04%

Jul 27
202.86
205.4

205.99

200.65

2.2M

-0.31%

Jul 26
203.5
207.26

207.38

202.16

1.9M

-2.16%

Jul 25
207.99
206.54

209.87

206.31

1.8M

0.70%

Jul 24
206.55
209.49

211.55

205.99

2.2M

-2.73%

Jul 21
212.35
215.88

216.72

212.29

1.3M

-1.86%

Jul 20
216.37
222.5

223.37

210.94

3.4M

-8.89%

Jul 19
237.49
237.66

240.35

237.43

808K

-0.13%

Jul 18
237.81
237

239.3

236.12

1.0M

0.28%

Jul 17
237.14
236.06

240.33

235.16

787K

0.26%

Jul 14
236.52
233.01

237.14

232.7

649K

1.45%

Jul 13
233.15
232.39

234.5

232.28

642K

0.59%

Jul 12
231.79
235.61

236.63

230.51

690K

0.32%

Jul 11
231.04
228.8

231.64

227.3

662K

0.83%

Jul 10
229.13
225.33

229.65

225.33

625K

1.56%

Jul 7
225.61
223.99

228.04

223.64

434K

0.28%

Jul 6
224.97
228.97

228.97

223.1

730K

-2.73%

Jul 5
231.28
228.15

231.74

225.79

650K

0.94%

Jul 3
229.13
232.69

232.69

227.97

1.0M

-2.62%

Jun 30
235.3
236.09

238

235.21

992K

0.37%

Jun 29
234.44
232.3

234.76

232.2

490K

0.78%

Jun 28
232.63
228.05

232.7

227.43

768K

1.70%

Jun 27
228.74
226.3

229.68

223.63

663K

2.05%

Jun 26
224.15
223.83

226.51

223.55

787K

0.05%

Jun 23
224.03
224.79

226.47

223.37

1.8M

-1.07%

Jun 22
226.45
228.22

230.1

225.58

445K

-1.01%

Jun 21
228.76
226.48

229.93

226.37

592K

0%