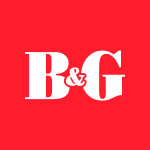 B&G Foods, Inc.
About
Profile
---
Headquarters
Parsippany-Troy Hills, New Jersey, United States
---
Recent Earnings
B&G Foods Non-GAAP EPS of $0.27 beats by $0.01, revenue of $511.8M misses by $16.37M
Available for logged in users only.


The multiple price alert feature will smartly add or remove $1 if your alert was hit.
It's only available if you are logged in, a V.I.P. member or if you are using the AI chrome extension.

Contact us via Twitter if you are interested in trying it out.
B&G Foods Non-GAAP EPS of $0.27 beats by $0.01, revenue of $511.8M misses by $16.37M
B&G Foods Q1 2023 Earnings Preview
B&G Foods stock soars 15% on big bottom line beat
B&G Foods Non-GAAP EPS of $0.40 beats by $0.18, revenue of $623.2M beats by $39.34M
B&G Foods declares $0.19 dividend
B&G Foods Q4 2022 Earnings Preview
The rally with many consumer staples stocks may not be over yet
B&G Foods to sell Back to Nature snack brand to Barilla America
B&G Foods declares $0.19 dividend
B&G Foods Non-GAAP EPS of $0.31 misses by $0.02, revenue of $528.4M misses by $4.86M
B&G Foods Q3 2022 Earnings Preview
Packaged food stocks gain as investors eye General Mills earnings, dividend-paying names
B&G Foods stock slides as inflationary pressure hurt Q2 earnings
B&G Foods Non-GAAP EPS of $0.07 misses by $0.17, revenue of $479M misses by $1.51M
B&G Foods Q2 2022 Earnings Preview
B&G Foods declares $0.475 dividend
Riskiest defensive stocks as a recession looms
B&G Foods is broken down by Evercore ISI after leveraging move
B&G Foods says it will temporarily increase maximum leverage ratio amid the inflation backdrop
Food stocks look appetizing to investors as market continues to wobble
Recent Earnings
B&G Foods Non-GAAP EPS of $0.27 beats by $0.01, revenue of $511.8M misses by $16.37M
Earnings History
Date
EPS / Forecast
Revenue / Forecast
November 4, 2021

0.55

/ 0.5633

514.97M

/ 491.93M
Beat!

August 5, 2021

0.41

/ 0.49

464.38M

/ 448.12M
Beat!

May 11, 2021

0.52

/ 0.5544

505.13M

/ 524.63M
March 2, 2021

0.35

/ 0.4418

510.24M

/ 531.12M
November 5, 2020

0.74

/ 0.663

495.8M

/ 461.85M
Beat!

July 30, 2020

0.71

/ 0.6

512.54M

/ 501.95M
Beat!

May 5, 2020

0.46

/ 0.48

449.37M

/ 441.19M
Beat!

February 25, 2020

0.28

/ 0.28

470.17M

/ 467.66M
Beat!

October 31, 2019

0.54

/ 0.57

406.31M

/ 404.52M
Beat!

August 1, 2019

0.38

/ 0.35

371.2M

/ 370.24M
Beat!

May 2, 2019

0.44

/ 0.49

412.73M

/ 406.04M
Beat!

February 26, 2019

0.34

/ 0.5

458.06M

/ 463.44M
October 30, 2018

0.57

/ 0.57

422.6M

/ 427.6M
February 14, 2018

-

/ 0.56

-

/ 481.6M
October 31, 2017

0.55

/ 0.47

408.4M

/ 391.1M
Beat!

August 3, 2017

0.41

/ 0.48

368.1M

/ 377.1M
May 4, 2017

0.58

/ 0.49

417.9M

/ -
Beat!

February 23, 2017

0.29

/ 0.58

413.7M

/ 410.5M
Beat!

October 27, 2016

0.56

/ 0.39

318.3M

/ 334.3M
Date
Price
Open
High
Low
Vol
Change
ER
Mar 4
29.24
29.82

30.69

29.07

1.80M

-2.95%

Mar 3
30.13
29.22

30.15

29.02

1.16M

2.83%

Mar 2
29.30
29.00

29.72

28.49

1.62M

-0.03%

Mar 1
29.31
29.50

29.75

28.51

2.37M

-0.98%

Feb 28
29.60
30.44

30.45

29.31

1.84M

-3.52%

Feb 25
30.68
30.61

31.09

30.45

739.67K

0.76%

Feb 24
30.45
30.51

30.90

29.69

954.62K

-1.65%

Feb 23
30.96
31.48

31.58

30.83

700.81K

-1.37%

Feb 22
31.39
31.39

31.62

30.93

1.52M

-0.03%

Feb 18
31.40
31.24

31.66

31.09

583.46K

0.67%

Feb 17
31.19
30.99

31.25

30.75

692.36K

0.61%

Feb 16
31.00
30.87

31.22

30.64

341.89K

0.10%

Feb 15
30.97
30.80

31.17

30.65

284.12K

0.45%

Feb 14
30.83
31.07

31.22

30.22

571.34K

-0.42%

Feb 11
30.96
30.28

31.04

30.14

586.51K

2.48%

Feb 10
30.21
30.41

30.76

30.14

605.00K

-0.72%

Feb 9
30.43
30.60

30.78

30.25

981.58K

0.13%

Feb 8
30.39
30.45

30.65

30.25

694.98K

-0.16%

Feb 7
30.44
30.60

30.81

30.32

525.38K

-0.75%