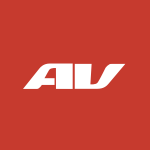 AeroVironment, Inc.
About
Profile
AeroVironment is a technology solutions provider that designs, develops, produces and supports an advanced portfolio of unmanned aircraft systems (UAS).
---
Headquarters
Monrovia, California, United States
---
Recent Earnings
AeroVironment Non-GAAP EPS of $0.97 beats by $0.36, revenue of $180.8M beats by $10.31M
Available for logged in users only.


The multiple price alert feature will smartly add or remove $1 if your alert was hit.
It's only available if you are logged in, a V.I.P. member or if you are using the AI chrome extension.

Contact us via Twitter if you are interested in trying it out.
AeroVironment raises revenue guidance, trims backlog
AeroVironment Non-GAAP EPS of $0.97 beats by $0.36, revenue of $180.8M beats by $10.31M
AeroVironment Q2 2024 Earnings Preview
AeroVironment rises 5.6% for weekly gain; Boeing slips
AeroVironment downgraded to Outperform at Raymond James
AeroVironment upgraded to Outperform at Baird; shares hit 29-month high
Biggest stock movers today: AMC Entertainment, Roku, Enbridge, AeroVironment and more
AeroVironment's shares jump on improved profit outlook
AeroVironment Non-GAAP EPS of $1.00 beats by $0.70, revenue of $152.35M beats by $21.35M
AeroVironment to acquire Tomahawk Robotics for $120M
U.S. said to plan $1.3B military aid package for Ukraine
Defense and weapon stocks in focus as Biden heads to NATO summit
AeroVironment rises after drone-maker's Q4 results beat estimates
AeroVironment Non-GAAP EPS of $0.99 misses by $0.01, revenue of $186.02M beats by $20.77M
Notable earnings after Tuesday's close
AeroVironment FQ4 2023 Earnings Preview
Airbus rated Sector Perform in new coverage by RBC Capital
AeroVironment rated Buy in new coverage at Jefferies
AeroVironment plunges after U.S. Army drops from drone competition
AeroVironment bags $10M contract for two helicopters for Mars sample recovery
Recent Earnings
AeroVironment Non-GAAP EPS of $0.97 beats by $0.36, revenue of $180.8M beats by $10.31M
Earnings History
Date
EPS / Forecast
Revenue / Forecast
December 7, 2021

-

/ 0.6229

-

/ 130.83M
September 8, 2021

-0.17

/ -0.2412

101M

/ 97.34M
Beat!

June 29, 2021

1.04

/ 0.8117

136.02M

/ 147.19M
March 9, 2021

0.14

/ 0.0033

78.78M

/ 75.46M
Beat!

December 8, 2020

0.48

/ 0.3083

92.67M

/ 81.76M
Beat!

September 9, 2020

0.44

/ 0.4

87.45M

/ 80.48M
Beat!

June 23, 2020

0.75

/ 0.69

135.22M

/ 122.97M
Beat!

March 3, 2020

-0.01

/ 0.17

61.89M

/ 68.82M
December 3, 2019

0.34

/ 0.29

83.27M

/ 81.01M
Beat!

September 4, 2019

0.71

/ 0.36

86.91M

/ 85.16M
Beat!

June 25, 2019

0.26

/ 0.26

87.93M

/ 82.44M
Beat!

March 5, 2019

0.35

/ 0.14

75.32M

/ 75.25M
Beat!

November 30, 2018

0.29

/ 0.16

72.98M

/ 74.54M
September 5, 2018

0.85

/ 0.28

78.04M

/ 73.65M
Beat!

June 26, 2018

0.77

/ 0.56

117.38M

/ 116.16M
Beat!

March 6, 2018

0.09

/ 0.02

63.94M

/ 62.45M
Beat!

December 5, 2017

0.29

/ -0.05

73.83M

/ 52.19M
Beat!

August 29, 2017

-0.19

/ -0.34

43.76M

/ 37.81M
Beat!

June 27, 2017

-

/ 1.03

125.4M

/ 122.9M
Beat!

March 7, 2017

-0.09

/ 1.03

53.16M

/ -
Beat!

December 6, 2016

-0.18

/ -0.34

50.12M

/ 57.74M
Date
Price
Open
High
Low
Vol
Change
Dec 7
123.93
127.01

127.74

122.5

603K

-2.33%

Dec 6
126.89
132.96

134.13

124.38

1.6M

-10.15%

Dec 5
141.23
140.15

143.6

138.62

628K

0.77%

Dec 4
140.15
141.15

143.99

138.44

457K

0.31%

Dec 1
139.71
137.1

139.87

136.52

220K

1.53%

Nov 30
137.61
137.94

139.88

135.55

210K

2.09%

Nov 29
134.79
137.76

137.76

134.01

254K

-0.57%

Nov 28
135.56
134.7

135.66

133

268K

0.86%

Nov 27
134.41
134.17

135.05

132.94

208K

0.78%

Nov 24
133.37
131.5

134.34

131.2

110K

2.04%

Nov 22
130.7
129.32

131.55

128.7

220K

1.46%

Nov 21
128.82
128.01

129.32

127.69

118K

0.38%

Nov 20
128.33
125.45

131.62

125.01

350K

2.65%

Nov 17
125.02
127.36

127.5

124.09

278K

-1%

Nov 16
126.28
127.84

128.21

125

161K

-1.67%

Nov 15
128.42
129.8

129.89

127.46

224K

-0.61%

Nov 14
129.21
127.26

129.75

126.65

239K

2.63%

Nov 13
125.9
122.24

128.14

122.24

303K

3.54%

Nov 10
121.59
121.45

122.93

120.16

168K

1.01%

Nov 9
120.38
123.6

124.03

118.53

208K

-2.49%

Nov 8
123.46
122.75

127.96

121.27

444K

1.45%

Nov 7
121.69
118.67

121.74

117.84

174K

2.45%

Nov 6
118.78
119.69

120.71

118.14

139K

-0.87%

Nov 3
119.82
120.28

122.25

118.8

167K

0.89%

Nov 2
118.76
117.84

119.17

117.05

137K

1.58%

Nov 1
116.91
115.47

117.75

114.86

191K

1.96%

Oct 31
114.66
113.74

115.5

112.67

154K

1.42%

Oct 30
113.06
115.12

116.21

112.28

192K

-0.76%

Oct 27
113.93
114.97

115.53

112.59

204K

-0.62%

Oct 26
114.64
121.38

121.65

113.96

299K

-5.18%

Oct 25
120.9
119.03

123.35

119.03

379K

2%

Oct 24
118.53
117.58

122

117.58

260K

0.96%

Oct 23
117.4
116.61

119.65

116.22

273K

0.45%

Oct 20
116.87
117.71

118.35

115.99

318K

-0.52%

Oct 19
117.48
116.44

118.56

114.74

263K

1.07%

Oct 18
116.24
115.05

118.17

114.46

244K

0.40%

Oct 17
115.78
115.82

120.45

115.05

395K

0.44%

Oct 16
115.27
111.85

116.92

111.39

383K

3.36%

Oct 13
111.52
114.8

115.34

109.68

550K

5.55%

Oct 12
105.66
108.48

108.48

104.77

198K

-2.22%

Oct 11
108.06
109.47

110.5

106.77

204K

-0.73%

Oct 10
108.85
109.4

110.26

108.3

194K

-0.07%

Oct 9
108.93
107.86

110.58

105.59

563K

3.72%

Oct 6
105.02
105

106.25

104.67

125K

-0.9%

Oct 5
105.97
107.2

107.57

105.82

169K

-1.14%

Oct 4
107.19
107.06

108.07

105.61

117K

0.12%

Oct 3
107.06
108.7

109.64

105.95

168K

-1.83%

Oct 2
109.06
111.43

112.87

108.71

280K

-2.21%

Sep 29
111.53
110.25

112.99

110.25

279K

1.29%

Sep 28
110.11
110

111.07

109.04

237K

-0.05%

Sep 27
110.16
111.33

112.66

110.01

134K

-0.67%

Sep 26
110.9
111.28

112.96

110.25

208K

-1.06%

Sep 25
112.09
111.83

113

111.36

103K

-0.21%

Sep 22
112.33
111.35

113.47

111.24

186K

0.88%

Sep 21
111.35
111.27

112.02

110.08

177K

-0.85%

Sep 20
112.3
112.5

113.67

111.86

149K

0.38%

Sep 19
111.87
112.28

113.8

111.46

203K

-0.12%

Sep 18
112
110.84

113.45

110.59

252K

0.56%

Sep 15
111.38
111.09

111.43

109.68

529K

0.19%

Sep 14
111.17
112.18

112.46

110.45

223K

0%