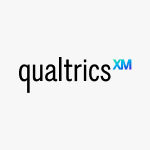 Qualtrics International
About
Profile
---
Headquarters
Provo, Utah, United States
---
Available for logged in users only.


The multiple price alert feature will smartly add or remove $1 if your alert was hit.
It's only available if you are logged in, a V.I.P. member or if you are using the AI chrome extension.

Contact us via Twitter if you are interested in trying it out.
Qualtrics International Non-GAAP EPS of $0.03 beats by $0.01, revenue of $389.09M beats by $7.97M
Qualtrics International Q4 2022 Earnings Preview
UserTesting has low odds of another bidder emerging - analyst
Qualtrics stock rises on raised FY22 outlook as Q3 revenue soar 39%
Qualtrics International Non-GAAP EPS of $0.04 beats by $0.06, revenue of $377.5M beats by $18.81M, raises FY22 guidance
Qualtrics International Q3 2022 Earnings Preview
Qualtrics International trades low on guiding FY revenue below consensus
Qualtrics International reports mixed Q2, updates FY rev, non-GAAP EPS guidance
Qualtrics International Q2 2022 Earnings Preview
Freshworks, GoDaddy, ServiceNow among SaaS software price target cut at Morgan Stanley on slowing demand
Qualtrics International stock hits record low on multiple PT cuts after results
Qualtrics International Non-GAAP EPS of $0.01 beats by $0.02, revenue of $335.67M beats by $10.01M
Qualtrics International Q1 consensus EPS estimate down, revenue estimate up
With earnings on tap, SaaS companies see challenges and opportunities
Qualtrics International stock rises 4%; director buys $3.9M shares
Three charts explaining what has happened to SaaS stocks; is a bottom close?
Qualtrics International Non-GAAP EPS of -$0.07 misses by $0.05, revenue of $316.04M beats by $18.39M
Qualtrics International Q4 2021 Earnings Preview
Alteryx, AvidXchange, On24, UserTesting may be M&A targets this year- analyst
Top stocks that may be tax loss selling bargains
Earnings History
Date
EPS / Forecast
Revenue / Forecast
January 26, 2022

-0.07

/ -0.0452

316.04M

/ 297.68M
Beat!

October 20, 2021

0.01

/ -0.018

271.63M

/ 258.16M
Beat!

July 20, 2021

0.04

/ -0.0213

249.35M

/ 241.65M
Beat!

April 21, 2021

0.01

/ -0.0313

238.6M

/ 227.39M
Beat!

March 3, 2021

-0.02

/ -0.0247

213.6M

/ 213.61M
December 30, 2020

-0.01

/ -

181M

/ -
Beat!

November 20, 2020

-0.09

/ -

176.1M

/ -
Beat!

Date
Price
Open
High
Low
Vol
ER
Mar 4
27.27
28.95

29.72

27.24

661.84K
Mar 3
29.26
30.59

30.78

28.97

652.29K
Mar 2
30.45
30.76

30.85

29.48

834.87K
Mar 1
30.69
30.20

31.38

29.96

839.26K
Feb 28
30.33
29.99

30.60

29.20

835.82K
Feb 25
29.70
29.80

30.17

28.88

1.03M
Feb 24
29.85
26.25

30.03

26.07

2.15M
Feb 23
27.66
28.34

28.95

27.48

1.33M
Feb 22
27.81
28.26

28.78

27.56

1.19M
Feb 18
28.74
29.55

29.88

28.27

1.25M
Feb 17
29.44
30.47

30.72

29.12

642.01K
Feb 16
30.95
31.19

31.19

30.30

827.08K
Feb 15
31.41
30.50

31.58

30.50

4.32M
Feb 14
29.83
29.75

31.15

29.52

2.54M
Feb 11
30.09
30.86

31.30

29.92

1.01M
Feb 10
31.13
30.76

32.81

30.46

3.27M
Feb 9
31.51
31.20

31.64

30.58

1.40M
Feb 8
30.78
29.43

30.92

28.77

6.37M
Feb 7
29.49
29.91

30.78

29.08

2.18M
Feb 4
29.95
28.71

30.16

28.42

2.12M