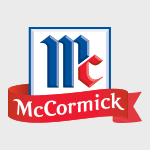 McCormick & Co Inc
About
Profile
We are open and honest in business dealings both inside and outside the company. We serve our customers, consumers, suppliers and communities in accordance with the highest standards of business ethics.
---
Headquarters
Baltimore, Maryland, United States
---
Available for logged in users only.


The multiple price alert feature will smartly add or remove $1 if your alert was hit.
It's only available if you are logged in, a V.I.P. member or if you are using the AI chrome extension.

Contact us via Twitter if you are interested in trying it out.
McCormick stock slips on earnings miss, soft profit guidance
McCormick Non-GAAP EPS of $0.73 misses by $0.14, revenue of $1.69B misses by $80M
McCormick stock slips as JP Morgan cuts earnings estimates
McCormick raises quarterly dividend by 5.4% to $0.39/share
Watch these retail stocks to defy consumer spending worries and outperform
These consumer staples stocks have extra interest rate risk
McCormick & Company notches in-line, reaffirms outlook
McCormick Non-GAAP EPS of $0.69 misses by $0.01, revenue of $1.6B beats by $10M
McCormick Q3 2022 Earnings Preview
Earnings week ahead: Levi Strauss, Constellation Brands, Tilray, Conagra Brands and more
McCormick declares $0.37 dividend
McCormick stock falls over 5% afterhours on guidance cut amid continued macro headwinds
McCormick & Company is cut at Argus due to valuation, costs concerns
McCormick downgraded at Argus on higher input costs, valuation concerns
McCormick shares slide on earnings miss, inauspicious outlook
McCormick misses Q2 expectation, cuts FY2022 outlook
McCormick declares $0.37 dividend
McCormick Q2 2022 Earnings Preview
Earnings week ahead: Nike, Micron, and more
Consumer staples stocks buck broader market selloff
Earnings History
Date
EPS / Forecast
Revenue / Forecast
January 27, 2022

0.84

/ 0.8033

1.73B

/ 1.72B
Beat!

September 30, 2021

0.8

/ 0.7211

1.55B

/ 1.54B
Beat!

July 1, 2021

0.69

/ 0.6153

1.56B

/ 1.47B
Beat!

March 30, 2021

0.72

/ 0.586

1.48B

/ 1.38B
Beat!

January 28, 2021

0.79

/ 0.8079

1.56B

/ 1.56B
September 29, 2020

0.765

/ 1.52

1.43B

/ 1.4B
Beat!

June 25, 2020

1.47

/ 1.16

1.4B

/ 1.38B
Beat!

March 31, 2020

1.08

/ 1.03

1.21B

/ 1.23B
January 28, 2020

1.61

/ 1.61

1.48B

/ 1,517M
October 1, 2019

1.46

/ 1.29

1.33B

/ 1.34B
June 27, 2019

1.16

/ 1.08

1.3B

/ 1.31B
March 26, 2019

1.12

/ 1.04

1.23B

/ 1.24B
January 24, 2019

1.67

/ 1.7

1.5B

/ 1.55B
September 27, 2018

1.28

/ 1.27

1.35B

/ 1.36B
June 28, 2018

1.02

/ 0.93

1.33B

/ 1.32B
Beat!

March 27, 2018

1

/ 0.9

1.24B

/ 1.24B
Beat!

January 4, 2018

1.54

/ 1.51

1.49B

/ 1,484M
September 29, 2017

1.12

/ 1.05

1.19B

/ 1,176M
Beat!

June 29, 2017

0.79

/ 0.76

1.11B

/ 1,096M
Beat!

March 28, 2017

1.27

/ 0.76

1.23B

/ 1.23B
Date
Price
Open
High
Low
Vol
ER
Nov 21
85.15
83.86

85.3

83.01

1.3M
Nov 22
86.12
85.54

86.3025

84.91

1.2M
Nov 23
86.11
86.24

86.52

85.655

865K
Nov 25
84.91
86.28

86.28

84.41

1.0M
Nov 28
83.75
84.65

85.31

83.66

1.5M
Nov 29
83.75
83.46

83.75

82.03

1.5M
Nov 30
85.18
83.65

85.21

82.99

5.0M
Dec 01
85.73
86

86.53

84.98

1.2M
Dec 02
86.38
85.56

86.53

85.21

1.0M